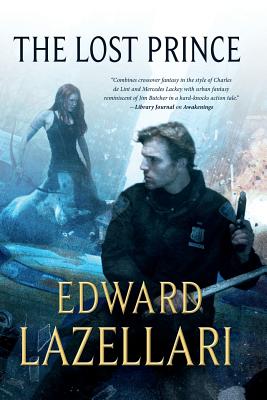 The Lost Prince (Guardians of Aandor #2) (Paperback)
Tor Books, 9781250223371, 528pp.
Publication Date: August 20, 2013
Other Editions of This Title:
Hardcover (8/20/2013)
* Individual store prices may vary.
Description
Edward Lazellari brings you The Lost Prince, and the race to find the missing prince is on . . .
In Lazellari's debut fantasy, Awakenings, New York City cop Cal MacDonnell and photographer Seth Raincrest found themselves stalked by otherworldly beings intent on killing them. The two had to accept the aid of a mysterious woman to unlock their hidden pasts, and what they discovered changed their lives.
Everything they knew about their lives was an illusion. They had in fact travelled to our dimension from the medieval reality of Aandor to hide their infant prince from assassins, but upon arriving, a freak mishap wiped their memories. Cal, Seth, and the rest of their party were incapacitated, and the infant prince was lost.
Thirteen years later, that prince, Daniel Hauer, is unaware of his origins--or that he has become the prize in a race between two powerful opposing factions. Cal and Seth's group want to keep Daniel safe. The other wants Daniel dead—by any means necessary.
From the streets of New York City to the back roads of rural North Carolina, the search for the prince sets powerful forces against each other in a do-or-die battle for the rule of the kingdom of Aandor.
Against a backdrop of murder, magic, and mayhem on the streets of New York City, victory goes to the swiftest and the truest of hearts.
"Combines crossover fantasy in the style of Charles de Lint and Mercedes Lackey with urban fantasy reminiscent of Jim Butcher in a hard knocks action tale."—Library Journal on Awakenings
About the Author
EDWARD LAZELLARI has worked as an illustrator and graphic artist, doing projects for Marvel Entertainment, DC Comics, and Jim Henson Productions. His short story, "The Date," won Playboy magazine's prestigious college fiction contest in 1999. Lazellari lives in Jersey City, New Jersey.
Praise For The Lost Prince (Guardians of Aandor #2)…
"This solid debut will appeal to fantasy fans looking for familiar bones under a modern skin." —Publishers Weekly on Awakenings
"Lazellari's debut fantasy foretells a promising career. Read Awakenings and get in on the ground floor with a great new writer." —Glen Cook
"Awakenings is a weird, wild adventure that heralds the arrival of a new voice in the field of science fantasy. Edward Lazellari is a talent to watch with high expectations." —Ben Bova