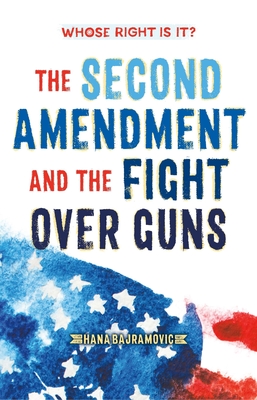 Whose Right Is It? The Second Amendment and the Fight Over Guns
Hardcover

* Individual store prices may vary.
Description
Discover the truth about the Second Amendment, the NRA, and the United States' centuries-long fight over guns in this first-of-its-kind book for middle grade readers.

"A compelling, clear analysis of one of our country's oldest dilemmas: how to balance gun rights with public safety. It tells the full and true story of the Second Amendment, and points to a way to bring sanity to our gun laws. A remarkable primer for all ages." —Michael Waldman, author of The Second Amendment: A Biography

For the majority of the United States' history, the right to own a gun belonged to a "well regulated militia." That changed in 2008 with the historic District of Columbia v. Heller case, which ruled that the Second Amendment protected an individual's right. In the years since, the debate over gun legislation has reached a crescendo. And the issue grows ever relevant to children across America, with an estimated three million exposed to shootings every year. From metal detectors to see-through backpacks to shooting drills, kids face daily reminders of the threat of guns.

Hana Bajramovic's Whose Right Is It? The Second Amendment and the Fight Over Guns reveals how a once obscure amendment became the focus of daily heated debate. Filled with historical photos and informative graphics, the book will show young readers how gun legislation has always been a part of American history and how money, power, and systemic racism have long dictated our ability to own guns.

A Junior Library Guild Selection

"Hana Bajramovic provides readers with a compelling overview on the history of guns in the United States and the changing, conflicting interpretations of the Second Amendment certain to stimulate conversation and thinking on the part of future generations." —Award-winning author Doreen Rappaport
Praise For Whose Right Is It? The Second Amendment and the Fight Over Guns…
"The story is fascinating and, in its evenhanded treatment of the subject, valuable for research and classroom use...Extremely well documented, the book concludes with an epilogue that brings the book up-to-date, making it both important and timely." —Booklist

"[E]ven readers personally invested in the gun rights position will find the historical context eye-opening." —The Bulletin for the Center of Children's Books
Henry Holt and Co. (BYR), 9781250224255, 256pp.
Publication Date: September 22, 2020
About the Author
Hana Bajramovic has an English degree from Harvard University and JD from Yale Law School. She has worked for the United States Court of Appeals for the Second Circuit and at the New York law firm of Quinn Emanuel Urquhart & Sullivan, LLP. She now works to defend reproductive rights and access to reproductive healthcare. Whose Right Is It Anyway? is her first book. She lives in Brooklyn.

hanabajramovic.com