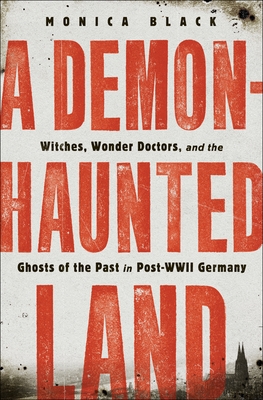 A Demon-Haunted Land
Witches, Wonder Doctors, and the Ghosts of the Past in Post-WWII Germany
Hardcover

* Individual store prices may vary.
Other Editions of This Title:
Paperback (3/22/2022)
Compact Disc (10/6/2020)
MP3 CD (10/6/2020)
Description
A revelatory counterhistory of postwar Germany, not as a reborn democracy but as a nation convulsed by apocalyptic visions, witchcraft trials, and supernatural obsessions

In the aftermath of World War II, a succession of mass supernatural events swept through war-torn Germany. A messianic faith healer rose to extraordinary fame, prayer groups performed exorcisms, and enormous crowds traveled to witness apparitions of the Virgin Mary. Most strikingly, scores of people accused their neighbors of witchcraft, and found themselves in turn hauled into court on charges of defamation, assault, and even murder. What linked these events, in the wake of an annihilationist war and the Holocaust, was a widespread preoccupation with evil.

While many histories emphasize Germany's rapid transition from genocidal dictatorship to liberal democracy, A Demon-Haunted Land places in full view the toxic mistrust, profound bitterness, and spiritual malaise that unfolded alongside the economic miracle. Drawing on previously unpublished archival materials, acclaimed historian Monica Black argues that the surge of supernatural obsessions stemmed from the unspoken guilt and shame of a nation remarkably silent about what was euphemistically called "the most recent past." This shadow history irrevocably changes our view of postwar Germany, revealing the country's fraught emotional life, deep moral disquiet, and the cost of trying to bury a horrific legacy.
Praise For A Demon-Haunted Land: Witches, Wonder Doctors, and the Ghosts of the Past in Post-WWII Germany…
"A Demon-Haunted Land is absorbing, gripping, and utterly fascinating. It kept me enthralled right up to the end. Black certainly knows how to tell a good story. Beautifully written, without even a hint of jargon or pretension, it casts a significant and unexpected new light on the early phase of the Federal Republic of Germany's history. Black's analysis of the copious, largely unknown archival sources on which the book is based is unfailingly subtle and intelligent."
—Richard J. Evans, The New Republic

"Evocative . . . epic . . . How do societies that commit monstrous atrocities recover from them?. . . Chock-full of colorful anecdotes and charismatic figures, A Demon-Haunted Land not only offers a brilliant rethinking of postwar German history, but also asks us to see the irrational as an integral part of modernity."
—Boston Review

"Convincing . . . Black effectively and evocatively contrasts the story that this new democracy was telling about itself, a narrative of rebuilding and recovery, with what lay below its increasingly shiny surface."
—The New Criterion

"A fascinating, richly detailed look at the origins of mass supernatural events in West Germany after WWII. Vivid character sketches and keen psychological insights enrich impressive historical research. An arresting portrait of an unexplored chapter in German history."
—Publishers Weekly

"Readers interested in German and Cold War history and cultural studies of religious and supernatural beliefs will find much to enjoy in this rich study . . . Monica Black mines rarely used files in local and regional archives to paint a unique portrait."
—Library Journal

"Both an excellent study of a weakened and fickle humanity and an engrossing story from beginning to end."
—Booklist

"Timely and urgent . . . Black draws on a rich base of sources [and] is adept at reading historical silences, on precisely what is being elided or glossed over in traditional archives . . . In beautiful prose, Black crafts a vivid portrait of a ruined Germany grappling for some sort of redemption."
—Kathryn Julian, George L. Mosse Program in History

"By attending carefully to the voices of the sick in soul and body and to the stories told by ghosts, demons, and witches, Monica Black makes her way through the elisions, silences, and bad faith of post–World War II Germany into the anguished inner life of this time and place. A Demon-Haunted Land is a stunning, revelatory work of social and cultural history, of profound resonance for our own times. In it Black has enlarged the possibilities of historical knowledge itself."
—Robert Orsi, author of History and Presence

"A bold and original account of the ways in which postwar West Germans used mythic forms of evil like witches and demons to deflect attention from the very real forms of evil their nation had just committed. Black's fascinating book is full of insight not only about postwar West Germany, but about the strange and complex ways people reinterpret evil and guilt."
—Susan Neiman, author of Evil in Modern Thought

"Monica Black has given us a fascinating alternative history of postwar Germany, one that feels more psychologically true than the usual upbeat stories of social capitalism and reconstruction. She tells instead of individual responses to trauma—of witches, demons, Marian apparitions, and faith healing—and the Germans' desperate attempts to come to grips with the emotions produced by moral and physical collapse. A fine book that deserves a wide audience."
—Ruth Harris, author of Lourdes

"Miraculous healings, heavenly apparitions, ghostly traces... Thanks to the magnificent work of Monica Black, post-Nazi Germany presents itself to the reader in a completely new light."
—Sergio Luzzatto, author of The Body of Il Duce

Metropolitan Books, 9781250225672, 352pp.
Publication Date: November 17, 2020
About the Author
Monica Black is Associate Professor of History at the University of Tennessee Knoxville, USA. She is the author of Death in Berlin (2010), which was awarded the Wiener Library Ernst Fraenkel Prize (2010) and the Hans Rosenberg Prize of the Central European History Society (2011). The book was also translated into Russian.

Dr Black co-edited (with Eric Kurlander) Revisiting the 'Nazi Occult': Histories, Realities, Legacies (2015) and, in 2019, she assumed editorship of the journal Central European History.