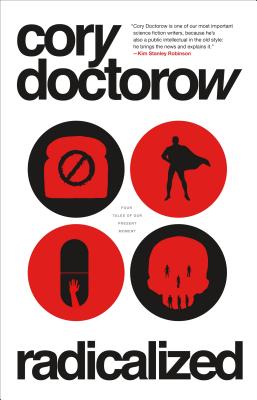 Radicalized
Four Tales of Our Present Moment
Hardcover

* Individual store prices may vary.
Other Editions of This Title:
Digital Audiobook (4/28/2019)
Digital Audiobook (4/28/2019)
Paperback (3/3/2020)
Description
From New York Times bestselling author Cory Doctorow, Radicalized is four urgent SF novellas of America's present and future within one book

Told through one of the most on-pulse genre voices of our generation, Radicalized is a timely collection consisting of four SF novellas connected by social, technological, and economic visions of today and what America could be in the near, near future.

Unauthorized Bread is a tale of immigration, the toxicity of economic and technological stratification, and the young and downtrodden fighting against all odds to survive and prosper.

In Model Minority, a Superman-like figure attempts to rectifiy the corruption of the police forces he long erroneously thought protected the defenseless...only to find his efforts adversely affecting their victims.

Radicalized is a story of a darkweb-enforced violent uprising against insurance companies told from the perspective of a man desperate to secure funding for an experimental drug that could cure his wife's terminal cancer.

The fourth story, Masque of the Red Death, harkens back to Doctorow's Walkaway, taking on issues of survivalism versus community.
Praise For Radicalized: Four Tales of Our Present Moment…
"Doctorow's combination of cutting edge speculation and deep interest in the social and political possibilities of the future make this collection a must-read."—Booklist (starred review)
"Doctorow captures the mix of hope, fear, and uncertainty felt by those in precarious situations, set against the backdrop of intriguing futuristic landscapes."—Publishers Weekly
Praise for Walkaway
"Is Doctorow's fictional utopia bravely idealistic or bitterly ironic? The answer is in our own hands. A dystopian future is in no way inevitable; Walkaway reminds us that the world we choose to build is the one we'll inhabit. Technology empowers both the powerful and the powerless, and if we want a world with more liberty and less control, we're going to have to fight for it."—Edward Snowden
"The darker the hour, the better the moment for a rigorously-imagined utopian fiction. Walkaway is now the best contemporary example I know of, its utopia glimpsed after fascinatingly-extrapolated revolutionary struggle. A wonderful novel: everything we've come to expect from Cory Doctorow and more."—William Gibson
"The Bhagavad Gita of hacker/maker/burner/open source/git/gnu/wiki/99%/adjunctfaculty/Anonymous/shareware/thingiverse/cypherpunk/LGTBQIA*/squatter/upcycling culture...zipped it down into a pretty damned tight techno-thriller with a lot of sex in it."—Neal Stephenson
"Cory Doctorow is one of our most important science fiction writers, because he's also a public intellectual in the old style: he brings the news and explains it, making clearer the confusions of our wild current moment. His fiction is always the heart of his work, and this is his best book yet, describing vividly the revolutionary beginnings of a new way of being. In a world full of easy dystopias, he writes the hard utopia, and what do you know, his utopia is both more thought-provoking and more fun."—Kim Stanley Robinson
"Thrilling and unexpected....A truly visionary techno-thriller that not only depicts how we might live tomorrow, but asks why we don't already." Kirkus (starred review)
"Doctorow has envisioned a fascinating world...This intriguing take on a future that might be right around the corner is bound to please." —Library Journal

"Memorable and engaging. ...Ultimately suffused with hope." —Booklist
Tor Books, 9781250228581, 304pp.
Publication Date: March 19, 2019
About the Author
Cory Doctorow is a regular contributor to the Guardian, Locus, and many other publications. He is a special consultant to the Electronic Frontier Foundation, an MIT Media Lab Research Associate and a visiting professor of Computer Science at the Open University. His award-winning novel Little Brother and its sequel Homeland were a New York Times bestsellers. His novella collection Radicalized was a CBC Best Fiction of 2019 selection. Born and raised in Canada, he lives in Los Angeles.
or
Not Currently Available for Direct Purchase