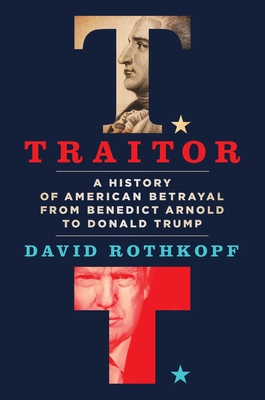 Traitor
A History of American Betrayal from Benedict Arnold to Donald Trump
Hardcover

* Individual store prices may vary.
Description
"Rothkopf does a brilliant job defining precisely how Trump has been aiding and abetting the enemy... compelling." --Financial Times

Political historian and commentator David Rothkopf shows how Trump will be judged by history (Spoiler alert: not well) in Traitor.

Donald Trump is unfit in almost every respect for the high office he holds. But what distinguishes him from every other bad leader the U.S. has had is that he has repeatedly, egregiously, betrayed his country. Regardless of how Senate Republicans have let him off the hook, the facts available to the public show that Trump has met every necessary standard to define his behavior as traitorous.

He has clearly broken faith with the people of the country he was chosen to lead, starting long before he took office, then throughout his time in the White House. And we may not yet have seen the last of his crimes. But the story we know so far is so outrageous and disturbing that it raises a question that has never before been presented in American history: is the president of the United States the greatest threat this country faces in the world?

We also need to understand how the country has historically viewed such crimes and how it has treated them in the past to place what has happened in perspective. After his examination of traitors including Benedict Arnold, Aaron Burr, and leaders of the Confederacy, David Rothkopf concludes that Donald Trump and his many abettors have committed the highest-level, greatest, most damaging betrayal in the history of the country.
Praise For Traitor: A History of American Betrayal from Benedict Arnold to Donald Trump…
"A bracing read. Rothkopf still has all the anger a good chronicler of the Trump Administration requires....An important roadmap through the massive evidence of collaboration between the Trump campaign and the Russian secret services...A brisk history of the many other Americans rightly or wrongly accused of treason, from Benedict Arnold and Aaron Burr to Robert E. Lee and Alger Hiss." --The Guardian

"This is a great book for someone who is interested in learning how Trump relates to others in the country's history and, though he is perhaps one of the worst, he certainly won't be the last." —Eugene Weekly

"David Rothkopf, one of America's leading public intellectuals, has again delivered a tour de force of provocative argumentation. He ranges widely over U.S. history to make the case that, even if he is never convicted of a crime, Donald Trump deserves to be grouped with those few American leaders who have betrayed America. Agree or disagree, you cannot ignore the case he marshals with such consummate skill." --Max Boot, Washington Post columnist, CNN global affairs analyst, and author of The Corrosion of Conservatism: Why I Left the Right

"Anyone interested in the preservation of the United States from those who would betray it from within must read David Rothkopf's compelling history of treasonous acts – as well as acts deemed treasonous at the time but later understood as heroic...Rothkopf saves his harshest condemnation for Donald Trump and the deep currents of which Rothkopf sees Trump's rise as but a symptom. Especially valuable for its implicit questioning of the Constitution's deliberately narrow definition of "treason" in this new age of cyberwar and domestic terrorism, Rothkopf's journey through the dark corridors of betrayal is, despite its grim subject matter, a delight to read." -- Laurence H. Tribe, Carl M. Loeb University Professor, Harvard Law School of Harvard University and author of To End A Presidency: The Power of Impeachment

"In this scathing history, Deep State Radio host Rothkopf contends that Donald Trump belongs 'among the many Americans in our history who have for money or ambition, misjudgement or spite, turned their backs on our flag and people.' ...Rothkopf's well-informed study draws interesting parallels between the past and the present." --Publishers Weekly

"With elegantly controlled fury, David Rothkopf arraigns the 45th president of disloyalty to the United States and its people. A scorching accusation that summons American history as evidence for the prosecution."
--David Frum, author Trumpocalypse, Restoring American Democracy

"Throughout our more than two-century history, America has experienced its share of traitors. But as David Rothkopf's eloquent and powerful book asserts, we've never had an individual who has betrayed the country as consistently, as resolutely, as completely as Donald Trump. Traitor traces the stories of many of those who have put self-interest above the public interest, from Benedict Arnold to Richard Nixon. But Rothkopf puts Trump where he belongs: in a class by himself. If you ever have any doubt that Trump has betrayed the country on a scale that beggars comparison, Traitor will remove it. "
--Richard Stengel, former U.S. Under Secretary of State, former Editor, Time Magazine, MSNBC Contributor.

"In Traitor: A History of American Betrayal from Benedict Arnold to Donald Trump, David Rothkopf puts the presidency of Donald Trump into the historical context of other Americans who have been unfaithful to their country. Rothkopf describes in vivid detail some of the famous traitors in U.S. history, such as Jefferson Davis, John Wilkes Booth, Tokyo Rose, Aldrich Ames, Edward Snowden, and others. His readable and compelling narrative brings their stories to life. Rothkopf makes the case that the collective harm inflicted by Trump outdoes them all. For the president who claims to put "America First," Trump's self-serving conduct would make even Aaron Burr hide his head in shame."
--Barbara McQuade, former U.S. Attorney for the Eastern District of Michigan, professor of Law at the University of Michigan and legal analyst for NBC and MSNBC

"Americans have gotten too used to calling each other traitors. David Rothkopf tours the history of American traitors to remind us that the word once had real meaning - and that it applies to Donald Trump as much as any of them."
--Tom Nichols, author of The Death of Expertise
Thomas Dunne Books, 9781250228833, 256pp.
Publication Date: October 27, 2020
About the Author
DAVID ROTHKOPF is an author and commentator who has written extensively on politics, power and national security. Recent books include Great Questions of Tomorrow, National Insecurity, Power, Inc., Superclass, and Running the World. He is a former senior official in the Clinton Administration and has taught international affairs at Columbia, Georgetown, and Johns Hopkins. He lives in New York City.