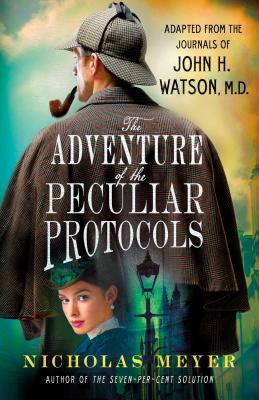 The Adventure of the Peculiar Protocols (Hardcover)
Adapted from the Journals of John H. Watson, M.D.
Minotaur Books, 9781250228956, 256pp.
Publication Date: October 15, 2019
Other Editions of This Title:
Digital Audiobook (10/14/2019)
Paperback (11/10/2020)
Library Binding, Large Print (2/26/2020)
CD-Audio (11/19/2019)
* Individual store prices may vary.
Description
With the international bestseller The Seven-Per-Cent Solution, Nicholas Meyer brought to light a previously unpublished case of Sherlock Holmes, as recorded by Dr. John H. Watson. Now Meyer returns with a shocking discovery—an unknown case drawn from a recently unearthed Watson journal.
January 1905: Holmes and Watson are summoned by Holmes' brother Mycroft to undertake a clandestine investigation. An agent of the British Secret Service has been found floating in the Thames, carrying a manuscript smuggled into England at the cost of her life. The pages purport to be the minutes of a meeting of a secret group intent on nothing less than taking over the world.
Based on real events, the adventure takes the famed duo—in the company of a bewitching woman—aboard the Orient Express from Paris into the heart of Tsarist Russia, where Holmes and Watson attempt to trace the origins of this explosive document. On their heels are desperate men of unknown allegiance, determined to prevent them from achieving their task. And what they uncover is a conspiracy so vast as to challenge Sherlock Holmes as never before.
About the Author
NICHOLAS MEYER is the author three previous Sherlock Holmes novels, including The Seven-Per-Cent Solution, which was on the New York Times bestseller list for a year. He's a screen-writer and film director, responsible for The Day After, Time After Time, as well as Star Trek II: The Wrath of Khan, Star Trek IV: The Voyage Home, and Star Trek VI: The Undiscovered Country among many others. A native of New York City, he lives in Santa Monica, California.
Praise For The Adventure of the Peculiar Protocols: Adapted from the Journals of John H. Watson, M.D.…
"Reading Nicholas Meyer's very first Sherlock Holmes adventure, The Seven-Per-Cent Solution, made me decide to become a writer.
Reading his latest simply made me a delighted and satisfied reader." —Michael Chabon

"Mr. Meyer's account of Holmes's efforts to find the source and stop the spread of this vile hoax is rich with period detail and clever invention." —Tom Nolan, Wall Street Journal

"A successful narration of a previously untold part of the great consulting detective's life and times, worthy of being added to the Sherlock Holmes books already in your home library." —The Oklahoman
"Protocols is an effective thriller, rich in atmosphere and period detail, as well as a wise affectionate and sometimes deeply melancholy portrait of Holmes and his world. It's a masterful concoction that Sherlockian devotees will savor." —Mystery Scene

"Invigoratingly engaging from start to finish, Nicholas Meyer has yet again created a fresh take on an old genre." —NY Journal of Books
"Fabulous... Holmes enthusiasts will relish this well-crafted novel." —Library Journal (starred review)
"Packs an abundance of suspense, intrigue and Holme-sian flavor." —Bookpage
"Inventive...the parallels drawn to the rise of fascism today will resonate with readers...an absorbing and exciting tale!" —Booklist
"So many historical figures, from translator Constance Garnett to future Israeli president Chaim Weizmann, put in appearances that only the canniest readers will spot the few characters who are actually invented..there's sturdy adventure for Sherlock-ians whose appetites remain unsated." —Kirkus Reviews
"Once again the game is afoot! Brilliantly rendered and ever-faithful to the Sherlockian Canon, Holmes, Watson and the world they inhabit come to vivid life in this story that is as entertaining, informative and enthralling as it is important and unexpectedly relevant to our modern world. This novel is a tour de force that is not to be missed!" —John Lescroart, New York Times bestselling author
"The discovery of unpublished work by John H. Watson is always a cause for joy, and this case is essential—not just for its globe-trotting adventure...but also for its timely resonance." —Glen David Gold, bestselling author of Carter Beats the Devil
"Nicholas Meyer's new novel brings some welcome new dimension to the characters of both Holmes and Watson, as well as delivering a suspenseful narrative enhanced by remarkable period detail. More importantly, the book's main themes, painfully relevant to our current age, make it a surprisingly vital and urgent read." —Dennis Palumbo, author of Daniel Rinaldi series and screenwriter of My Favorite Year

"Holmes and Watson reunite to eradicate the greatest lie ever told, in this thrilling and surprising new tale by Nicholas Meyer, the legendary author of The Seven-Per-Cent Solution. Why, oh why, Mr. Meyer, have you 'discovered' only four of these treasures in the past 44 years!" —Leslie S. Klinger, editor, New Annotated Sherlock Holmes
"What a splendid book, what grand fun...A corking good read and a cracking good adventure that performs the delicious miracle of bringing back to life the greatest detective of them all." —Chicago Tribune on The Seven Per-Cent Solution
"A gem...delightful reading for everyone." —Wall Street Journal on The Seven-Per-Cent Solution