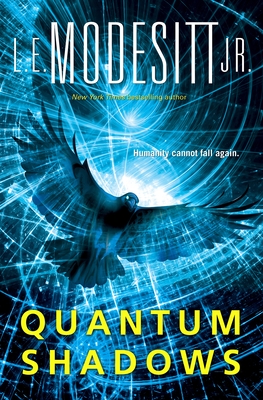 Quantum Shadows
Hardcover

* Individual store prices may vary.
Other Editions of This Title:
Paperback (9/21/2021)
Description
Bestselling author of The Mongrel Mage, L. E. Modesitt, Jr's Quantum Shadows blends science fiction, myth, and legend in an adventure that pits old gods and new against one another in a far future world.

On a world called Heaven, the ten major religions of mankind each have its own land governed by a capital city and ruled by a Hegemon. That Hegemon may be a god, or a prophet of a god. Smaller religions have their own towns or villages of belief.

Corvyn, known as the Shadow of the Raven, contains the collective memory of humanity's Falls from Grace. With this knowledge comes enormous power.

When unknown power burns a mysterious black image into the holy place of each House of the Decalivre, Corvyn must discover what entity could possibly have that much power. The stakes are nothing less than another Fall, and if he doesn't stop it, mankind will not rise from the ashes.
Praise For Quantum Shadows…
Praise for Quantum Shadows:

"Modesitt displays his formidable talent for worldbuilding . . . fans of thought-provoking speculative fiction will be hooked." —Publishers Weekly

"Quantum Shadows carries the overtones of our genre's finest writers—Zelazny and Wolfe—which is enough to commend it. . . . Modesitt has given us a vision all his own—a vision with the power to transport and challenge us in equal measures." —Peter O'Rullian, author of The Unremembered

"[A]ny book that can suck you into the story as this one did...and then stick with you days after you finished reading it is a complete winner." —The Arched Doorway

Praise for Solar Express:

"[H]is science fiction ranks up there with Ben Bova, Kristine Kathryn Rusch, Larry Niven, and Jerry Pournelle."—SF Revu

"Modesitt Jr.'s boundless imagination flings readers headfirst into a richly imagined deep-space world." —RT Book Reviews, starred review (4 stars)

Praise for The One-Eyed Man:

"The book hums along with understated power and intellectual attractiveness, delivering thoughtful entertainment in the best classical SF manner." —Asimov's Science Fiction

"Modesitt intricately builds a setting that is concrete and believable." —Angela Carter

"The One-Eyed Man is actually one of the more powerful and elegant expressions of Modesitt's themes. I'm always excited when the author takes a break from his fantasy series to write a new science fiction novel." —Tor.com
Tor Books, 9781250229205, 304pp.
Publication Date: July 21, 2020
About the Author
L. E. Modesitt, Jr., is the bestselling author of the fantasy series The Saga of Recluce, Corean Chronicles, and the Imager Portfolio. His science fiction includes Adiamante, the Ecolitan novels, the Forever Hero Trilogy, and Archform: Beauty. Besides a writer, Modesitt has been a U.S. Navy pilot, a director of research for a political campaign, legislative assistant and staff director for a U.S. Congressman, Director of Legislation and Congressional Relations for the U.S. Environmental Protection Agency, a consultant on environmental, regulatory, and communications issues, and a college lecturer. He lives in Cedar City, Utah.