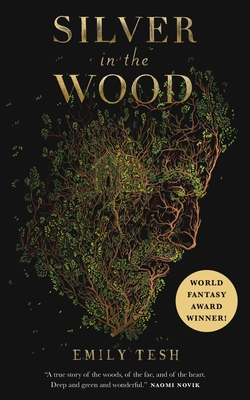 Silver in the Wood (The Greenhollow Duology #1)
Paperback

* Individual store prices may vary.
Description
Winner of the 2020 World Fantasy Award!

From Astounding Award and Crawford Award Finalist Emily Tesh

An ALA RUSA Reading List Selection

"A true story of the woods, of the fae, and of the heart. Deep and green and wonderful."—New York Times bestselling author Naomi Novik

There is a Wild Man who lives in the deep quiet of Greenhollow, and he listens to the wood. Tobias, tethered to the forest, does not dwell on his past life, but he lives a perfectly unremarkable existence with his cottage, his cat, and his dryads.

When Greenhollow Hall acquires a handsome, intensely curious new owner in Henry Silver, everything changes. Old secrets better left buried are dug up, and Tobias is forced to reckon with his troubled past—both the green magic of the woods, and the dark things that rest in its heart.

Praise for Emily Tesh's Silver in the Wood

"A wildly evocative and enchanting story of old forests, forgotten gods, and new love. Just magnificent."—Jenn Lyons, author of The Ruin of Kings
Praise For Silver in the Wood (The Greenhollow Duology #1)…
"Exquisitely crafted. . . . This fresh, evocative short novel heralds a welcome new voice in fantasy."—Publishers Weekly

"Find a quiet place in a nearby wood, listen to the trees whisper, and thank the old gods and new for this beautiful little book, of which I intend to get lost in again and again."—Book Riot

"Alive with old magic, Silver in the Wood made my hair stand on end even as it beckoned me to go deeper, and in the end I couldn't resist."—C. L. Polk

"A wildly evocative and enchanting story of old forests, forgotten gods, and new love. Just magnificent."—Jenn Lyons

"It is easy to praise flash and sparkle, but the beauty of the simple and lighter-than-air is more difficult to capture. Silver in the Wood's sparkle is that of clear water; its flash the snap of a crackling fire, and Tesh's prose reads like returning to a dream long-forgotten or a song half-remembered. It is, needless to say, excellent."—Alexandra Rowland

"Tesh lured me into her rich fairytale narrative with the warmth and strangeness, then hooked me on her intricate characters. Silver in the Wood is a novella of quiet yearning and old secrets, gentle woodsmen and fierce dryads and mothers you really shouldn't mess with."—Kerstin Hall
Tordotcom, 9781250229793, 112pp.
Publication Date: June 18, 2019
About the Author
EMILY TESH, a two-time Astounding Award finalist, is the author of the World Fantasy Award-winning Greenhollow Duology, which begins with the novella Silver in the Wood and concludes with Drowned Country.