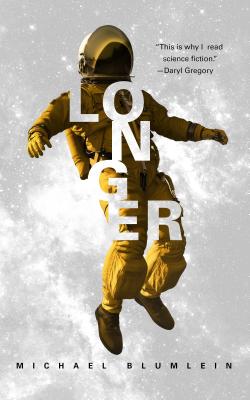 Longer (Paperback)
Tor.com, 9781250229816, 240pp.
Publication Date: May 28, 2019
* Individual store prices may vary.
Description
"This is why I read science fiction."—Daryl Gregory

In Longer, Michael Blumlein explores dauntingly epic topics—love, the expanse of the human lifespan, mortality—with a beautifully sharp story that glows with grace and good humor even as it forces us to confront deep, universal fears.

Gunjita and Cav are in orbit.

R&D scientists for pharmaceutical giant Gleem Galactic, they are wealthy enough to participate in rejuvenation: rebooting themselves from old age to jump their bodies back to their twenties. You get two chances. There can never be a third.

After Gunjita has juved for the second and final time and Cav has not, questions of life, death, morality, and test their relationship. Up among the stars, the research possibilities are infinite and first contact is possible, but their marriage may not survive the challenge.


Praise for Longer

"Michael Blumlein has written a novella that is full of hard science and strange, beautiful images, and also asks the biggest of questions—about mortality, aging, the persistence and changeability of love, and the search for meaning in our lives. I read it in two sittings, and it brought me to tears. . . . Don't miss this."—Daryl Gregory

"No one can evoke both life's beauties and its sorrows with the brilliance of Michael Blumlein. In meticulous and resonant prose, Blumlein examines a marriage with a long, loving history and a questionable future. Wise and beautiful, provocative and deeply, deeply satisfying."—Karen Joy Fowler
About the Author
Michael Blumlein is the author of several novels and story collections, including the award-winning The Brains of Rats. He has twice been a finalist for the World Fantasy Award and twice for the Bram Stoker. His story "Fidelity: A Primer" was short-listed for the Tiptree. He has written for both stage and film, including the award-winning independent film Decodings (included in the Biennial Exhibition of the Whitney Museum of American Art, and winner of the Special Jury Award of the SF International Film Festival). His novel X,Y was made into a feature-length movie. Until his recent retirement Dr. Blumlein taught and practiced medicine at the University of California in San Francisco.
Praise For Longer…
"Michael Blumlein has written a novella that is full of hard science and strange, beautiful images, and also asks the biggest of questions--about mortality, aging, the persistence and changeability of love, and the search for meaning in our lives. I read it in two sittings, and it brought me to tears. This is why I read science fiction, and why I'm grateful for every new work Blumlein writes. Don't miss this."—Daryl Gregory

"No one can evoke both life's beauties and its sorrows with the brilliance of Michael Blumlein. In meticulous and resonant prose, Blumlein examines a marriage with a long, loving history and a questionable future. Wise and beautiful, provocative and deeply, deeply satisfying."—Karen Joy Fowler