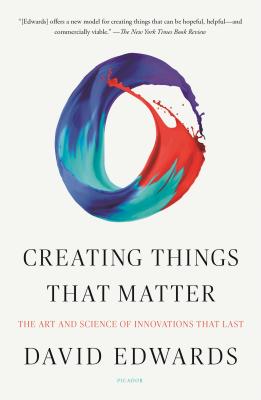 Creating Things That Matter
The Art and Science of Innovations That Last
Paperback

* Individual store prices may vary.
Other Editions of This Title:
Hardcover (10/16/2018)
Compact Disc (10/16/2018)
MP3 CD (10/16/2018)
Description
Most things we create will not matter. This book is about creating things that do, from a master innovator who brings science and art together in his cutting edge labs.

Art and science are famous opposites. Contemporary innovation mostly keeps them far apart. But in this book, David Edwards—world-renowned inventor; Harvard professor of the practice of idea translation; creator of breathable insulin, edible food packaging, and digital scents—reveals that the secret to creating very new things of lasting benefit, including innovations we will need to sustain human life on the planet, lies in perceiving art and science as one.
Here Edwards shares how he discovered a way of creating that transcends disciplines and incorporates the principles of aesthetics. He introduces us to cutting-edge artists, musicians, architects, physicists, mathematicians, engineers, chefs, choreographers, and novelists (among others) and uncovers a three-step cycle they all share in creating things that durably matter. This creator cycle looks unlike what we associate with game-changing innovation today, and aligns the most expressive art and the most revolutionary science in a radical reimagining of how we live. David Edwards and the innovators he profiles belong to an emerging grassroots renaissance flourishing in special environments that we all can make in our schools, companies and homes.
Creating Things That Matter is a book for anyone wondering what tomorrow might be, and at last half believing that what they do can make a difference.
Praise For Creating Things That Matter: The Art and Science of Innovations That Last…
"[Edwards] offers a new model for creating things that can be hopeful, helpful — and commercially viable."
—The New York Times Book Review
"David Edwards offers a compelling take on how people from different disciplines can come together to create things of lasting value. It will change for the better the way you think about innovation."
—Cal Newport, author of Deep Work
"'What if I don't have an idea?' the author's student asked in a class that required originality. His answer: Don't worry. We all have ideas. Some seem horrid, some brilliant, some stupid (which are often the best): who knows which ones work and which don't? Just try them. Brilliant things come from people who simply try. Great things matter, making a difference to the world. Is there more to it? Sure, so read the book. It will inspire you, enabling you to create great wonderful things that matter. Things that are simple, profound, important, and beautiful to the mind. You can do it: Yes, you."
—Don Norman, author of Design of Everyday Things
"In this fascinating study, Edwards, Harvard professor and inventor, explores an adventurous approach to creating new products and services . . . His work imparts an invigorating sense of discovery and of hope for a more innovative, compassionate, and collaborative future."
—Publishers Weekly
"A stimulating book, to be read and pondered as one might a set of cards from Brian Eno."
—Kirkus Reviews
"How can we adults explore our passions, and create expressions of our ideas, some of which may turn out to be breakthroughs that the rest of the world has been waiting for, via child-like, yet honed and mature intuition and mindful engagement? Unlike self-help books encouraging us to tap into our own inner Picasso or Einstein, Creating Things That Matter focuses on the larger structures and contexts—artistic or scientific, commercial or altruistic—which best support and encourage ideation, experimentation, and perhaps most importantly, production. Schools, businesses, nonprofits, governments, angel investors, makers . . . check it out!"
—Joshua Glenn, co-author of Unbored
"Skillfully weaving together both art and science, David Edwards gives us all permission to create in ways that yield meaningful innovation for the world and deep and playful satisfaction for ourselves."
—Ellen Langer, author of Mindfulness
"If you want to understand creators and creativity in our time, this is the book for you."
—Howard Gardner, author of Creating Minds
Picador, 9781250230713, 288pp.
Publication Date: November 12, 2019
About the Author
David Edwards is a creator, writer, and educator. He teaches at Harvard University and is founder of Le Laboratoire in Paris, France and Cambridge, MA. His work, which spans the arts and sciences, has been featured prominently in the international media, and is at the core of the international artscience movement. He lives with his wife and their three sons in Boston.
Edwards is the author of Creating Things That Matter.