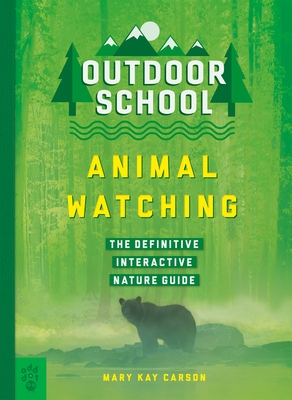 Outdoor School
Animal Watching: The Definitive Interactive Nature Guide
Paperback

* Individual store prices may vary.
Description
Rewild your life with Odd Dot's series of Outdoor School activity books, perfect for young explorers and nature lovers!

With its metal corners and over 400 full-color, highly-illustrated pages by Emily Dahl, Mary Kay Carson's Outdoor School: Animal Watching is your indispensable guide to the wilderness.

Make every day an adventure with the included:
- Immersive activities to get you exploring
- Write-in sections to journal about experiences
- Next-level adventures to challenge even seasoned nature lovers

No experience is required—only curiosity and courage. This interactive field guide to animals includes:
-Animal tracking
-Identifying birds by silhouette, size, and color
-Reading animal range maps
-Bird nest spotting
-Essential animal-watching gear
-Identifying mammals
-Bird calls and animal sounds
-Finding amphibians, reptiles, and fish
-Spotting scat
-Recognizing eyeshine
-Recording animal behavior
And so much more!
Odd Dot, 9781250230836, 448pp.
Publication Date: April 27, 2021
About the Author
Odd Dot is an imprint of Macmillan Children's Publishing Group dedicated to creating joyful books for curious minds. Our mission is to develop interactive and substantive gift books that explore categories and formats never seen before. We are a proudly odd mix of makers, creators, and engineers, guided by the priorities of innovation, education, and play.

Mary Kay Carson is the author of more than fifty nonfiction books for young people. Her book Alexander Graham Bell for Kids received a 2019 AAAS/Subaru SB&F Prize for Excellence in Science Books. She's written six titles in HMH's acclaimed Scientists in the Field series, including Park Scientists: Gila Monsters, Geysers, and Grizzly Bears in America's Own Backyard and The Bat Scientists, an ALA's 2011 Notable Children's Books for Middle Readers. She lives in Cincinnati, Ohio, with her photographer husband Tom Uhlman in a century-old house surrounded by urban greenspace, deer, hawks, woodchucks, and songbirds.

Emily is an illustrator working in Maryland. Her favorite bird is the Carolina Wren.