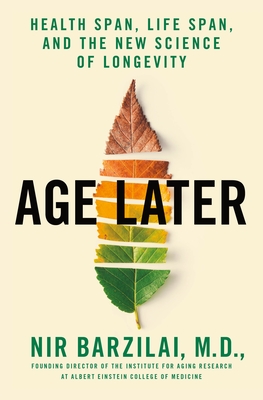 Age Later
Health Span, Life Span, and the New Science of Longevity
Hardcover

* Individual store prices may vary.
Other Editions of This Title:
CD-Audio (6/16/2020)
Description
How do some people avoid the slowing down, deteriorating, and weakening that plagues many of their peers decades earlier? Are they just lucky? Or do they know something the rest of us don't? Is it possible to grow older without getting sicker? What if you could look and feel fifty through your eighties and nineties?

Founder of the Institute for Aging Research at the Albert Einstein College of Medicine and one of the leading pioneers of longevity research, Dr. Nir Barzilai's life's work is tackling the challenges of aging to delay and prevent the onset of all age-related diseases including "the big four": diabetes, cancer, heart disease, and Alzheimer's.

One of Dr. Barzilai's most fascinating studies features volunteers that include 750 SuperAgers—individuals who maintain active lives well into their nineties and even beyond—and, more importantly, who reached that ripe old age never having experienced cardiovascular disease, cancer, diabetes, or cognitive decline.

In Age Later, Dr. Barzilai reveals the secrets his team has unlocked about SuperAgers and the scientific discoveries that show we can mimic some of their natural resistance to the aging process. This eye-opening and inspirational book will help you think of aging not as a certainty, but as a phenomenon—like many other diseases and misfortunes—that can be targeted, improved, and even cured.
Praise For Age Later: Health Span, Life Span, and the New Science of Longevity…
"A thoughtful take on aging that should be of interest to all concerned with the overlap between health and aging." —Library Journal

"In this technical but promising book, Barzilai scrutinizes the lives of centenarians to find the key factors behind their healthy longevity. Readers who enjoy learning the science behind medical theories will be fascinated."
—Booklist

"Dr. Barzilai is the only person in the world who could have written this remarkable book. Not only is he a world leader in aging research, but also happens to be one of the best science communicators on the planet. Age Later will change how you think about your own life. It is easy to read, humorous, and hard to put down. I highly recommend it!"
—David A. Sinclair, PhD, bestselling author, Lifespan: Why We Age?and Why We Don't Have to

"Many of us have been waiting for this excellent book on longevity by Dr. Nir Barzilai. Nir is one of the international leaders in the aging field and Age Later is a tour de force, compressing thirty years of top research by his group and others into an easy-to-read story on how to stay young for as long as possible."
—Valter D. Longo, PhD, bestselling author of The Longevity Diet
St. Martin's Press, 9781250230850, 288pp.
Publication Date: June 16, 2020
About the Author
NIR BARZILAI, M.D., is the founding Director of the Institute for Aging Research at Albert Einstein College of Medicine and the Nathan Shock Center for Excellence in the Basic Biology of Aging and the Einstein Glenn Center for the Biology of Human Aging. He is also the Scientific Director of the American Federation for Aging Research (AFAR). Dr. Barzilai discovered the first longevity gene in humans and has since discovered several others, and he is the co-founder of CohBar, a clinical stage biotechnology company focused on increasing health span by developing treatments for age-related diseases. Age Later is his first publication for consumers.