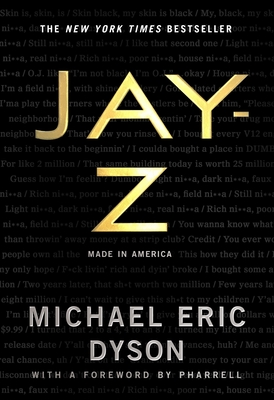 JAY-Z
Made in America
Hardcover

* Individual store prices may vary.
Other Editions of This Title:
CD-Audio (11/26/2019)
Description
NOW A NEW YORK TIMES, USA TODAY, AND PUBLISHER'S WEEKLY BESTSELLER

"Dyson writes with the affection of a fan but the rigor of an academic. ... Using extensive passages from Jay-Zs lyrics, 'Made in America' examines the rappers role as a poet, an aesthete, an advocate for racial justice and a business, man, but devotes much of its energy to Hova the Hustler." Allison Stewart, The Washington Post

"Dyson's incisive analysis of JAY-Z's brilliance not only offers a brief history of hip-hop's critical place in American culture, but also hints at how we can best move forward." Questlove

JAY-Z: Made in America is the fruit of Michael Eric Dysons decade of teaching the work of one of the greatest poets this nation has produced, as gifted a wordsmith as Walt Whitman, Robert Frost and Rita Dove. But as a rapper, hes sometimes not given the credit he deserves for just how great an artist hes been for so long.

This book wrestles with the biggest themes of JAY-Z's career, including hustling, and it recognizes the way that hes always weaved politics into his music, making important statements about race, criminal justice, black wealth and social injustice. As he enters his fifties, and to mark his thirty years as a recording artist, this is the perfect time to take a look at JAY-Zs career and his role in making this nation what it is today.

In many ways, this is JAY-Zs America as much as its Pelosis America, or Trumps America, or Martin Luther Kings America. JAY-Z has given this country a language to think with and words to live by.

Featuring a Foreword by Pharrell
Praise For JAY-Z: Made in America…
Named a November must-read by Salon | A The Washington Post 50 notable works of nonfiction in 2019 | Detroit Free Press' Holiday gift guide 2019: The best books that will inspire and delight readers

"This book is a long look into hip-hops critical place in culture. Dyson reveals the role of politics, criminal justice and social change in the words and music of JAY-Z." Detroit Free Press

"Dyson has made a career out of contextualizing the struggles of Black America. With his latest work, JAY-Z: Made in America, he continues to unpack the catalysts and consequences of black creativity, power, and wealth... Ultimately, [Jay-Z's] rebellion started on the pageand Dyson is the perfect chronicler of its permanence." Candace McDuffie, Christian Science Monitor

"A jewel of a book." Veronica Chambers, Shondaland

"Under Dysons guidance, to read about Jay-Z is to learn not just about the journey and works but also about ourselves, our history, our world, and our way forward... we are sitting in a classroom under the spell of a captivating teacher." Library Journal, Starred Review

"[An] astute cultural biography... Dysons excellent study serves as a succinct blueprint of Jay-Zs artistry and legacy." Publishers Weekly

"[Dyson] makes his case that as a truth-telling racial unifier, political influence, and 'vocal evangelist for developing generational wealth in black communities,' Jay-Z represents a symbol of 'overcoming' for hip-hop culture and American society." Booklist

Michael Eric Dyson, a preeminent public intellectual, has covered the waterfront of black cultural criticism from politics to pop culture, from race to religion. With JAY-Z: Made in America, he returns to his roots and offers us a poignant portrait of one of hip hops most intriguing figures, a brilliant self-made man who, if he didnt exist, youd have to invent. This tour de force takes full measure of an icon who is an American original like no other! Henry-Louis Gates

If you want the definitive treatment of a man who took it from Marcy Projects to the White House with wit, wisdom, and talent, and changed hip hop along the way, look no further than this insightful and moving book. Common

"My Brooklyn Homeboy JAY-Z is one of the most prolific and gifted rappers of all time. My man Michael Eric Dyson is uniquely qualified to interpret JAY-Zs art and cultural meaning, and this dope book is all the proof we need." Spike Lee

As a proud standard bearer of hip hops golden age, I greatly admire Jay-Zs lyrical talent, and just as important, his business acumen. This brilliant book not only explains Jays magnificent artistry and career, but it sheds light on the broader American culture as well. Queen Latifah

Jay-Z is one of the most remarkable figures of our time. I identify with him as a person who started poor but who rose high to conquer our realms on our own terms. This brilliant work probes every dimension of this iconic American original. Tyler Perry

Michael Eric Dyson is the perfect thinker and writer to grapple with Jay-Zs artistic and political meaning. This is a fascinating and fulfilling book that eloquently engages one of the most profound and influential artists of our time. Al Sharpton

Jay-Z's music has helped to shape a generation, and his rise from hustler to billionaire is an inspiration to millions. Michael Eric Dyson, himself a gifted writer and inspiring thinker who has risen from the bottom too, offers us a bracing, brilliant look at an iconic American. This book is eloquent and profound, and will help all of us understand why Jay-Z is in a class by himself. Tamron Hall

"Well worth a read if you want to learn more about rap and what it means to be a massively successful American entrepreneur." The Star

Named one of the 10 Books Celebrities Love by E! News
St. Martin's Press, 9781250230966, 240pp.
Publication Date: November 26, 2019
About the Author
MICHAEL ERIC DYSONdistinguished University Professor of African American and Diaspora Studies, College of Arts & Science, and of Ethics and Society, Divinity School, and Centennial Professor at Vanderbilt Universityis one of Americas premier public intellectuals and the author of seven New York Times bestsellers including JAY-Z, Tears We Cannot Stop, and What Truth Sounds Like. A contributing opinion writer for The New York Times, Dr. Dyson is a recipient of two NAACP Image awards and the 2020 Langston Hughes Festival Medallion. Former president Barack Obama has noted: Everybody who speaks after Michael Eric Dyson pales in comparison.
Coverage from NPR