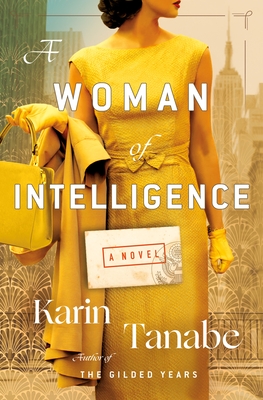 A Woman of Intelligence
A Novel
Hardcover

* Individual store prices may vary.
Other Editions of This Title:
Digital Audiobook (7/19/2021)
Paperback (8/2/2022)
Library Binding, Large Print (11/2/2021)
Description
"Captivating." ––The Washington Post

Named a Best Book of Summer by Good Morning America • BuzzFeed • PopSugar • BookRiot • LifeSavvy • CT Post

From "a master of historical fiction" (NPR), Karin Tanabe's A Woman of Intelligence is an exhilarating tale of post-war New York City, and one remarkable woman's journey from the United Nations, to the cloistered drawing rooms of Manhattan society, to the secretive ranks of the FBI.

A Fifth Avenue address, parties at the Plaza, two healthy sons, and the ideal husband: what looks like a perfect life for Katharina Edgeworth is anything but. It's 1954, and the post-war American dream has become a nightmare.

A born and bred New Yorker, Katharina is the daughter of immigrants, Ivy-League-educated, and speaks four languages. As a single girl in 1940s Manhattan, she is a translator at the newly formed United Nations, devoting her days to her work and the promise of world peace—and her nights to cocktails and the promise of a good time.

Now the wife of a beloved pediatric surgeon and heir to a shipping fortune, Katharina is trapped in a gilded cage, desperate to escape the constraints of domesticity. So when she is approached by the FBI and asked to join their ranks as an informant, Katharina seizes the opportunity. A man from her past has become a high-level Soviet spy, but no one has been able to infiltrate his circle. Enter Katharina, the perfect woman for the job.

Navigating the demands of the FBI and the secrets of the KGB, she becomes a courier, carrying stolen government documents from D.C. to Manhattan. But as those closest to her lose their covers, and their lives, Katharina's secret soon threatens to ruin her.

With the fast-paced twists of a classic spy thriller, and a nuanced depiction of female experience, A Woman of Intelligence shimmers with intrigue and desire.
Praise For A Woman of Intelligence: A Novel…
Praise for A Woman of Intelligence:

"There is so much punchy dialogue and funny-sad humor in this novel...This is a mid-20th-century period piece, but oh, how familiar it all seems. Most radically of all, Tanabe writes spot-on about something many men and women are still loath to talk about: that women can love their children but still crave and need a life outside the home."
––The Washington Post

"Layered and engrossing."
––Publishers Weekly (starred review)

"Tanabe crafts the historical setting convincingly [and] the novel moves at a brisk pace...perhaps the most subversive thing about the twinned stories is this: how well the masks and performances Rina puts on as wife and mother prepare her for the world of espionage."
––Kirkus

"The kind of historical fiction you can get lost in"
––PopSugar

"Taut and thoughtful, A Woman of Intelligence vividly portrays a particular moment in American history while capturing a woman's timeless struggle to create her own life."
––Shelf Awareness

"A smart thriller with heart...and some simmering sexual tension, too."
––BookRiot

"This book works on so many levels...Domestic suspense is often like a spy novel—vast undercurrents and power differentials underpinning a superficially close but in fact exploitative relationship—and nowhere is that point made more clear than in this novel." ––CrimeReads

"The glitz and glamour of 1954 Manhattan come to life in this captivating novel."
––Woman's World

"If you're into fast-paced classic spy thrillers, with plenty of twists and turns, this one's for you."
––Westport Magazine

"What a delicious skein of secrets Karin Tanabe has spooled in A Woman of Intelligence, somehow entwining the lies it takes to sustain the fiction of happy motherhood with the lies it takes to work as a covert operative for the FBI in 1954 at the height of the McCarthy hearings. Katharina Edgeworth's awakening into the gray area of patriotic action is prescient, relevant, and above all, deeply satisfying. I loved diving into this world."
––Sarah Blake, New York Times bestselling author of The Guest Book

"Tanabe has long delighted readers of historical fiction with her beautiful writing, compelling plots, and sumptuous historic details. In A Woman of Intelligence, she gives fans a heroine to root for in the strong, complex, and spirited Katharina Edgeworth. This is the story of a woman who dares to dream beyond the gilded cage and stifling social mores into which life has boxed her, and who proves the indelible power of women to change the world in the process."
––Allison Pataki, New York Times bestselling author of The Queen's Fortune

"Karin Tanabe delivers her most complex heroine yet in A Woman of Intelligence. Katharina Edgeworth, a former UN translator, unfulfilled in her role as wife and mother, finds herself leading a double life as an FBI informant during the McCarthy era. Filled with intrigue and wit, Tanabe takes readers on a meticulously researched journey through post WWII New York. This is a novel for fans of thrillers and historical fiction alike."
––Renee Rosen, bestselling author of Park Avenue Summer
St. Martin's Press, 9781250231505, 384pp.
Publication Date: July 20, 2021
About the Author
KARIN TANABE is the author of over five novels, including A Hundred Suns and The Gilded Years (soon to be a major motion picture starring Zendaya, who will produce alongside Reese Witherspoon/Hello Sunshine). A former Politico reporter, her writing has also been featured in The Washington Post, Miami Herald, Chicago Tribune, and Newsday. She has appeared as a celebrity and politics expert on Entertainment Tonight, CNN, and CBS Early Show. A graduate of Vassar College, Karin lives in Washington, DC.
1. Consider the opening scene of the novel. What does it reveal about Katharina's feelings toward motherhood and her daily existence? How does it set the tone for the unfolding narrative?
2. Discuss the moment when Tom says he doesn't want to marry someone like his mother, Amelia Edgeworth. What does this reveal about Tom and Rina's relationship? What does it reveal about Tom's relationship with Amelia? How did your feelings toward Amelia evolve over the course of the novel?
3. On page 38, Rina says, "But I'm still a woman in 1946." Consider the weight of this statement. What did you learn about the societal expectations for women during the 1940s and 1950s?
4. What did you make of the novel's title?
5. The novel's setting of New York City is so integral to the narrative, serving as a character in and of itself. What are some moments in the novel when you see this to be true?
6. Discuss the significance of the hallway in Rina and Tom's apartment ("the gallery") and the window seat. What does this spot represent for Rina?
7. Discuss the evolution of Rina and Tom's relationship over the years, from the beginning of their relationship to their marriage. What do you think the future holds for the two of them?
8. Examine the female friendships that Rina has in her life. How do Faye Buckley Swan, Ava Newman, and Marianne Fontaine influence Rina?
9. What did the novel teach you about the Red Scare and McCarthyism that you may not have known before?
10. On page 346, Turner Wells says to Rina, "Don't let your circumstances extinguish you." Discuss the impact and meaning behind his words. In what ways have the characters in the novel––and Rina in particular––been affected by and/or overcome their circumstances?
11. Consider the role of Turner Wells in Rina's life. What does he mean to her? How does he change her? Did the racism regarding interracial couples in the 1950s impact them and their interactions?
12. Do you think our views on the roles of motherhood, a mother's identity, and postpartum depression have changed since the 1950s?
13. Discuss the end of the novel. How did it make you feel? What do you think comes next for Rina?