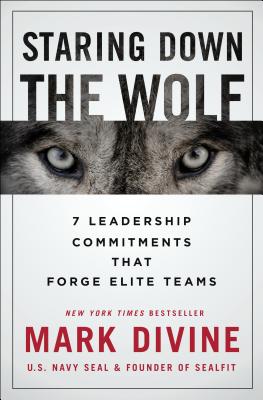 Staring Down the Wolf (Hardcover)
7 Leadership Commitments That Forge Elite Teams
St. Martin's Press, 9781250231581, 320pp.
Publication Date: March 3, 2020
Other Editions of This Title:
Paperback (4/6/2021)
* Individual store prices may vary.
Description
A leadership book by former Navy SEAL and New York Times bestselling author Mark Divine, Staring Down the Wolf focuses on harnessing the principles of purpose and discipline in life to achieve success.
What does it take to command a team of elite individuals?
It requires a commitment to seven key principles: Courage, Trust, Respect, Growth, Excellence, Resiliency, and Alignment. All of these are present in an elite team which commits to them deeply in order to forge the character worthy of uncommon success.
Retired Navy SEAL Commander, entrepreneur and New York Times bestselling author Mark Divine (founder of SEALFIT, NavySeal.com, and Unbeatable Mind) reveals what makes the culture of an elite team, and how to get your own team to commit to serve at an elite level. Using principles he learned on the battlefield, training SEALs, and in his own entrepreneurial and growth company ventures, Mark knows what it is to lead elite teams, and how easily the team can fail by breaching these commitments.
Elite teams challenge themselves to step up everyday to do the uncommon. Developing the principles yourself and aligning your team around these commitments will allow you to thrive in VUCA (volatility, uncertainty, complexity, ambiguity) environments, no matter your background or leadership experience.
Drawing from his twenty years leading SEALs, and twenty five years of success and failure in entrepreneurship and ten years coaching corporate clients, Mark Divine shares a very unique perspective that will allow you to unlock the tremendous power of your team.
"Mark Divine has a gift for creating highly effective dynamic teams. Mark interleaves key aspects of leadership, mental toughness, resiliency and cultivating higher plains of existence into a foundational concept of being an authentic 'Leader of leaders.' This book is indispensable for anyone looking to lead, build and foster an elite culture." –Mike Magaraci, retired Force Master Chief of Naval Special Warfare

"From his time as a Commander in the SEAL Teams to building several successful multimillion dollar businesses, Mark Divine is an authority on building elite teams and leaders capable of tapping their fullest potential." –David Goggins, Retired Navy SEAL, author of New York Times Bestseller Can't Hurt Me

"To grow to your fullest capacity in your life and as a leader, we need to challenge ourselves. There's no one I know who's challenged himself more than Mark Divine. He's the perfect visionary to help get you out of your comfort zone and shattering the status quo." –Joe De Sena, Founder and CEO of Spartan
About the Author
MARK DIVINE is a former Navy SEAL and has trained thousands of aspiring Navy SEALs.  He owns and runs the SEALFIT Training Center in San Diego, California where he trains thousands of professional athletes, military professionals, SWAT, First Responders, SOF candidates and everyday people looking to build strength and character.
Praise For Staring Down the Wolf: 7 Leadership Commitments That Forge Elite Teams…
"Mark Divine is one of my favorite writers on leadership and mental and physical wellness." –Ryan Holiday, #1 New York Times Bestselling author of Ego is the Enemy
"Mark Divine provides a valuable resource on what every leader should know, embrace and practice if they want to be successful in the most meaningful way." –Larry King, Broadcast Legend
"In a world of soundbites and memes works of real substance are not only needed, but stand out. In SDTW, Mark Divine distills his experience and wisdom garnered via military service, entrepreneurship, and life. This is not a motivational book, this is a framework for developing resilience and grit." –Robb Wolf, 2X Bestselling Author, consultant for the Naval Special Warfare Resiliency program
"If you read one book on leadership this is it. Former SEAL Mark Divine takes what he learned on the battlefield and applies it to real world business situations allowing you to understand how to better form and manage a team." –Naveen Jain, Founder InfoSpace, CEO of Viome
"This book teaches you how to lead a team, how to form a team and most importantly how to keep the team adjusting to rapid and unexpected change so that you can succeed in whatever field you thrive in." –Jesse Itzler, Entrepreneur, endurance athlete, and an owner of the Atlanta Hawks.
"Mark's latest book Staring Down The Wolf is one of the best and most genuine books on leadership perspectives that I have read. His ability to relate his own trials and tribulations in successes and failures in his own leadership opportunities provide an outstanding perspective on what true leadership really is. In my current role, I spend every waking moment helping young men and women through a rigorous leadership journey, and every single facet of this book speaks to what people need to know about leadership and building winning teams. It reinforces everything that good leaders need and should know about being the best leader you can. His seven commitments provide an exceptional roadmap for every leader to set the conditions for success, regardless of what organization they are leading. Hooyah Cyborg!" –CAPT Geno Paluso, USN (Ret)
"Commit yourself to Mark Divine's lessons and you to can learn to stare down the wolf." –Gary Shedlin, Chief Financial Officer of BlackRock