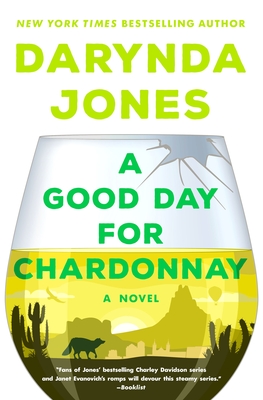 A Good Day for Chardonnay (Sunshine Vicram Series #2) (Hardcover)
St. Martin's Press, 9781250233110, 400pp.
Publication Date: July 27, 2021
Other Editions of This Title:
CD-Audio (7/27/2021)
* Individual store prices may vary.
Description
From the New York Times bestselling author Darynda Jones comes the second novel in her laugh-out-loud Sunshine Vicram mystery series, A Good Day for Chardonnay.

Running a small-town police force in the mountains of New Mexico should be a smooth, carefree kind of job. Sadly, full-time Sheriff—and even fuller-time coffee guzzler—Sunshine Vicram, didn't get that memo.

All Sunshine really wants is one easy-going day. You know, the kind that starts with coffee and a donut (or three) and ends with take-out pizza and a glass of chardonnay (or seven). Turns out, that's about as easy as switching to decaf. (What kind of people do that? And who hurt them?)

Before she can say iced mocha latte, Sunny's got a bar fight gone bad, a teenage daughter hunting a serial killer and, oh yes, the still unresolved mystery of her own abduction years prior. All evidence points to a local distiller, a dangerous bad boy named Levi Ravinder, but Sun knows he's not the villain of her story. Still, perhaps beneath it all, he possesses the keys to her disappearance. At the very least, beneath it all, he possesses a serious set of abs. She's seen it. Once. Accidentally.

Between policing a town her hunky chief deputy calls four cents short of a nickel, that pesky crush she has on Levi which seems to grow exponentially every day, and an irascible raccoon that just doesn't know when to quit, Sunny's life is about to rocket to a whole new level of crazy.

Yep, definitely a good day for chardonnay.

Praise for the Sunshine Vicram series

"Laugh-out-loud funny, intensely suspenseful, page-turning fun."--New York Times Bestselling author Allison Brennan

"A Bad Day For Sunshine is a great day for the rest of us."--New York Times bestselling author
Lee Child
About the Author
Winner of the 2009 Golden Heart® for Best Paranormal Romance for her manuscript First Grave on the Right, Darynda Jones can't remember a time when she wasn't putting pen to paper. She lives in the Land of Enchantment, also known as New Mexico, with her husband of more than 25 years and two beautiful sons, aka the Mighty, Mighty Jones Boys.
Praise For A Good Day for Chardonnay (Sunshine Vicram Series #2)…
Praise for A Bad Day for Sunshine:

"Provides plenty of action. Recommended for fans of Linda Castillo and J.A. Jance." - Library Journal

"Jones has a real talent for balancing suspense with laugh-out-loud humor, never losing the tension from either." - BookPage

"A Bad Day For Sunshine is a great day for the rest of us - captivating characters, great writing, pace, humor and suspense." - Lee Child, New York Times bestselling author

"Fans of Jones' bestselling Charley Davidson series and Janet Evanovich's romps will devour this steamy series launch, which introduces both an irresistible pair crime-busting Gilmore Girls and a quirky, mysterious setting." - Booklist

"Compelling characters and a sexy, angst-filled bunch of mysteries add up to a winning series debut." - Kirkus

"A Bad Day for Sunshine is everything you want from Darynda Jones … and more! Laugh-out-loud funny, intensely suspenseful, page-turning fun with a sassy new heroine you will love. Prepare to be hooked by this witty, sexy, and thrilling new series from one of my favorite authors!" - Allison Brennan, New York Times bestselling author

"Swoon-worthy heroes, quirky characters, and a page turning mystery. Move over Stephanie Plum, Sunshine Vicram has arrived. Prepare yourself. This book is a keeper!" –New York Times Bestselling Author Christie Craig

"Darynda Jones has done it again. With trademark humor, eccentric yet relatable characters, and masterful storytelling, she takes us on a journey we don't want to end. A Bad Day for Sunshine is a great day for readers!" -#1 Bestselling Author Tracy Brogan

"Smart, sexy, and outrageously funny. Jones masterfully balances heartwarming comedy and bone chilling suspense." Marina Adair, #1 National bestselling author of Summer in Napa

"From the creative genius who brought you Charley Davidson comes your newest obsession: Sunshine Vicram. Mother. Sheriff. Warden of weird." - New York Times Bestselling Author Susan Donovan

"Darynda Jones is always on my MUST READ list! No one can pull you into a book like she can!" - New York Times and USA Today Bestselling author Donna Grant

"All the snarky humor and engaging writing you've come to expect from master storyteller Darynda Jones. I would read her if she scribbled on a napkin. Luckily, her new story has more than just lipstick and a number. Prepare to get sucked in. Her writing is like a vortex; you can't get out until you're done and sobbing for more."- New York Times and USA Today Bestselling author Eve Langlais

"A new town, new characters to become friends with, same snort-in-public humor . . . you're going to love this story!" - Award Winning Author Laura Drake

"A Bad Day for Sunshine is deliciously witty, fast paced and filled with laugh-out-loud dialogue. Darynda Jones knocks it out of the park with this delightful new series!" - Robyn Peterman, New York Times Bestselling Author

"Darynda delivers again! A Bad Day for Sunshine tugs at your heartstrings and tickles your funny bone. From gut-wrenching heartbreak to full-abdominal belly laughs, Sunshine is a literary workout for your core. Another unique read from a stellar storyteller!" -Diane Kelly, Award Winning Author of Hilarious Mysteries

"Smart, sexy, clever . . . and so many laughs! Darynda Jones brings her trademark wit and charm in A Bad Day for Sunshine. I couldn't get enough!" - Kim Law, Award-winning Bestselling author of Montana Cherries
or
Not Currently Available for Direct Purchase