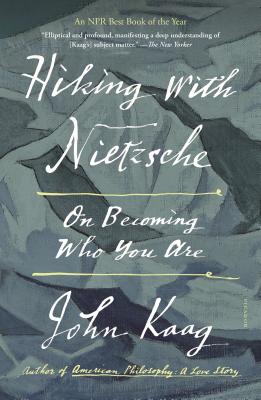 Hiking with Nietzsche
On Becoming Who You Are
Paperback

* Individual store prices may vary.
Other Editions of This Title:
Hardcover (9/25/2018)
Compact Disc (9/25/2018)
Paperback, Chinese (12/5/2019)
Compact Disc (9/25/2018)
MP3 CD (9/25/2018)
Description
"A stimulating book about combating despair and complacency with searching reflection." --Heller McAlpin, NPR.org

Named a Best Book of 2018 by NPR. One of Lit Hub's 15 Books You Should Read in September and one of Outside's Best Books of Fall

A revelatory Alpine journey in the spirit of the great Romantic thinker Friedrich Nietzsche

Hiking with Nietzsche: Becoming Who You Are is a tale of two philosophical journeys—one made by John Kaag as an introspective young man of nineteen, the other seventeen years later, in radically different circumstances: he is now a husband and father, and his wife and small child are in tow. Kaag sets off for the Swiss peaks above Sils Maria where Nietzsche wrote his landmark work Thus Spoke Zarathustra. Both of Kaag's journeys are made in search of the wisdom at the core of Nietzsche's philosophy, yet they deliver him to radically different interpretations and, more crucially, revelations about the human condition.

Just as Kaag's acclaimed debut, American Philosophy: A Love Story, seamlessly wove together his philosophical discoveries with his search for meaning, Hiking with Nietzsche is a fascinating exploration not only of Nietzsche's ideals but of how his experience of living relates to us as individuals in the twenty-first century. Bold, intimate, and rich with insight, Hiking with Nietzsche is about defeating complacency, balancing sanity and madness, and coming to grips with the unobtainable. As Kaag hikes, alone or with his family, but always with Nietzsche, he recognizes that even slipping can be instructive. It is in the process of climbing, and through the inevitable missteps, that one has the chance, in Nietzsche's words, to "become who you are."
Praise For Hiking with Nietzsche: On Becoming Who You Are…
"Kaag is a lively storyteller who brings Nietzsche's life into continual contact with his own . . . [He] challenges his readers to be what they might become." --Steven B. Smith, The New York Times Book Review

"Not just an approachable introduction to Nietzsche's thought. Kaag's book is also . . . a confirmation that philosophy thrives when it provides an antidote to the wholesome doldrums of sanity . . . Kaag may have outgrown his youthful dramatics, but he continues to let philosophy upend him." --Becca Rothfeld, The Atlantic

"[An] engagingly unacademic meditation . . . The question, ultimately, is whether Nietzsche's philosophy, so attuned to lurking monstrous urges, can be of use in daily life. Kaag's answer is both elliptical and profound, manifesting a deep understanding of his subject matter." --The New Yorker

"As in American Philosophy, Kaag deftly intertwines sympathetic biography, accessible philosophical analysis, and self-critical autobiography . . . Kaag extracts plenty of relevant ideas from Nietzsche and his followers in this stimulating book about combating despair and complacency with searching reflection." --Heller McAlpin, npr.org

"Mr. Kaag deftly weaves his philosophical concerns with the small and large crises of daily life . . . his honesty is bracing." --Geoff Wisner, The Wall Street Journal

"In [Hiking with Nietzsche] and in his previous book American Philosophy: A Love Story . . . Kaag has perhaps created a genre . . . [He combines] almost seamlessly a relatively rigorous though highly readable tour of Nietzsche's life and authorship with personal writing in the mode of contemporary 'creative non-fiction' . . . Hiking with Nietzsche may provide a new template for autobiographical philosophy and philosophical autobiography." --Cirspin Sartwell, TLS

"Kaag has a pleasingly wry, compact style, and is particularly interesting on thinkers that that Nietzsche influenced heavily." --Steven Poole, The Guardian (Book of the day)

"While the book serves as an entry point to Nietzsche's writing, its real success is as an embodiment of one of his core ideas — and one that you needn't have read his works to appreciate: the imperative of becoming who you are . . . Call it philosophy. Call it memoir. This is a book with verve. Read it at the risk of being drawn in to your own becoming." --Scott F. Parker, Minneapolis Star-Tribune

"Kaag has carved out a genre all his own, a genre with the promise to narrow some of the gaps between the esoteric and the familiar, the academic and the non-academic, the philosopher and the self-help guru. For those with Kaag's unusual mixture of philosophical sophistication and narrative skill, it is a genre well worth emulating." --John F. Muller, Los Angeles Review of Books

"You don't need to like Nietzsche to love this book… [it] is more than a well-marked trail into Nietzsche's world. It is an attempt to reclaim his philosophy for the middle-aged… [Kaag provides] deft storytelling and prose of such momentum and transparency… there are glorious descriptions of nature, lakes and mountains… I'll read whatever [Kaag] writes." --Kieran Setiya, Literary Review

"Hiking with Nietzsche serves as a straightforward and even practical introduction to the German philosopher's writings, and makes a convincing case for why they continue to matter. Even readers not necessarily tempted to descend into the Nietzschean abyss will surely find Kaag's exploration of selfhood, decadence, companionship, and physical duress both invigorating and thought-provoking. Contrary to the how-to-live-your-life genre, and in keeping with Nietzsche's explosive and discomforting ideas, Kaag manages to ask all the right questions without irritably reaching for any palliative answers or solutions." -- Morten Høi Jensen, Los Angeles Review of Books

"In Hiking with Nietzsche, Kaag explores how the idea of striving mentally and physically are tied together. To be honest, at this point in my life I'm probably never going to read Nietzsche, but Kaag's clear writing and insight into why we get obsessed with peaks . . . rang true and made me feel slightly more enlightened." --Heather Hansman, Outside

"[Hiking with Nietzsche] artfully blends Nietzsche's biography, an accessible yet subtle introduction to his big ideas, and Kaag's own reminiscences . . . funny and moving." --Paul W. Gleason, Newsday

"Lively . . . a deeply personal account of a lifelong engagement with the philosopher's works." --Tatler Magazine (U.K.) (10 books to read this spring)

"Kaag has the perfect resume for this type of introspective blend of memoir and biography . . . He pairs breathtaking descriptions of the Sils region with Nietzsche's fascinating personal history, providing a unique, engaging narrative . . . With Hiking with Nietzsche, Kaag can now add his own name to the list of thoughtful wanderers." --Becky Libourel Diamond, BookPage

"This isn't a misery memoir or anything like that. This is a serious discussion of how philosophy relates to life, told through part of the author's own life. It takes a very skillful writer to weave those things together in a way that is readable and interesting without seeming indulgent." --Nigel Warburton, Five Books (Best Philosophy Books of 2018)

"Meditative . . . thought provoking . . . Kaag has crafted a stirring account of a personal encounter with a great mind." --Publishers Weekly

"Kaag succeeds . . . through his courage to approach Nietzsche, and philosophy in general, from a personal—and not just intellectual—perspective . . . A meditative work full of self-understanding that will resonate with anyone who has ever been drawn toward the void." --Kirkus

"Fusing intense emotion with unflinching analysis, Kaag invites readers to make philosophy a life-elevating adventure." --Booklist

"A wonderful introduction to Nietzsche set against the unique backdrop of the landscape and cities he experienced. The tone and writing style make it accessible to general readers, while the content will reward those familiar with Nietzsche as well." --Library Journal

"A searing, very personal journey through John Kaag's own Nietzschean abyss." —Sue Prideaux, author of I Am Dynamite: A Life of Friedrich Nietzsche

"John Kaag is the perfect guide for this bold trek, a journey from solitude and yearning to mature acceptance and, well, love. An elegant reckoning with the tough questions, a challenging lesson in philosophy, a deep pleasure to read." —James Carroll, author of Constantine's Sword and The Cloister

"I never truly appreciated Friedrich Nietzsche. I might even have been a little afraid of him. But Hiking with Nietzsche changed that. John Kaag's luminous new book provides the reader with a deep understanding of and empathy for the philosopher's thought, along with capacious and original insights into companionship, marriage, fatherhood, solitude, decadence, self-deception, self-actualization, despair, and, finally, joy." —Eileen Pollack, author of The Only Woman in the Room: Why Science Is Still a Boys' Club
Picador, 9781250234681, 272pp.
Publication Date: October 1, 2019
About the Author
John Kaag is a professor of philosophy at the University of Massachusetts, Lowell. He is the author of American Philosophy: A Love Story, which was an NPR Best Book of 2016 and a New York Times Editors' Choice. His writing has appeared in The New York Times, Harper's Magazine, The Christian Science Monitor, and many other publications. He lives outside Boston with his wife and children.