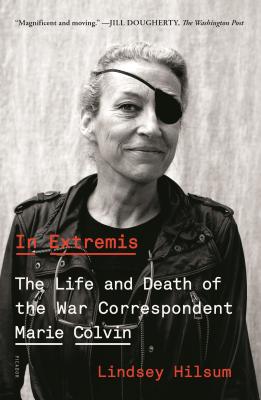 In Extremis
The Life and Death of the War Correspondent Marie Colvin
Paperback

* Individual store prices may vary.
Other Editions of This Title:
Digital Audiobook (11/5/2018)
Hardcover (11/6/2018)
Description
A New York Times Book Review Editors' Choice. Finalist for the Costa Biography Award and long-listed for the Andrew Carnegie Medal for Excellence. Named a Best Book of 2018 by Esquire and Foreign Policy. An Amazon Best Book of November, the Guardian Bookshop Book of November, and one of the Evening Standard's Books to Read in November

"Now, thanks to Hilsum's deeply reported and passionately written book, [Marie Colvin] has the full accounting that she deserves." --Joshua Hammer, The New York Times

The inspiring and devastating biography of Marie Colvin, the foremost war reporter of her generation, who was killed in Syria in 2012, and whose life story also forms the basis of the feature film A Private War, starring Rosamund Pike as Colvin.

When Marie Colvin was killed in an artillery attack in Homs, Syria, in 2012, at age fifty-six, the world lost a fearless and iconoclastic war correspondent who covered the most significant global calamities of her lifetime. In Extremis, written by her fellow reporter Lindsey Hilsum, is a thrilling investigation into Colvin's epic life and tragic death based on exclusive access to her intimate diaries from age thirteen to her death, interviews with people from every corner of her life, and impeccable research.

After growing up in a middle-class Catholic family on Long Island, Colvin studied with the legendary journalist John Hersey at Yale, and eventually started working for The Sunday Times of London, where she gained a reputation for bravery and compassion as she told the stories of victims of the major conflicts of our time. She lost sight in one eye while in Sri Lanka covering the civil war, interviewed Gaddafi and Arafat many times, and repeatedly risked her life covering conflicts in Chechnya, East Timor, Kosovo, and the Middle East. Colvin lived her personal life in extremis, too: bold, driven, and complex, she was married twice, took many lovers, drank and smoked, and rejected society's expectations for women. Despite PTSD, she refused to give up reporting. Like her hero Martha Gellhorn, Colvin was committed to bearing witness to the horrifying truths of war, and to shining a light on the profound suffering of ordinary people caught in the midst of conflict.

Lindsey Hilsum's In Extremis is a devastating and revelatory biography of one of the greatest war correspondents of her generation.
Praise For In Extremis: The Life and Death of the War Correspondent Marie Colvin…
"An extraordinary account of one reporter's fearless and ultimately fatal dedication . . . Hilsum draws an empathetic portrait of a woman whose courage often crossed into recklessness, both in combat zones and outside them . . . Thanks to Hilsum's deeply reported and passionately written book, [Colvin] has the full accounting that she deserves." --Joshua Hammer, The New York Times Book Review

"Colvin's life has been memorably chronicled by Hilsum . . . it is Hilsum's biography, written by a woman who both knew Colvin and had access to her unpublished reporting notes and private diaries—a trove of some three hundred notebooks—that seems to most closely capture her spirit." --Jon Lee Anderson, The New Yorker

"Magnificent and moving . . . [Hilsum] captures the clashing extremes of Colvin's life." --Jill Dougherty, The Washington Post

"Hilsum writes with admiration and compassionate understanding of her colleague . . . Journalists will devour Hilsum's book, but will others? They should: with Marie's story, Hilsum opens doors through which many would not peep." --Ed Vulliamy, The New York Review of Books

"In Extremis is the best biography I've read in what seems like ages . . . Hilsum brilliantly synthesizes it all, separating wheat from chaff and building a portrait of a remarkable and somewhat troubled woman." --Curt Schleier, Minneapolis Star-Tribune

"Extraordinarily intimate. . . Hilsum evokes a martyr in slow motion." --Megan K. Stack, Bookforum (cover review)

"One of the best biographies I have read about any journalist . . . What makes the biography and the life on which it is based so impressive is the truly heroic proportions of Colvin's dedication to getting the story of human beings trapped in war . . . Hilsum weaves the accomplishments into the personal story." --Charles Glass, The Intercept

"Absorbing and meticulously researched." --Paul Alexander, Newsday

"What ultimately emerges from In Extremis is a generous, complicated, brave, vivacious, fully alive woman, consummately committed to her work." --Stephanie Sy-Quia, Los Angeles Review of Books

"A wonderful book — a fitting tribute, certainly, but also a well-told tale of a remarkable life." --Jane Bonham Carter, Sunday Times (U.K.)

"Marie Colvin was a one-off, eccentric, brilliant and sometimes maddening. Lindsey Hilsum does her justice." --Robert Fox, Evening Standard (U.K.)

"[In Extremis] succeeds brilliantly in honouring a brave and hugely influential journalist, while allowing the real woman, with all her strength, intelligence and human frailty, to shine through . . . Gripping and very moving." --Susan Flockhart, The National (Scotland)

"There are times when the book risks becoming a hagiography, but Hilsum avoids this by combining storytelling with asking important questions about what kind of service war correspondents perform and what ethical codes they should adhere to." --Lara Feigel, The Guardian (U.K.)

"[An] intimate biography." --The Economist

"Hilsum is able to portray Colvin in remarkable fullness . . . a rip-roaring life rendered extremely well." --Kirkus (starred review)

"Hilsum . . . has done a masterful job of telling Colvin's story. This is riveting personal and professional history, told with skill and sincerity . . . Hilsum has created something truly worthy of her subject, a biography that reads like high adventure, a masterwork that will draw well-deserved attention to a heroic witness." —Colleen Mondor, Booklist (starred review)

"This unputdownable account will inspire future journalists, especially women, and should find wide audiences among those interested in global crises and international affairs." --Karl Helicher, Library Journal (starred review)

"Writing a biography of Marie Colvin is like capturing lightning in a bottle, but Lindsey Hilsum has the knowledge and personal experience to help us understand what drew Colvin to rush towards the eye of the storm at such great risk." —Annie Lennox

"One of the modern world's most experienced and admired foreign correspondents, Lindsey Hilsum has now written a riveting, intimate, and deeply moving account of the epic life of her late friend and colleague, Marie Colvin. In the tradition of Martha Gellhorn, her fellow American and ultimate heroine and role model, Colvin sought to bear witness and write well about the world's most troubled places, and for twenty-five years she did just that, over and over again, going in deep and staying too long in a dozen conflicts from Libya and Lebanon to Kosovo, and from Iraq to Afghanistan and East Timor. She lost an eye in Sri Lanka, and eventually her life in Syria, and she will be long remembered—not least because of Hilsum's fine work in this book— as one of the great war reporters of her generation." —Jon Lee Anderson, author of The Fall of Baghdad
Picador, 9781250234841, 416pp.
Publication Date: November 12, 2019
About the Author
Lindsey Hilsum is the International Editor for Channel 4 News in England. She has covered many of the major conflicts and international events of the last twenty-five years, including the wars in Syria, Ukraine, Iraq and Kosovo; the Arab Spring; and the genocide in Rwanda. Her writing has appeared in The New York Review of Books, The Guardian, and Granta. Her first book, Sandstorm: Libya in the Time of Revolution was short-listed for the 2012 Guardian First Book Award.