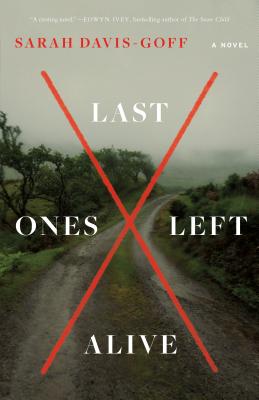 Last Ones Left Alive (Hardcover)
A Novel
Flatiron Books, 9781250235220, 288pp.
Publication Date: August 27, 2019
Other Editions of This Title:
Paperback (11/3/2020)
* Individual store prices may vary.
Description
"Combines the spare poetry of The Road with the dizzying pace of 28 Days Later." —Jennie Melamed, author Gather the Daughters
"A riveting novel." —Eowyn Ivey, bestselling author of The Snow Child
Remember your just-in-cases. Beware tall buildings. Always have your knives.
Raised in isolation by her mother and Maeve on a small island off the coast of a post-apocalyptic Ireland, Orpen's life has revolved around training to fight a threat she's never seen. More and more she feels the call of the mainland, and the prospect of finding other survivors.
But that is where danger lies, too, in the form of the flesh-eating menace known as the skrake.
Then disaster strikes. Alone, pushing an unconscious Maeve in a wheelbarrow, Orpen decides her last hope is abandoning the safety of the island and journeying across the country to reach the legendary banshees, the rumored all-female fighting force that battles the skrake.
But the skrake are not the only threat…
Sarah Davis-Goff's Last Ones Left Alive is a brilliantly original imagining of a young woman's journey to discover her true identity.
About the Author
Sarah Davis-Goff's writing has been published in the Irish Times, the Guardian and LitHub. Last Ones Left Alive is her debut novel. She was born and lives in Dublin.
Praise For Last Ones Left Alive: A Novel…
"Written in sparse, affecting prose, and reminiscent of Cormac McCarthy's The Road, this is a fiercely feminist, highly imaginative novel."
—The Guardian
"[Orpen's] Irish-lilted prose conveys her voice with total authenticity…The stellar character work and rapid pacing will be enough to hook readers. First-time novelist Davis-Goff has a firm grasp of good storytelling and one hopes that this confident debut will mark the beginning of a long bibliography."
—Booklist, starred review
"A riveting novel. The fierce, unflinching voice of Orpen stayed with me long after I finished the last page. It is often grim, even terrifying, but through it all I was reminded that even in the darkest times, love and human decency can survive."
—Eowyn Ivey, bestselling author of The Snow Child and To the Bright Edge of the World
"Davis-Goff writes language evocative of melancholy longing in a landscape both beautiful and brutal...With a bleak setting, waves of action, and immersive worldbuilding, Davis-Goff's debut successfully blends horror, lyrical prose, and feminist themes."
—Kirkus
"Bleakly beautiful. A raw emotional depth-charge of a novel."
—M.R. Carey, bestselling author of The Girl With All the Gifts
"Last Ones Left Alive combines the spare poetry of The Road with the dizzying pace of 28 Days Later. A beautiful book, lyrical in its violence, painting in vivid strokes the joy and brutality of the human experience. An original, brilliant take on the end of the world."
—Jennie Melamed, author of Gather the Daughters
"The post-collapse wasteland is, of course, well-travelled ground by now. But Davis-Goff gives it a spark with her lively descriptions of hand-to-hand combat and feminist grit."
—Toronto Star
"It is not only the distinctly Irish element, however, but the immense quality of the writing that stands this novel a clear head and shoulders above the rest. It's as much an exploration of inexpressible grief and loss as it is a rocket-paced page-turner, as much a coming-of-age story as it is a testament of resilience in impossible circumstances. And it left me feeling almost as queasy as Orwell did."
—Irish Independent
"You'll be terrified, fascinated and, above, all, uplifted by Orpen - a heroine to rival Philip Pullman's Lyra or The Passage's Amy."
—Stylist
"A zombie novel with a Celtic twist…Davis-Goff's painstaking account of the courage and resourcefulness of these three women dominates the first part of the book, but their solitary ordeal preludes a much grander unfolding of female empowerment, in which they must join forces with the banshees, a company of women who set out to defeat the skrake—and other monstrous beings—and give humanity another chance."
—BookPage
"A debut novel of jaw-dropping skill and immense power, a shimmering dystopian vision but also a lucid meditation on tenderness, intimacy and courage. From the get-go, it gripped me, and since the last page I've been haunted."
—Joseph O'Connor, #1 internationally bestselling author of Star of the Sea
"A kind of Hibernian cross between classic dystopias such as The Road and 28 Days Later."
—Irish Independent, Books to Look Out For in 2019
"Sarah's writing is crisp and evocative, her dialogue crackles and sparks, and her gifts of imagination and narrative verve, and her empathy and compassion, are present on every page. This dystopian future Ireland will unnerve and thrill and intrigue readers the world over."
—Donal Ryan, author of The Spinning Heart, long-listed for the Booker Prize and winner of the Guardian First Book Award
"A confident, assured debut from one of the most exciting new voices on the Irish literary scene. Last Ones Left Alive is beautifully written and perfectly paced, keeping me awake until 2am as I promised myself that I would read "just one more chapter". It's a triumph."
—Louise O'Neill, #1 international bestselling author of Asking For It
"Last Ones Left Alive is everything I hoped it would be: ferocious and chilling, but brimming with real humanity. This is a book that's brave, brutal, and brilliant."
—Lisa McInerney, author of Glorious Heresies, winner of the Baileys Women's Prize for Fiction and the Desmond Elliot Prize
"Davis-Goff has crafted a beautiful, lyrical, and guttural examination of what it takes to love and survive in a world shaped by loss and violence. This is a magnetic novel pulsing with life. It is truly remarkable and unforgettable."
—Sarah Schmidt, author of See What I Have Done
"Last Ones Left Alive gripped me as much by the heart as it did by the throat. A stormer of a debut, Davis-Goff has created an urgent, assured, terrifying tale of destruction, humanity, and love."
—Kiran Millwood Hargrave, bestselling author of The Girl of Ink and Stars and The Vardo
"Beautifully written and terrifying. Last Ones Left Alive will leave you reeling, not only from its originality and searing vision, but also from the humanity of the relationships portrayed."
—Kate Hamer, bestselling author of The Girl in the Red Coat
"I will be cursing Last Ones Left Alive for seriously troubling dreams for weeks to come."
—Patrick Gale, Costa nominated bestselling author of A Place Called Winter
"Whizzed through #LastOnesLeftAlive in one sitting last night as it really doesn't allow you to read it at anything other than full tilt. Like a relentless John Christopher with undead proboscidean monsters."
—Dom Nolan, author of the upcoming novel Past Life