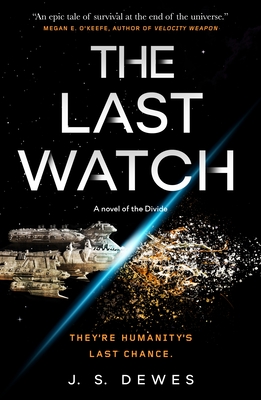 The Last Watch (The Divide Series #1)
Paperback

* Individual store prices may vary.
Description
The Expanse meets Game of Thrones in J. S. Dewes's fast-paced, sci-fi adventure The Last Watch, where a handful of soldiers stand between humanity and annihilation.

The Divide.

It's the edge of the universe.

Now it's collapsing—and taking everyone and everything with it.

The only ones who can stop it are the Sentinels—the recruits, exiles, and court-martialed dregs of the military.

At the Divide, Adequin Rake, commanding the Argus, has no resources, no comms—nothing, except for the soldiers that no one wanted.

They're humanity's last chance.
Praise For The Last Watch (The Divide Series #1)…
Praise for The Last Watch

"An epic tale of survival at the end of the universe."—Megan O'Keefe, author of Velocity Weapon

"Crisp writing, vivid characters, and a plot that beguiles the imagination. The Last Watch is a stunning military sci-fi debut. I was hooked from the opening lines. If you like science fiction, then this book is definitely for you."—Jasper T. Scott, USA Today Bestselling Author

"The Last Watch is an amazing debut. The smart world-building and explode-off-the page action scenes make it perfect for fans of The Expanse and other fast-paced Sci Fi. I predict that Dewes is going to be a 'must read' author for years to come."—Michael Mammay, author of Planetside

"More fun than that time The Expendables, the Dirty Dozen and all of The Night's Watch all got picked up by a random quantum tear in the fabric of spacetime and shot out the edge of the universe to kick ass and save humanity."—John Birmingham, author of the Axis of Time trilogy

"Take the action of Marko Kloos' Frontlines novels, mix in the intricate world building of Game of Thrones or Warhammer 40,000, and light the fuse. . . . Bursting with snappy dialogue and detail and furious with action, you'll want to catch your breath when it's over, and then you'll want more. Bring it on."—Dayton Ward, bestselling author


"A scary edge-of-reality setup, cool martial-arts tattoos, interesting time anomalies, and OMG! The Universe is contracting!? Clear your schedule, because once you've gotten on this roller coaster, you're not going to want to get off until you've ridden it to the end."—Emily Devenport, author of Medusa Uploaded

"The Last Watch has it all! Risky orbital maneuvers! Knife fights with grotesque aliens! Mysterious ancient artifacts! Secret royalty! Tragic backstories! It's classic military space opera with a touch of the cosmic."—David Levine, winner of the Andre Norton Award for Arabella of Mars

Tor Books, 9781250236340, 480pp.
Publication Date: April 20, 2021
About the Author
After graduating from Columbia College Chicago with a degree in film production, J. S. Dewes went on to serve as cinematographer for independent films, write, produce, and shoot a zombie musical, slay internet dragons, and act as lighting designer for presidents and presidential-hopefuls so many times it became mundane. Having grown weary of such pedestrian exploits, she decided to begin forging worlds in the form of novels, returning to her roots in science fiction and the written word.

She currently resides in Madison, Wisconsin with her husband, who's proven to be a mixed blessing, but he makes her laugh, so she's decided to stick it out. They have two dogs (full blessings) and a cat of unpredictable demeanor. The Last Watch is her debut novel.