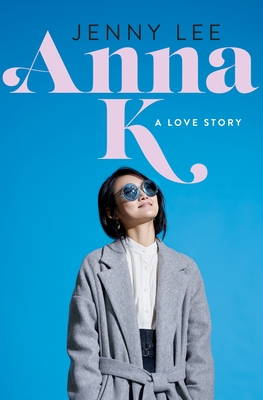 Anna K
A Love Story
Hardcover

* Individual store prices may vary.
Other Editions of This Title:
Digital Audiobook (3/2/2020)
Paperback, Spanish (4/20/2021)
Paperback (3/23/2021)
CD-Audio (3/3/2020)
Library Binding, Large Print (5/6/2020)
Description
A national indie bestseller! Meet Anna K: every happy teenage girl is the same, while every unhappy teenage girl is miserable in her own special way...

At seventeen, Anna K is at the top of Manhattan and Greenwich society (even if she prefers the company of her horses and dogs); she has the perfect (if perfectly boring) boyfriend, Alexander W.; and she has always made her Korean-American father proud (even if he can be a little controlling). Meanwhile, Anna's brother, Steven, and his girlfriend, Lolly, are trying to weather an sexting scandal; Lolly's little sister, Kimmie, is struggling to recalibrate to normal life after an injury derails her ice dancing career; and Steven's best friend, Dustin, is madly (and one-sidedly) in love with Kimmie.

As her friends struggle with the pitfalls of ordinary teenage life, Anna always seems to be able to sail gracefully above it all. That is…until the night she meets Alexia "Count" Vronsky at Grand Central. A notorious playboy who has bounced around boarding schools and who lives for his own pleasure, Alexia is everything Anna is not. But he has never been in love until he meets Anna, and maybe she hasn't, either. As Alexia and Anna are pulled irresistibly together, she has to decide how much of her life she is willing to let go for the chance to be with him. And when a shocking revelation threatens to shatter their relationship, she is forced to question if she has ever known herself at all.

Dazzlingly opulent and emotionally riveting, Anna K: A Love Story is a brilliant reimagining of Leo Tolstoy's timeless love story, Anna Karenina—but above all, it is a novel about the dizzying, glorious, heart-stopping experience of first love and first heartbreak.
Praise For Anna K: A Love Story…
Named a must-read book of 2020 by Good Morning America, Entertainment Weekly, Glamour, Elle, HelloGiggles, BuzzFeed, PopSugar, Bustle, BookPage, and more!

National bestseller
NPR Best Book of the Year
Marie Claire Book Club selection and Best Book of the Year
Book of the Month Club selection
A SkimmReads Pick

"A timeless tale of how much we're willing to sacrifice for love." —Teen Vogue

"A modern take on Leo Tolstoy's Anna Karenina, Anna K is a Gossip Girl meets Big Little Lies tale of wealth, privilege, love, and loss with lots of designer labels." —GoodMorningAmerica.com

"This is a soapy YA book that reads, well, like a Russian novel. Jenny Lee remixes and updates Anna Karenina, this time with a Korean American teenage socialite anchoring the story.Tolstoy fans and novices alike will find Anna K to be a satisfying read." —NPR

"Something no one tells you about postcollege reading is the fact that you have to relearn how to read for fun—Anna K is the ideal book for the job. The novel scratches the same itch binge-watching comfort TV does and stands as a good reminder that an 'important' read can be a fun one." —Vanity Fair (Best Book of the Year So Far)

"This innovative retelling illustrates the push and pull of first love." —Time

"Lee's version of Anna Karenina, tweaked and updated for today's teens, makes for addictive reading." —BookPage, starred review

"You'll be hard-pressed to find a YA that captures the Gossip Girl vibe as well as this debut, and you know B would approve of the fact that it takes its inspiration from classic literature!" —BuzzFeed

"A fresh and wickedly smart take on a classic story. Anna is even more scandalously fun now, in the age of stilettos and social media, than she was in 19th century Russia. I couldn't put this one down!" —Katharine McGee, author of American Royals
Flatiron Books, 9781250236432, 400pp.
Publication Date: March 3, 2020
About the Author
Jenny Lee is a television writer and producer who has worked on BET's Boomerang, IFC's Brockmire, Freeform's Young & Hungry, and the Disney Channel's number-one-rated kids' show, Shake It Up. Jenny has previously published humor essay collections and middle-grade novels, and Anna K. is her debut YA novel. She lives in Los Angeles with her husband and 135-pound Newfoundland, Gemma (and yes, it's a toss-up on who's walking who every day).
1. Discuss the novel's first line: "Every happy teenage girl is the same, while every unhappy teenage girl is miserable in her own special way." What do you think the author means? Do you agree?
2. Although the novel is called Anna K and she is arguably the main character, each chapter alternates between the perspectives of six different characters and features an even larger cast of friends and family. Did you have a favorite character in the novel? If so, why were you particularly drawn to her or him?
3. Anna K is a modern reimagining of a nineteenth-century Russian novel: Leo Tolstoy's Anna Karenina. If you were already familiar with Anna Karenina, did Anna K make you think about it in a different way? Why do you think there are so many adaptations of classics, from Shakespeare's plays to Jane Austen's novels? Do you think it's ever possible to write a truly new and original story, or is every story a kind of retelling?
4. There are three main teen love stories in these pages: Anna and Vronsky, Lolly and Steven, and Kimmie and Dustin. How are each of these relationships similar and different? What obstacles do each couple have to overcome?
5. In addition to romantic relationships, there are sibling relationships and platonic friendships at the heart of Anna K. Compare and contrast these different kinds of bonds, using examples from the novel. In your experience, can the relationships between siblings and friends be just as powerful and important as romantic relationships?
6. The novel begins with Lolly finding out that Steven cheated on her, and Anna coming in to do damage control. Later, Anna cheats on Alexander with Vronsky. How is Anna's cheating different from and similar to Steven's? Did you feel sorry for Alexander? Can cheating ever be justified?
7. When she and Kimmie are discussing Steven's cheating, Anna says, "I know it sounds like I'm making excuses for their thoughtless stupidity, but I'm not. I'm just saying boys and girls couldn't be more different in their wants and behaviors. And when you throw in raging hormones and mix it up with emotions, it's a wonder we don't all go mad." Do you agree? Is there something inherently different in the way that teenage boys and girls think about relationships? How does the novel confirm or undermine that generalization?
8. Wealth and status play a major role in the characters' lives. How are their identities shaped by their parents' money and the expectations that come along with it? How do you think their privilege influences the choices they make?
9. Discuss the role race plays in the novel. Although most of their friends are white, Anna and Steven are Korean American, and Dustin and Murph are black. Are the characters of color shaped by her or his racial identity? If so, how? Do they face any particular challenges, in terms of societal and familial expectations?
10. When Anna learns about the way Vronsky treated Kimmie, she is angry and devastated, but she ultimately forgives him. Did you forgive him? Did you believe it was possible for him to truly mend his ways and treat Anna better than all the other girls he had been with?
11. Were you surprised to learn that it was Eleanor who released the sex tape? Did you have a different theory of who did it?
12. When Anna overhears two girls disparaging her in the Lincoln Center bathroom, she is devastated: "They call me a whore. They think I deserve everything I get. They hate me. I've disgraced my family. I've disgraced myself. No one will ever love me again. I'm damaged goods, the inherent vice of high society." Why do you think she feels that way? Discuss the double standard for girls and boys, as reflected by the fallout of the sex tape for Vronsky and Anna. Do you think that double standard is prevalent across our society?
13. After the scandal, Anna's father tells her he is taking her to South Korea, so she can finish high school at a famous girls' school in Seoul. Do you think a change of scenery is a good idea for Anna? Will it give her a chance to start over, or does it feel like she is running away?
14. In the epilogue, at Track 27, Natalia tells Anna: "She now gets to live her whole life knowing some boy loved her so much that he died for her! I mean, if that's not power, then I don't know what is. She can be like a superhero with magical love powers or something, you know?" Do you think she is right? How are love and loss entwined in this novel?
15. How do the six main characters change over the course of the novel, and what triggers their most significant changes? How much do you think you changed during high school?
16. Anna K will have a sequel, set over the following summer. What do you think the future holds for each of the characters?