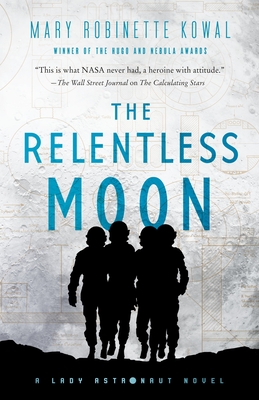 The Relentless Moon
A Lady Astronaut Novel
Paperback

* Individual store prices may vary.
Other Editions of This Title:
Hardcover (7/14/2020)
MP3 CD (11/24/2020)
Description
Finalist 2021 Hugo Award for Best Novel!
Finalist 2021 Hugo Award for Best Series!
A 2021 Locus Award Finalist!

Mary Robinette Kowal continues her Hugo and Nebula award-winning Lady Astronaut series, following The Calculating Stars and The Fated Sky, with The Relentless Moon.

The Earth is coming to the boiling point as the climate disaster of the Meteor strike becomes more and more clear, but the political situation is already overheated. Riots and sabotage plague the space program. The IAC's goal of getting as many people as possible off Earth before it becomes uninhabitable is being threatened.

Elma York is on her way to Mars, but the Moon colony is still being established. Her friend and fellow Lady Astronaut Nicole Wargin is thrilled to be one of those pioneer settlers, using her considerable flight and political skills to keep the program on track. But she is less happy that her husband, the Governor of Kansas, is considering a run for President.
Praise For The Relentless Moon: A Lady Astronaut Novel…
Praise for The Fated Sky

"An immersive world that will stay with the reader well past the final page."—Publishers Weekly, starred review

"The Lady Astronaut series might be set in an alternate past, but they're cutting-edge SF novels that speak volumes about the present."—The Verge

"Tantalizing."–Locus

"An alternative look at the midcentury space race led by an intelligent, well-meaning, but flawed heroine."—Booklist

"From dangers on Earth from wild protestors, to the dangers of a three-year trip to Mars, the tale is an exciting, yet well-researched tale. Excellent."—Philadelphia Weekly

"This is by no means just for Sci Fi lovers."—Caroline Bookbinder

"This was a fabulous sequel."—Marzie Reads

Praise for The Calculating Stars

"The Calculating Stars is a wonderful, scientifically accurate view of what might have been. Kowal masters both science and historical accuracy in this alternate history adventure."—Andy Weir, author of The Martian

"This is what NASA never had, a heroine with attitude."—The Wall Street Journal

"In The Calculating Stars, Mary Robinette Kowal imagines an alternate history of spaceflight that reminds me of everything I loved about Hidden Figures."—Cady Coleman, Astronaut

"Readers will thrill to the story of this "lady astronaut" and eagerly anticipate the promised sequels."—Publishers Weekly (starred review)

"Kowal's book was revelatory for me, because here is a version of history where men eventually, finally, listen to women."—Tor.com

"A fine balance of integrating historical accuracy—including mid-twentieth-century sexism, racism, and technology—with speculative storytelling."—Booklist

"Readers will be hooked."—Library Journal

"An engrossing alternate history with a unique point of view, The Fated Sky dramatically demonstrates the technical problems with going to Mars—but the technical problems are the not the only ones. Never backing down from vital issues of race and gender, The Fated Sky confronts the human issues of space travel in a United States made increasingly desperate by a massive meteor strike. Plausible, convincing, and ultimately moving."—Nancy Kress, author of the Hugo Award-winning "Yesterday's Kin"
Tor Books, 9781250236968, 544pp.
Publication Date: July 14, 2020
About the Author
Mary Robinette Kowal is the author of the Hugo, Nebula, and Locus Award-winning alternate history novel The Calculating Stars, the first book in the Lady Astronaut series which continues with The Relentless Moon. She is also the author of The Glamourist Histories series and Ghost Talkers and has received the Astounding Award for Best New Writer, four Hugo Awards, the Nebula and Locus Awards. Her stories appear in Asimov's, Uncanny, and several Year's Best anthologies. Mary Robinette has also worked as a professional puppeteer, is a member of the Award-winning podcast Writing Excuses, and performs as a voice actor (SAG/AFTRA), recording fiction for authors including Seanan McGuire, Cory Doctorow, and Neal Stephenson. She lives in Nashville with her husband Rob and over a dozen manual typewriters.