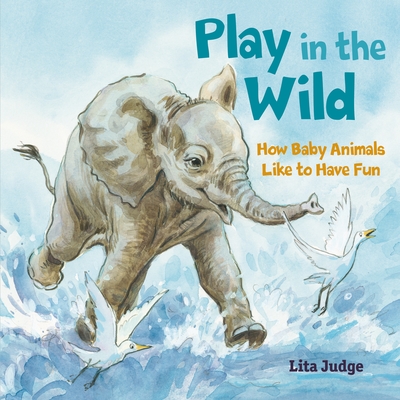 Play in the Wild (Hardcover)
How Baby Animals Like to Have Fun
Roaring Brook Press, 9781250237064, 48pp.
Publication Date: June 30, 2020
* Individual store prices may vary.
Description
Why do animals play?

With thoughtful text and sweetly realistic watercolor art, author and illustrator Lita Judge explores the importance of play in the animal kingdom. She shows how play teaches animals to defend themselves and survive in the wild. More adorably, Judge highlights how animals make friends—and also forgive.

Grounded in detailed research, Play in the Wild is sure to captivate young readers while giving them an informative peek into the world around them.
About the Author
Lita Judge is the author and illustrator of several award-winning picture books for young readers, including How Big Were Dinosaurs?, Bird Talk, Born in the Wild, Flight School, and Red Sled. After a summer spent reading the handwritten journals of Mary Shelley, Lita embarked on a five year journey to tell the story of this courageous teenager in Mary's Monster. She lives in Peterborough, New Hampshire, with her husband, two cats and a parrot.
Praise For Play in the Wild: How Baby Animals Like to Have Fun…
"This charming picture book explains why baby animals play . . . Baby animals are surefire crowd-pleasers. This will be a popular choice for very young audiences and story hours, as well as for grade-school researchers." —Booklist

"This well-researched picture book is both engaging and informative—a treat for young animal lovers. A worthy purchase." —School Library Journal

"Kids will delight in comparing their own actions to those of the baby animals . . . Judge's realistic illustrations are both endearing and expressive. Energetic moments are expertly captured." —Kirkus Reviews

Homes in the Wild:

"A lovely and informative picture book . . . A must for nonfiction collections everywhere." —School Library Journal, starred review

"An attractive, visually engaging introduction to animal homes." —Booklist

"The paintings . . . are true, endearing winners, depicting realistic, adorable, close-knit animal families in their homes and habitats . . . Solid, appealing nonfiction for the younger set." —Kirkus Reviews

"Advanced young readers will appreciate the combination of adorable animals and sophisticated text, while others will enjoy having the details read aloud as they look at endearing kits and pups." —Bulletin of the Center for Children's Books

Born in the Wild:

"Warmly friendly and inviting for a wide range of ages." —Kirkus Reviews, starred review

"Charming." —School Library Journal, starred review

"An intimate study of the lives of animal babies and their parents, accompanied by [Judge's] typically tender, naturalistic illustrations." —Publishers Weekly, starred review

"A visually captivating volume on animal families." —Booklist