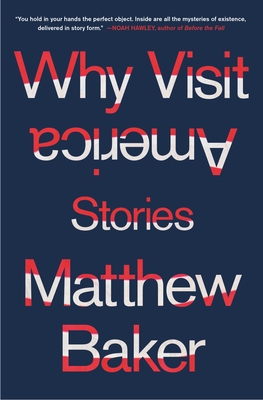 Why Visit America
Stories
Hardcover

* Individual store prices may vary.
Other Editions of This Title:
Digital Audiobook (8/3/2020)
Description
Equal parts speculative and satirical, the stories in Why Visit America form an exegesis of our current political predicament, while offering an eloquent plea for connection and hope.

The citizens of Plainfield, Texas, have had it with the broke-down United States. So they vote to secede, rename themselves America in memory of their former country, and happily set themselves up to receive tourists from their closest neighbor: America. Couldn't happen? Well, it might, and so it goes in the thirteen stories in Matthew Baker's brilliantly illuminating, incisive, and heartbreaking collection Why Visit America.

The book opens with a seemingly traditional story in which the speculative element is extremely minimal—the narrator has a job that doesn't actually exist—a story that wouldn't seem much out of place in a collection of literary realism. From there the stories get progressively stranger: a young man breaks the news to his family that he is going to transition—from an analog body to a digital existence. A young woman abducts a child—her own—from a government-run childcare facility. A man returns home after committing a great crime, his sentence being that his memory—his entire life—is wiped clean.

As the book moves from universe to universe, the stories cross between different American genres: from bildungsroman to rom com, western to dystopian, including fantasy, horror, erotica, and a noir detective mystery. Read together, these parallel-universe stories create a composite portrait of the true nature of the United States and a Through the Looking-Glass reflection of who we are as a country.
Praise For Why Visit America: Stories…
Named a Poets & Writers 'Galley Crush'

"Satirical and comedic... The premises of the stories in "Why Visit America" are increasingly inventive and clever, often featuring some sort of reversal to our current social order, offering up allegorical commentary on who we are as Americans."
—The New York Times

"Baker never takes the easy way out. He doesn't brandish sharp swords at American capitalism or consumer excess or fears that masquerade as politics. Neither does he construct straw men, then ask the reader to applaud when he lights them on fire."
—The Washington Post

"Imaginative. . . .Satirical and deeply humane, these poignant stories expose the moral bankruptcy at the rotten core of the American social contract."
—Esquire

"Inventive. . . . Baker pairs his propensity for play with broad societal critiques. . . . In the vein of a writer like Donald Barthelme, Baker is both witty and big-hearted."
—The A.V. Club

"Baker has a sharp eye for Americana, both faded and glossy. . . .Quickly moving from the naturalist to the surreal, the erotic, and the experimental, the diversity of styles, locales, and characters in this collection is a testament to Baker's range. . . In form and concept, these stories recall those by the great fabulists Italo Calvino, Jorge Luis Borges, and Shirley Jackson."
—Guernica

"Striking... In Baker's stories we see an aspirational America: a country wrought with anger and longing and fear and hate but also one where you can't let go of the feeling that we are hurtling toward some greater reconciliation... Baker's writing is beyond satisfying."
—The Rumpus

"This book is a collection of thirteen short stories that span the width and breadth of America, tackling its despairs, its hopes, its triumphs, and its failures with an eloquence and insight that frankly should be illegal for how good it is."
—Lightspeed Magazine

"The genre is 'literary fiction', the overriding theme funhouse-mirror visions of the titular country's quirks and obsessions. . . .This is a first-rate writer."
—Nightmare Magazine

"Bold, captivating, and deeply relevant, Baker's imaginative stories offer approachable, optimistic perspectives on morally ambiguous topics facing Americans, including what it means to be one nation."
—Booklist, starred review

"The mundane details of everyday life are tweaked in subtle but surprising, fantastical ways. . . This is a smart, imaginative, and thoughtful collection."
—Publishers Weekly

"You hold in your hands the perfect object, a buried treasure. You have been looking for it all your life, maybe without realizing. Inside are all the mysteries of existence, delivered in story form, like a sermon. My God, you will think as you read it, at last finally I know. Plus, it's kinda funny."
—Noah Hawley, author of Before the Fall

"How does he do it? Matthew Baker's mind is an oyster producing pearl after pearl. Each story in Why Visit America offers an eerie and unsettling vision of our possible future while remaining emotionally truthful and, as always, incredibly damn fun."
—Kelly Luce, author of Pull Me Under

"Only Matthew Baker could create stories that are so unique, so stylistically adventurous, and manage to contain it within a single collection. These are high-concept narratives that somehow gain depth and clarity as Baker finds the heart of the story. It's both a love letter and critique of the world we live in and the world that awaits us."
—Kevin Wilson, author of Nothing to See Here and The Family Fang

"Matthew Baker's Why Visit America is at once deeply heartbroken by the state of our country and world and also deeply hopeful about what both could be. These stories critically examine the harms wrought by American xenophobia, misogyny, transphobia, and capitalism while also bearing an abiding, profound love for this planet and for its people. This is a brilliant collection that shines with imagination, and with empathy."
—Anne Valente, author of The Desert Sky Before Us

"With his unique brand of quirky, sardonic compassion, Matthew Baker offers us a book that's like a cross-country road trip as seen through a funhouse mirror. At once trenchant and deeply tender, the stories in Why Visit America thrum with all that is exasperating, absurd, tragic, and still so compelling about life in these United States."
—Naomi J. Williams, author of Landfalls

"Matthew Baker's stories are wild in all the best ways, but Why Visit America isn't just a triumph of weirdness—these stories use a variety of skewed lenses to offer smart critiques of the systems and beliefs humming through so much of American life. They also somehow manage to be, always, a ton of fun to read."
—Lee Conell, author of Subcortical

"Buoyed with humor and extraordinary empathy, Why Visit America maps the indignities of late capitalism taken to its extremes. Baker gives us iconoclasts, commoners, haves, and have-nots who reckon with what it is to be human—to hope and love—in distinctly-drawn worlds where dwindling resources and maturing technologies compromise and complicate our values. These stories mourn and celebrate, warn and accept. They capture the best and worst of who we are and who we may become. Baker is an exciting, inventive, and immensely talented writer. I could not put this book down."
—Kara Vernor, author of Because I Wanted to Write You a Pop Song

"Like the country that graces its pages, Why Visit America offers up stories at once horrifying and heart-warming. Baker writes with incisive speculative insight, capturing the paradoxes of modern life in prose that drips with details and dizzies the imagination. This book will make you want to throw open your windows, hug your family, and give away all your possessions. A story collection of staggering intelligence—Baker's latest work is not to be missed."
—Allegra Hyde, author of Of This New World

"Baker is a visionary. His wild future and parallel versions of America are cautionary, provocative, evocative, and revelatory. Uniting them all is the immutable human desire to be intimately connected."
—Katie Chase, author of Man and Wife

"Why Visit America is an exhilarating, transformative read. From memory erasure as criminal justice reform to an epidemic of lost souls due to overpopulation, Matthew Baker perfectly makes the familiar strange and the strange familiar. Witty, sharp, and truly innovative. This book reimagines the pressing moral and cultural questions of our time."
—Crystal Hana Kim, author of If You Leave Me

"Why Visit America is compelling, entertaining, and over-the-top original. Matthew Baker's stories are exactly the kind of weird we need right now."
—Patrick Ryan, author of The Dream Life of Astronauts

"Matthew Baker writes stories that look like garments made for limbs we haven't grown yet. The worlds of Why Visit America refract the reality in which we live with spooky, prismatic intelligence. I'd bask in the strange, warped rays of these stories forever if I could. They do what only the best fiction does—invert you so that you can view the so-called real from the other side."
—Rita Bullwinkel, author of Belly Up
Henry Holt and Co., 9781250237200, 368pp.
Publication Date: August 4, 2020
About the Author
Named one of Variety's "10 Storytellers To Watch," Matthew Baker is the author of the story collection Hybrid Creatures and the Edgar Award-nominated children's novel If You Find This. His fiction has appeared in publications including The Paris Review, American Short Fiction, One Story, Electric Literature, Conjunctions, and Best Of The Net. Born in the Great Lakes region of the United States, he currently lives in New York City.
or
Not Currently Available for Direct Purchase