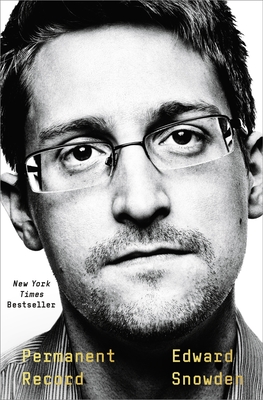 Permanent Record
Hardcover

* Individual store prices may vary.
Other Editions of This Title:
Digital Audiobook (9/16/2019)
Paperback (9/1/2020)
CD-Audio (9/17/2019)
Paperback, Chinese (11/1/2019)
Paperback, Chinese (9/17/2019)
Description
NEW YORK TIMES BESTSELLER

Edward Snowden, the man who risked everything to expose the US government's system of mass surveillance, reveals for the first time the story of his life, including how he helped to build that system and what motivated him to try to bring it down.

In 2013, twenty-nine-year-old Edward Snowden shocked the world when he broke with the American intelligence establishment and revealed that the United States government was secretly pursuing the means to collect every single phone call, text message, and email. The result would be an unprecedented system of mass surveillance with the ability to pry into the private lives of every person on earth. Six years later, Snowden reveals for the very first time how he helped to build this system and why he was moved to expose it.

Spanning the bucolic Beltway suburbs of his childhood and the clandestine CIA and NSA postings of his adulthood, Permanent Record is the extraordinary account of a bright young man who grew up online—a man who became a spy, a whistleblower, and, in exile, the Internet's conscience. Written with wit, grace, passion, and an unflinching candor, Permanent Record is a crucial memoir of our digital age and destined to be a classic.
Praise For Permanent Record…
"A riveting account... Reads like a literary thriller... Snowden pushes the reader to reflect more seriously on what every American should be asking already."
—The New York Times

"Gripping... Snowden demonstrates a knack for explaining in lucid and compelling language the inner workings of [CIA and NSA] systems and the menace he came to believe they posed."
—The Washington Post

"Snowden eventually decided his loyalties lay not with the agencies he was working for, but the public they were set up to protect. He felt ordinary citizens were being betrayed, and he had a duty to explain how.... His account of the experiences that led him to take momentous decisions, along with the details he gives of his family background, serve as a robust defense against accusations that he is a traitor."
—The Guardian

"Even for those of us who've followed the Snowden revelations closely, Permanent Record is full of surprises.... A deeply reluctant whistleblower, Snowden also emerges as a peculiarly American patriot, with roots that go back to Plymouth Rock.... As his memoir makes clear, all the techniques he exposed in 2013 remain in place."
—The Nation

"Well-written... Snowden's descriptions of the real impact of the various surveillance systems he disclosed—stripped of abstract concepts and technical jargon—are some of the most disturbing parts of the book.... Offers a useful reminder of the god-like omniscience that digital data can bestow on those with the power to collect it all."
—The Economist

"Snowden's book is straightforward, admirably so.... Having gazed through the windows of the panopticon, he experienced that rarity, a moment of vision: The world must be told these things I know. Against absurd odds, he delivered his knowledge to us."
—Jonathan Lethem, The New York Review of Books

"An extraordinary book... A riveting blend of spycraft as Snowden painstakingly figures out how to confirm his suspicions without tipping off his bosses, and a brilliant ethical treatise as Snowden reveals the reasoning that took him from each step to the next... The best proof yet that Snowden is exactly what he appears to be: a gung-ho guy from a military family who believes deeply in service and the values embodied by the US constitution, who explored multiple avenues of squaring his oath to uphold those values with the corrupt and illegal practices he saw around him, and worked out a breathtakingly bold and ambitious plan to do what no one else had ever managed: to expose wrongdoing in a way that provoked sustained interest and sparked action."
—Cory Doctorow, BoingBoing


Metropolitan Books, 9781250237231, 352pp.
Publication Date: September 17, 2019
About the Author
Edward Snowden was born in Elizabeth City, North Carolina, and grew up in the shadow of Fort Meade. A systems engineer by training, he served as an officer of the Central Intelligence Agency, and worked as a contractor for the National Security Agency. He has received numerous awards for his public service, including the Right Livelihood Award, the German Whistleblower Prize, the Ridenhour Prize for Truth-Telling, and the Carl von Ossietzky Medal from the International League of Human Rights. Currently, he serves as president of the board of directors of the Freedom of the Press Foundation.
Coverage from NPR