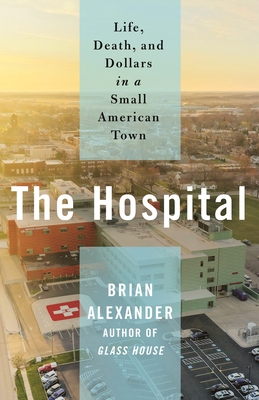 The Hospital
Life, Death, and Dollars in a Small American Town
Hardcover

* Individual store prices may vary.
Other Editions of This Title:
Digital Audiobook (3/8/2021)
Paperback (3/8/2022)
Description
USA Today's 5 BOOKS NOT TO MISS

"Alexander nimbly and grippingly translates the byzantine world of American health care into a real-life narrative with people you come to care about." —New York Times

"Takes readers into the world of the American medical industry in a way no book has done before." —Fortune

"With his signature gut-punching prose, Alexander breaks our hearts as he opens our eyes to America's deep-rooted sickness and despair by immersing us in the lives of a small town hospital and the people it serves." —Beth Macy, bestselling author of Dopesick

By following the struggle for survival of one small-town hospital, and the patients who walk, or are carried, through its doors, The Hospital takes readers into the world of the American medical industry in a way no book has done before. Americans are dying sooner, and living in poorer health. Alexander argues that no plan will solve America's health crisis until the deeper causes of that crisis are addressed.

Bryan, Ohio's hospital, is losing money, making it vulnerable to big health systems seeking domination and Phil Ennen, CEO, has been fighting to preserve its independence. Meanwhile, Bryan, a town of 8,500 people in Ohio's northwest corner, is still trying to recover from the Great Recession. As local leaders struggle to address the town's problems, and the hospital fights for its life amid a rapidly consolidating medical and hospital industry, a 39-year-old diabetic literally fights for his limbs, and a 55-year-old contractor lies dying in the emergency room. With these and other stories, Alexander strips away the wonkiness of policy to reveal Americans' struggle for health against a powerful system that's stacked against them, but yet so fragile it blows apart when the pandemic hits. Culminating with COVID-19, this book offers a blueprint for how we created the crisis we're in.
Praise For The Hospital: Life, Death, and Dollars in a Small American Town…
One of Biblioracle's 8 FAVORITE NONFICTION BOOKS OF 2021 in the Chicago Tribune | The Washington Post's 10 BOOKS TO READ IN MARCH | Fortune's 11 BOOKS TO READ IN MARCH

"A richly researched, highly contextualized, deeply compelling narrative."
—Chicago Tribune

"Brian Alexander spares no punches... an awesome book, hopefully in the running for a well-deserved award."
—San Francisco Book Review

"A superb account of a small-town hospital whose first priority is delivering high-quality medical care...In this eye-opening investigative study, [Alexander] offers vivid portraits of a dozen individuals ... Deeply insightful."
—Kirkus (Starred)

"Gripping...A blueprint of how the American health crisis came to be."
—The New York Post

"Compelling."
—Salon

"Emotionally and politically astute... Alexander's analysis is insightful and compelling; above all, it is empathetic."
—SAGE

"Alexander also brings to his writing a deep understanding of the larger economic, political, and social trends that are slowly crushing the lives of the people he met in Bryan, and of people like them all over this country. In his telling, Bryan becomes a microcosm of American sickness in all its dimensions."
—Washington Monthly

"An absorbing story of one small hospital in a state of rapid transition."
—The Columbus Dispatch

"Even in a year when the failures of the American healthcare system are painfully, catastrophically clear, Brian Alexander's portrayal of a small-town hospital fighting for survival stands out."
—LitHub

"The Hospital shows how fragile our country's health care was even before the pandemic, and how that fragility affects staff and administration as well as patients."
—The Washington Post

"America is broken, but sometimes it takes looking at the smallest shattered pieces to realize how broken. That is the sad lesson at the core of Alexander's The Hospital."
—Rolling Stone

"Show[s] the cruel gulfs in American health care."
—Associated Press

"Hillbilly Elegy with a bad cough... Political, scary, and empathetic."
—Sidney Herald

"Puts a human face on broader issues of social inequality. This expertly reported account will resonate and find a wide audience."
—Library Journal (Starred)

"This wrenching account brilliantly diagnoses the flaws in America's healthcare system."
—Publishers Weekly (Starred)

"Alexander's scorching reportage provides a distressing, infuriating picture of health care delivery and highlights the heroic fight of a little hospital and humble hamlet to stay vital."
—Booklist (starred review)

"The irony of it all, captured... Alexander won deep access."
—Ohio Capital Journal

"'Potent."
—Dayton Daily News

"This book is an essential read for anyone involved in healthcare. If we are to bring about sweeping changes in this system, we must understand the forces involved. Alexander does a masterful job of using several perspectives to lay bare the greed at the center of it all."
—Intima

"A heart-rending and unforgettable real-time journalistic deep dive... I can't think of a more timely book. The doctors, nurses and medical technicians in these pages are front-line heroes. Highly recommended!"
—Douglas Brinkley, Katherine Tsanoff Brown Chair in Humanities and Professor of History, Rice University, author of The Great Deluge

"A brilliantly imaginative and creative way of telling the story of today's America... In The Hospital, Brian Alexander does again so well what he did in Glass House?telling the big story from the small place."
—Sam Quinones, author of Dreamland: The True Tale of America's Opiate Epidemic

"A stunning achievement?closely observed, deeply compassionate and beautifully written. What 'The Wire' did for the Baltimore drug trade, The Hospital does for the business of healthcare in a struggling Rust Belt community... It's not just good?it's important."
—Carl Elliott, MD, PhD, Professor, University of Minnesota Center for Bioethics

"Brian Alexander, a master storyteller, delivers an extraordinary tale... He shows us why rural hospitals matter."
—Eric Eyre, Pulitzer Prize winner and author of Death In Mud Lick

"In this clear-eyed biography of a community hospital, Brian Alexander offers a powerful indictment of the American healthcare system. The Hospital will break your heart."
—Andrea Pitzer, author of Icebound

"Devastating, gripping, and beautiful."
—Beatrix Hoffman, Professor of History, Northern Illinois University and author of Health Care for Some
St. Martin's Press, 9781250237354, 320pp.
Publication Date: March 9, 2021
About the Author
Brian Alexander has written about American culture for decades. A former contributing editor to Wired magazine, he has been recognized by Medill School of Journalism's John Bartlow Martin awards for public interest journalism, and by other organizations. He grew up in Lancaster, with a family history in the glass business. He lives in California. Brian is the author of Glass House.
or
Not Currently Available for Direct Purchase