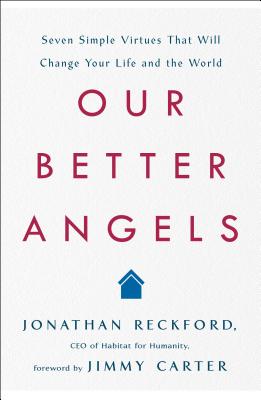 Our Better Angels
Seven Simple Virtues That Will Change Your Life and the World
Hardcover

* Individual store prices may vary.
Other Editions of This Title:
Digital Audiobook (10/7/2019)
Paperback (5/11/2021)
CD-Audio (11/5/2019)
Description
Inspiring and insightful, Our Better Angels: Seven Simple Virtues That Will Change Your Life and the World celebrates the shared principles that unite and enable us to overcome life's challenges together.

"When the waters rise, so do our better angels."—President Jimmy Carter

Jonathan Reckford, the CEO of Habitat for Humanity, has seen time and again the powerful benefits that arise when people from all walks of life work together to help one another. In this uplifting book, he shares true stories of people involved with Habitat as volunteers and future homeowners who embody seven timeless virtues—kindness, community, empowerment, joy, respect, generosity, and service—and shows how we can all practice these to improve the quality of our own lives as well as those around us.

A Vietnam veteran finds peace where he was once engaged in war. An impoverished single mother offers her family's time and energy to enrich their neighbors' lives. A Zambian family of nine living in a makeshift tent makes room to shelter even more. A teenager grieving for his mother honors her love and memory by ensuring other people have a place to call home. A former president of the United States leads by example with a determined work ethic that motivates everyone around him to be the best version of themselves.

These stories, and many others, illustrate how virtues become values, how cooperation becomes connection, and how even the smallest act of compassion can encourage actions that transform the world around us. Here are tales that will make readers laugh and cry and embrace with passion the calling of our better angels to change the way we take care of ourselves, our families, our communities, and the world.
Praise For Our Better Angels: Seven Simple Virtues That Will Change Your Life and the World…
"Our Better Angels brings to light the basic virtues of kindness, generosity, respect, empowerment, community, joy, and service that we all have within us. We are grateful to Jonathan Reckford for sharing such moving stories about transformation, and for showing how easy it is for all of us to choose to help and strengthen others, rather than to hurt and weaken them. This book is for humanity: Read it whether you're a kid, a grandparent, or anyone in between. It will spark an instant realization of how even the smallest acts of kindness or respect can fundamentally change someone's path for the better."

Drew and Jonathan Scott, The Property Brothers



"It has been our honor to work with Habitat for Humanity and see these seven virtues in practice. When we look outside of ourselves, we experience a glimpse of who we can be. Jonathan's book reminds us to love one another. Amazing things happen when we do!"

Trisha Yearwood and Garth Brooks
St. Martin's Essentials, 9781250237798, 240pp.
Publication Date: October 8, 2019
About the Author
Jonathan Reckford has served as chief executive officer of Habitat for Humanity International since 2005. Under his leadership, Habitat has gone from helping 125,000 individuals annually to more than 8.7 million people last year alone build strength, stability and self-reliance through shelter. A graduate of the University of North Carolina at Chapel Hill, Reckford earned his MBA from Stanford and went on to managerial positions at Goldman Sachs, Marriott, Walt Disney Company, and Best Buy. Reckford also served as executive pastor of Christ Presbyterian Church in Edina, Minnesota. In 2017, Reckford was named Influencer of the Year by the Nonprofit Times.

Jimmy Carter, our thirty-ninth president, received the Nobel Peace Prize in 2002. He is the author of numerous bestsellers, including White House Diary, An Hour Before Daylight and Palestine Peace Not Apartheid. Carter grew up on a peanut farm in Plains, Georgia. He graduated from the Naval Academy in 1946, and after seven years of service in the Navy, he returned to Georgia and entered state politics, becoming governor in 1971. In 1976, he was elected President of the United States.  Carter aspired to make government "competent and compassionate," and fought for human rights around the world. His successes include the Israel-Egypt peace treaty, the Panama Canal treaties, and establishing full diplomatic relations with China.  After leaving office, he and his wife Rosalynn created the Carter Center, a nonpartisan organization working to advance human rights and democracy, resolve conflicts, and relieve suffering from disease and hunger around the world. The Carters live in Plains, Georgia, but continue to travel around the world in support of numerous philanthropic efforts.