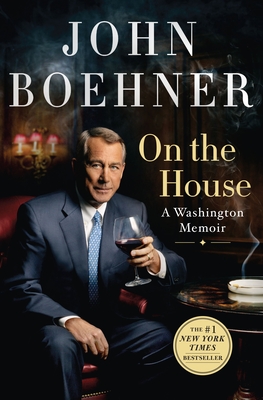 On the House
A Washington Memoir
Hardcover

* Individual store prices may vary.
Other Editions of This Title:
Digital Audiobook (4/12/2021)
Paperback (11/15/2022)
CD-Audio (4/13/2021)
Description
* INSTANT #1 NEW YORK TIMES BESTSELLER * #1 WALL STREET JOURNAL BESTSELLER *

"A rollicking, foil-mouthed" [memoir]....Boehner has delivered a classic Washington "tell-all," albeit one with his typical jocular style." --The Washington Post

Former Speaker of the House John Boehner shares colorful tales from the halls of power, the smoke-filled rooms around the halls of power, and his fabled tour bus.

John Boehner is the last of a breed. At a time when the arbiters of American culture were obsessing over organic kale, cold-pressed juice, and SoulCycle, the man who stood second in line to the presidency was unapologetically smoking Camels, quaffing a glass of red, and hitting the golf course whenever he could.

There could hardly have been a more diametrically opposed figure to represent the opposition party in President Barack Obama's Washington. But when Boehner announced his resignation, President Obama called to tell the outgoing Speaker that he'd miss him. "Mr. President," Boehner replied, "yes you will." He thought of himself as a "regular guy with a big job," and he enjoyed it.

In addition to his own stories of life in the swamp city and of his comeback after getting knocked off the leadership ladder, Boehner offers his impressions of leaders he's met and what made them successes or failures, from Ford and Reagan to Obama, Trump, and Biden. He shares his views on how the Republican Party has become unrecognizable today; the advice--some harsh, some fatherly--he dished out to members of his own party, the opposition, the media, and others; and his often acid-tongued comments about his former colleagues. And of course he talks about golfing with five presidents.

Through Speaker Boehner's honest and self-aware reflections, you'll be reminded of a time when the adults were firmly in charge.
Praise For On the House: A Washington Memoir…
"Jaw-dropping...beyond interesting." -- Gayle King

"Former Speaker of the House John Boehner's trademark brutal honesty is alive and well in his new memoir On the House, a pull-no-punches look at the people who control the corridors of power and a cautionary tale about who he says hijacked the GOP...He does not hold back." -- Whoopi Goldberg

"Preliminary evidence suggests this is the greatest book ever written." -- Seth Masket, professor of political science, University of Denver

"If the recipe to write a good political memoir is a few glasses of Merlot and then just turning on the tape recorder...we should just definitely try that more often." -- David Freedlander, New York Magazine

"Boehner finally calls it as he sees it." -- Nancy Sinatra

"Some juicy parts…candid…There's so much great stuff in this book." -- Stephen Colbert

"No shortage of insults...Written in his folksy manner, On the House is certainly more entertaining than the standard "halls of power" narratives" -- The New York Times

"The former Republican House speaker is good company throughout On the House... You can practically hear him uncorking another bottle of merlot as he literally curses the colleagues who made his job unbearable." -- Los Angeles Times

"It is unlike the classic Washington memoir, those soft-focus accounts extolling what-I-achieved in office." -- USA TODAY

"He writes like a guy chatting at a bar, and talks of his experience, including his experience with his fellow Republicans, using so much vulgarity that it would be hard for him to do a reading here on the radio." -- Steve Inskeep, NPR

"The former speaker of the House has all the best dirt; the tea he spills is refreshing in its honesty." -- Hayes Brown, MSNBC

"....disarmingly funny...He has a taste for one-liners that blend the folksy with the sweary ... It is hard not to enjoy a memoir like this." -- The Financial Times

"A very enjoyable read" -- Jake Tapper, CNN

"A memoir that often reads like he's simply here to share some of his favorite tales over a couple of drinks….It's refreshing to read a memoir with a politician's honest accountings of repeated failures rather than self-inflated successes." --NPR
St. Martin's Press, 9781250238443, 288pp.
Publication Date: April 13, 2021
About the Author
JOHN BOEHNER served as Speaker of the United States House of Representatives from 2011-2015. A member of the Republican party, he was the U.S. Representative for Ohio's 8th congressional district from 1991 to 2015. Today he is a Senior Policy Advisor at Squire Patton Boggs, US LLP and serves on the Steward Health Care board of directors.