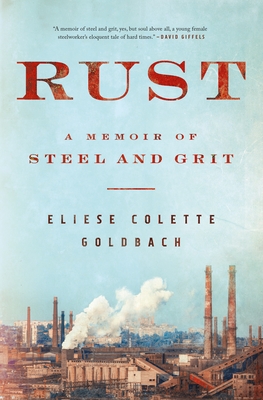 Rust
A Memoir of Steel and Grit
Hardcover

* Individual store prices may vary.
Other Editions of This Title:
Paperback (1/5/2021)
Library Binding, Large Print (9/1/2020)
CD-Audio (3/3/2020)
Description
"Elements of Tara Westover's Educated... The mill comes to represent something holy to [Eliese] because it is made not of steel but of people."
—New York Times Book Review

One woman's story of working in the backbreaking steel industry to rebuild her life—but what she uncovers in the mill is much more than molten metal and grueling working conditions. Under the mill's orange flame she finds hope for the unity of America.

Steel is the only thing that shines in the belly of the mill...

To ArcelorMittal Steel Eliese is known as #6691: Utility Worker, but this was never her dream. Fresh out of college, eager to leave behind her conservative hometown and come to terms with her Christian roots, Eliese found herself applying for a job at the local steel mill. The mill is everything she was trying to escape, but it's also her only shot at financial security in an economically devastated and forgotten part of America.

In Rust, Eliese brings the reader inside the belly of the mill and the middle American upbringing that brought her there in the first place. She takes a long and intimate look at her Rust Belt childhood and struggles to reconcile her desire to leave without turning her back on the people she's come to love. The people she sees as the unsung backbone of our nation.

Faced with the financial promise of a steelworker's paycheck, and the very real danger of working in an environment where a steel coil could crush you at any moment or a vat of molten iron could explode because of a single drop of water, Eliese finds unexpected warmth and camaraderie among the gruff men she labors beside each day.

Appealing to readers of Hillbilly Elegy and Educated, Rust is a story of the humanity Eliese discovers in the most unlikely and hellish of places, and the hope that therefore begins to grow.
Praise For Rust: A Memoir of Steel and Grit…
"Elements of Tara Westover's Educated... The mill comes to represent something holy to [Eliese] because it is made not of steel but of people."
—New York Times Book Review

"In the tradition of Upton Sinclair's The Jungle, Studs Terkel's Working, Molly Martin's Hard-Hatted Women, and Barbara Ehrenreich's Nickel and Dimed, Rust grants readers an instructive and chastening look at some of the labor on which we depend without understanding or appreciating it."
—Washington Examiner

"Goldbach will engage you with her honest storytelling about what it means to be a Millennial, a woman, a daughter, and a person of faith in today's world."
—U.S. Catholic Magazine

"Goldbach clearly finds her voice in telling of her new-found fortitude and footing while working as a steelworker."
—The New York Labor History Association

"Goldbach is a talented writer who weaves together remarkable descriptions and reflections on mental illness, poverty, rape culture and her Catholic childhood."
—National Catholic Reporter

"Stirring."
—Beacon Journal

"A female steelworker's soulful portrait of industrial life. Goldbach's evocative prose paints a Dantean vision of the mill...but she discovers in the plant's quirky, querulous employees an ethic of empathy and solidarity that bridges ideological divides. The result is an insightful and ultimately reassuring take on America's working class."
—Publishers Weekly

"Bringing her perspective as an outsider—both as a woman and a liberal—to this insightful account of the steel worker's lot, Goldbach displays refreshing candor and hard-earned knowledge about the issues that divide us and the work that unites us."
—Booklist

"This beautifully told, nuanced memoir will strike a chord with fans of J.D. Vance's Hillbilly Elegy, and pique the interest of sociology scholars."
—Library Journal

"We can all learn something from a steelworker who found meaning inside the bowels of a mill in an economically devastated and forgotten part of America. At a time when the nation is divided geographically, politically, and demographically, Rust feels like a salve."
—LIT Magazine

"Like the flare of that undying smokestack flame beside I-490, this timely memoir snatches attention.... It's well deserved: former ArcelorMittal steelworker Goldbach catches fire in her pages as she recounts her time working beneath that very flare, torn between her desire to leave and the family and determination she found in the gruff men at her side."
—Cleveland Magazine

"This is a dusty book, a story like iron, it's not always nice but it's perfect. If you're looking for something entirely different this week, "Rust" should be a strong contender."
—The Bookworm

"Eliese Colette Goldbach becomes the Muse of the Rust Belt in Rust, her rich paean to steel, the industry in which she found herself.... Goldbach has learned to sing, in prose of passion and power."
—Pittsburgh Post-Gazette

"Eliese Colette Goldbach uses formal experiment, broken narrative, and a voice that admits doubt and questions the terms of its telling to fight silencing. Masterful form is often a question of well-managed rupture."
—Leslie Jamison, New York Times bestselling author of The Recovering

"There have been a lot of books written about life in industrial cities in the Midwest, but relatively few written by people who actually live in them, and few so heartfelt and unsparing. Rust is at once a unique memoir and a broad indictment of America's broken promise that anyone who came of age in the 21st century will find painfully familiar."
—Sarah Kendzior, New York Times bestselling author of The View from Flyover Country

"Beautiful."
—Charlie LeDuff, New York Times bestselling author of Detroit: An American Autopsy

"Rust is a soulful telling of America's stubborn and forgotten core. Deeply honest and defying easy sentimentality, this book heralds the arrival of a true talent."
— Adam Chandler, author of Drive-Thru Dreams

"Goldbach turns in a gritty memoir of working in a steel mill while wrestling with the world beyond.... An affecting, unblinking portrait of working-class life."
—Kirkus Reviews

"A gritty memoir of life in the Rust Belt she'd so desperately wanted to escape and of the hardworking people she came to love."
—Chicago Sun-Times, "6 Books Not to Miss"

"In our whacked-out national moment, Eliese Colette Goldbach arrives in the nick of time, a fresh voice to revive an old, substantial truth: that one person's hard work, achieved despite troubles of heart and finance, of faith and family, is the most enduring American value of all. Rust is a memoir of steel and grit, yes, but soul above all, a young Cleveland millworker's eloquent tale of hard times that plants its boots squarely on the bookshelf of American working-class literature."
—David Giffels, author of Barnstorming Ohio: To Understand America and The Hard Way on Purpose: Essays and Dispatches from the Rust Belt

"A haunting meditation from the far shores of addiction, mental illness, and obsession."
—Ladette Randolph, author of Leaving the Pink House

"Rust is a brave, heartfelt memoir whose pages overflow with hard-earned wisdom. Goldbach's story of embodying our national extremes--conservative vs progressive, religious vs secular, white collar vs blue--has endowed her with a singular ability to see through our partisan delusions and identify what, truly, unites us still as Americans. If your heart, like mine, feels poisoned by this era of political division, Rust may just be the antidote for which you've been searching."
—John Larison, author of an Entertainment Weekly Best Book Whiskey When We're Dry

"The steel mill burns on in the heart of Cleveland, and in the pages of Eliese Collette Goldbach's transformative debut. This is indeed a memoir of steel and grit, the extraordinary work of every ordinary day. But like all great stories, Rust is also a love story—about a craft, a city, and the communities we forge there. Goldbach reminds us that what we make in turn makes us who and what we are."
—Dave Lucas, author of Ohioana Book Award for Poetry winner Weather

"Eliese Collete Goldbach might be the only essayist who does footnotes better than David Foster Wallace."
—The Pitt News

"A Spring 2020 must-read... In the same vein as J.D. Vance's Hillbilly Elegy and other post-election literature, the strongest components of Goldbach's memoir rest on the keen observations of life at the steel mill, specifically as a woman in a largely male environment; how the identity of laborers is consistently exploited by politicians; and the myriad ways households are divided by hyperbolic political rhetoric... Rust is a moving portrait of Goldbach's formative years, with gems of societal observation strewn throughout the narrative."
—Paperback Paris

Bookseller Reviews:

"[Rust] is hard and sharp like rust itself. There is so much warmth, though--the oranges and reds of rust, the color of dusk, signifying the end of a day, a time, an experience, a livelihood--also bright and new, vibrant, dawn-like, signifying hope, promise, a new time, a new era. Eliese doesn't pull any punches and I dig that. The thing I really love, though, is her story is so relatable. Given a different city and occupation...granted a much safer occupation...this is my story, and probably most of ours. The struggle between personal promise and undiscovered future potential juxtaposed with the need to stay connected with the ties that bind, and the need for a paycheck, is universal, and she approaches her journey with such honesty, sometimes bitterness, and with deep love. Great read.
—Lane Richins, Weller Book Works (UT)


"Americans need more books like Goldbach's Rust, which manages to be a gripping, visceral, on-the-ground account of the workings (and workers) in a steel mill in the rust belt, as well as a forthright narrative about dealing with mental illness. It's not often that readers get firsthand stories of the grime, heat, and stress of these factory jobs, and hear about not only danger and toil, but also the camaraderie and financial benefits of such work. By weaving in her childhood, her upbringing, her education and romantic life as well as her mental health, this frank memoir of one woman's working life shows how intricately what we do ties in to and becomes who we are. If Studs Terkel were still doing interviews, Eliese Goldbach would be a favored and welcome guest on his show."
—Robert McDonald, The Book Stall (IL)

"I'm not sure what I expected when I started reading this book, but it wasn't the fascinating ethnography of life in a steel mill, or the raw and very personal experiences and feelings of a woman with bipolar disorder. I didn't expect an enlightening commentary on why America is so divided politically. I was most impressed with the author's ability to draw out the hypocrisies and prejudices alive and well in middle (most likely, all of) America."
—Joanne Berg, Mystery and Me (WI)

"Interesting and well-written. Growing up in Pittsburgh, a lot of what she talks about feels very familiar. The parts of the book that take place in the mill had more of my attention than the her life story and the political backdrop. I can see this book selling to the people who liked Hillbilly Elegy and even to some extent, Educated."
—Susan Skirboll, Kramerbooks & Afterwords (DC)

"[Eliese Goldbach] finds camaraderie with her fellow laborers and the perspective necessary to face past trauma and find her place in the world. This is a journey of discovery for both the reader and the author."
—NPR

"Fascinating...A memoir of how life can take you to unexpected places where danger lurks around every corner, but friendship isn't far behind."
—St. Louis Public Radio, "Best Books of 2020, Chosen by St. Louis Public Librarians"

UNITED WE READ Ohio Pick
—Los Angeles Times
Flatiron Books, 9781250239402, 320pp.
Publication Date: March 3, 2020
About the Author
Eliese Colette Goldbach is a steelworker at the ArcelorMittal Cleveland Temper Mill. She received an MFA in nonfiction from the Northeast Ohio Master of Fine Arts Program. Her writing has appeared in Ploughshares, Western Humanities Review, Alaska Quarterly Review, McSweeney's Internet Tendency, and Best American Essays 2017. She received the Ploughshares Emerging Writer's Award and a Walter Rumsey Marvin Grant from the Ohioana Library Association, which is given to a young Ohio writer of promise.
Coverage from NPR