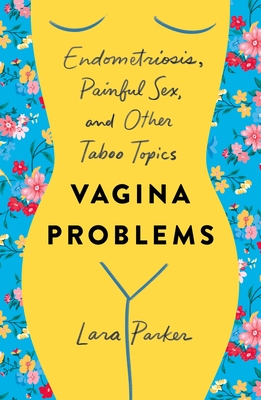 Vagina Problems
Endometriosis, Painful Sex, and Other Taboo Topics
Paperback

* Individual store prices may vary.
Other Editions of This Title:
Digital Audiobook (10/5/2020)
MP3 CD (10/6/2020)
Compact Disc (10/6/2020)
Description
"In Vagina Problems…Lara Parker unpacks the personal and economic costs of endometriosis." —Vanity Fair

"A refreshingly honest read about living with chronic pain." —Hello Giggles

With unflinching honesty, Lara Parker, the Deputy Director for BuzzFeed, shares her day-to-day challenges of living, working, and loving with chronic pain caused by endometriosis in this raw, darkly humorous, and hopeful memoir.

I wasn't ready to be completely honest about my vagina yet, and the world wasn't ready for that either. But I was getting there. I wanted the world to know that all of this pain I had been feeling…that it was related to my vagina. Thus, Vagina Problems was born. It was a cutesy name. It was my way of taking this pain and saying, "Whatever. I'm here. I have it. It sucks. Let's talk about it."

In April 2014, Deputy Editorial Director at BuzzFeed Lara Parker opened up to the world in an article on the website: she suffers from endometriosis. And beyond that? She let the whole world know that she wasn't having any sex, as sex was excruciatingly painful. Less than a year before, she received not only the diagnosis of endometriosis, but also a diagnosis of pelvic floor dysfunction, vulvodynia, vaginismus, and vulvar vestibulitis. Combined, these debilitating conditions have wreaked havoc on her life, causing excruciating pain throughout her body since she was fourteen years old. These are her Vagina Problems.

It was five years before Lara learned what was happening to her body. Five years of doctors insisting she just had "bad period cramps," or implying her pain was psychological. Shamed and stigmatized, Lara fought back against a medical community biased against women and discovered that the ignorance of many doctors about women's anatomy was damaging more than just her own life. One in ten women have endometriosis and it takes an average of seven years before they receive an accurate diagnosis—or any relief from this incurable illness' chronic pain.

With candid revelations about her vaginal physical therapy, dating as a straight woman without penetrative sex, coping with painful seizures while at the office, diet and wardrobe malfunctions when your vagina hurts all the time, and the depression and anxiety of feeling unloved, Lara tackles it all in Vagina Problems: Endometriosis, Painful Sex, and Other Taboo Topics with courage, wit, love, and a determination to live her best life.
Praise For Vagina Problems: Endometriosis, Painful Sex, and Other Taboo Topics…
"After a lifetime of being told not to talk openly about sex and to just accept discomfort and dissatisfaction, Parker [has] enough. Now you [can't] get her to shut up about her vagina." —Playboy


"We're not talking about painful sex, or painful orgasms, or debilitating periods—so Lara Parker is talking about it in her new book Vagina Problems." —Rewire.news


"A funny, incisive look at all the difficulties that plague the reproductive organs." —Medium, New Book Releases

"Parker is unafraid…. Through candid stories…Parker is determined to help the one in ten women [who have endometriosis] like her to live their best lives." —Brit + Co

"This book is not only a refreshingly real, vulnerable look into life with debilitating pain, but also a crucial read for anyone who loves someone living with chronic illness." —Bust Magazine

"[A] raw debut memoir…. Despite Parker's intense suffering, she infuses her story with humor…. This candid, well-written memoir resonates as it fixes a spotlight on a host of commonly misunderstood issues." —Publishers Weekly

"Parker realizes the importance of being your own advocate while journeying through health care systems. Using the author's passion and own experiences, this book empowers readers not to give up. A solid purchase for public and consumer health libraries." —Library Journal

"This frank story should resonate with the one in 10 women who experience vaginal or pelvic pain in their lifetimes and with the 176 million women worldwide who live with endometriosis. …this is meant to provide solace to women who, like Parker, feel that their doctors dismiss their suffering as merely emotional." —Booklist

"Lara is brilliant, honest, and in pain. She's spent the majority of her life writing about Vagina Problems that are a must-read for honestly anyone who has chronic pain of any kind—or anyone who loves someone who does." —Kelsey Darragh, YouTuber, comedian, and host of the podcast "Confidently Insecure"

"When Lara talks about taboo subjects like sex with chronic pain, I just want to hear more because her voice is so authentic and fresh." —Ariana Madix, cast member of Vanderpump Rules

"I don't find many people inspiring. I do find Lara Parker inspiring though. Read her f**king book. Because she's smart, her voice is necessary, and because I said so." —Ira Madison III, writer and host of the podcast "Keep It"
St. Martin's Griffin, 9781250240682, 240pp.
Publication Date: October 6, 2020
About the Author
LARA PARKER is a writer and Deputy Editorial Director at Buzzfeed who lives in Los Angeles but grew up in a small town of just 900 people in Indiana. She's been a guest on the MTV show Catfish, the TLC show Catching the Catfisher, has been interviewed or appeared in Cosmopolitan, Cosmopolitan Australia, and Glamour, as well as many others. She began writing publicly on her blog, Outside the Comfort Zone, in college around the time of her diagnosis with endometriosis and hasn't stopped writing about her vagina since. When she isn't writing about or talking about her Vagina Problems, she's watching Bravo and trying to teach her dog how to hug her on command.