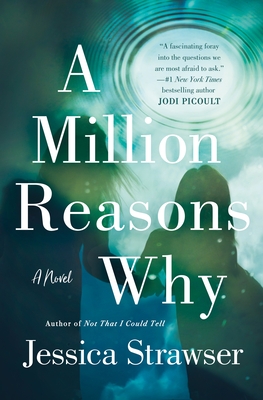 A Million Reasons Why
A Novel
Hardcover

* Individual store prices may vary.
Other Editions of This Title:
CD-Audio (3/23/2021)
Paperback (2/22/2022)
Description
A Most Anticipated by Goodreads * SheReads * E! News * Frolic

One of Booktrib's Best Summer Thrillers

Jessica Strawser's A Million Reasons Why is "a fascinating foray into the questions we are most afraid to ask" (Jodi Picoult, #1 New York Times bestselling author)--the story of two women who discover a bond between them that will change both their lives forever.

When two strangers are linked by a mail-in DNA test, it's an answered prayer—that is, for one half sister. For the other, it will dismantle everything she knows to be true.

But as they step into the unfamiliar realm of sisterhood, the roles will reverse in ways no one could have foreseen.

Caroline lives a full, happy life—thriving career, three feisty children, enviable marriage, and a close-knit extended family. She couldn't have scripted it better. Except for one thing:

She's about to discover her fundamental beliefs about them all are wrong.

Sela lives a life in shades of gray, suffering from irreversible kidney failure. Her marriage crumbled in the wake of her illness. Her beloved mother, always her closest friend, unexpectedly passed away. She refuses to be defined by her grief, but still, she worries what will happen to her two-year-old son if she doesn't find a donor match in time.

She's the only one who knows Caroline is her half sister and may also be her best hope for a future. But Sela's world isn't as clear-cut as it appears—and one misstep could destroy it all.

"A thrilling story of what happens when a long-held family secret comes to light...[Strawser] shows that no one is ever truly a villain or a hero, but instead, we are all a beautiful and messy mix of both." - Associated Press review
Praise For A Million Reasons Why: A Novel…
"A MILLION REASONS WHY is a fascinating foray into the questions we are most afraid to ask: what constitutes family, what are our obligations to those we love, where does American healthcare fail the most, what secrets are unforgivable? And in case you need another reason to read this book: there are two massive twists you'll never see coming." - Jodi Picoult, #1 New York Times bestselling author of Small Great Things and A Spark Of Light

"Don't miss this searching, fraught family drama by a master of her craft. Jessica Stawser gives us a twisty plot, combined with deeply emotional content, in a novel that examines the most profound questions of our hearts. This is a story that will stay in your heart long after the last page is turned." - #1 New York Times Bestselling Author Susan Wiggs

"From the opening line to the heart-healing ending, A Million Reasons Why is an immersive and startling novel of great compassion with plot twists that will take your breath away. When all we know is turned upside down and inside out, who do we become? Strawser isn't afraid of the bigger questions and this beautiful exploration of family, loyalty and love will both break and heal your heart. Powerful, poignant and profound — don't miss this compelling novel from a master storyteller." – New York Times bestselling author Patti Callahan Henry

"A MILLION REASONS WHY is the emotionally gripping story of two half-sisters, each with her own secrets, who find each other as adults. It's deftly paced and surprising, and Strawser's characters are so layered and flawed and human that I came to care about them deeply. Heartbreaking yet hopeful, this astute exploration of the bonds and limitations of family is a perfect book club pick." – New York Times bestselling author Joshilyn Jackson

"A MILLION REASONS WHY is a heartbreaking, absorbing story with an irresistible premise: a random DNA test reveals you have a sister you've always wanted, a potential life-saver. Strawser skillfully explores what it means to be family, to rethink the pivotal hinge points in a person's life." – Angie Kim, bestselling author of Miracle Creek

"A powerful and poignant tale with characters that burrowed their way into my heart and will stay with me for a long time." —Colleen Oakley, bestselling author of You Were There Too

"Strawser once again displays her nuanced understanding of all the corners of the human heart." -- Sonja Yoerg, Washington Post bestselling author of True Places and Stories We Never Told

"Through richly drawn characters and a few satisfying plot twists, Strawser handles difficult questions with thoughtful, page-turning prose. A must-read!" —Susan Gloss, USA Today bestselling author of Vintage

"A standout novel… seamless writing style, complex characters, and layered plot. The high concept will attract book groups and fans of Jodi Picoult." - Booklist, Starred Review

"This emotional family and medical drama from Strawser will appeal to fans of Jodi Picoult and Liane Moriarty." - Library Journal

"Riveting...a provocative family tale." - Publishers Weekly

"A thrilling story of what happens when a long-held family secret comes to light...[Strawser] shows that no one is ever truly a villain or a hero, but instead, we are all a beautiful and messy mix of both." - Associated Press review

"A compulsively readable slow-burn that is sure to touch the heart of everyone who reads it." - Booktrib

"Welcome to the world of Camilla Sten...impossible to forget." - Criminal Element
St. Martin's Press, 9781250241627, 368pp.
Publication Date: March 23, 2021
About the Author
JESSICA STRAWSER is the author of the book club favorites Almost Missed You, Not That I Could Tell (a Book of the Month selection) and Forget You Know Me. She is Editor-at-Large for Writer's Digest, and her work has appeared in The New York Times' Modern Love, Publishers Weekly, and other fine venues. She lives with her husband and two children in Cincinnati.
1. Do you think Sela took the right approach in reaching out to her sister for a relationship? Should she have been more upfront about her circumstances to start, or perhaps declined to reach out at all? What influence did Doug and Leigh have (or fail to have) on the way she handled things?
2. How does the marriage of Sela and Doug compare with that of Caroline and Walt? Do you think, if Caroline and Walt had gone through similar struggles, they would have stayed together?
3. Explore the theme of mothers in this novel. Both Rebecca and Hannah have made grave mistakes in the past, but also sacrifices for what they felt was right. In what ways do Sela and Caroline need to decide whether a mother's love triumphs over past faults? How do their mothers (and father) influence their own attitudes toward parenthood?
4. Rebecca and Hannah had a surrogate sisterhood that ultimately failed. What bearing does that ultimately have on the literal sisterhood bond between their daughters?
5. Walt and Caroline have a unique arrangement for their marriage. Does what they've done make sense to you? Do you think that, perhaps, they might have been in love all along?
6. Sela wants more children and cannot have them,while Leigh has another baby coming even though she wasn't prepared to be a mother again. How are they able to be there for each other, despite coming from two very different places in life? How is what's happened a barrier between them?
7. When Sela tells herself—and others—that she has changed her mind about asking for or accepting help, do you believe her?
8. Do you think Caroline was wrong in seeking out medical information about donation in spite of her family's objections—and without involving them? Did you see her as driven by guilt, a desire to be a hero, or something else?
9. In granting Hannah's request not to acknowledge Sela, is Fred taking the easy way out? Is he being cowardly, or honestly trying to do what's best? How does his reaction complicate things for Caroline, and how does it simplify things for Sela?
10. Dr. Kay Adams plays a small but essential role in Caroline's thought process about altruism and organ donation—and, ultimately, in Sela's, too. Did she challenge your own beliefs as well? Did the negative aspects of Dr. Kay's experience surprise you?
11. Discuss Sela and Brody. Do you believe how she chose to see the world was a helpful way to cope? Did it do more harm than good?
12. How did your feelings toward Doug change as Sela's story unfolded?
13. At the start of the book, how did you see the end resolving? Did that expectation or prediction change as the book went on?
14. Fast forward five years from now. Caroline's extended family and Sela were very much at odds in the beginning. How does the last scene set the stage going forward? How do you think their relationships change as time goes on?