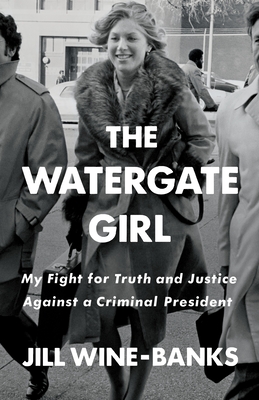 The Watergate Girl
My Fight for Truth and Justice Against a Criminal President
Hardcover

* Individual store prices may vary.
Other Editions of This Title:
Digital Audiobook (2/24/2020)
Paperback (3/2/2021)
Description
Obstruction of justice, the specter of impeachment, sexism at work, shocking revelations: Jill Wine-Banks takes us inside her trial by fire as a Watergate prosecutor.

It was a time, much like today, when Americans feared for the future of their democracy, and women stood up for equal treatment. At the crossroads of the Watergate scandal and the women's movement was a young lawyer named Jill Wine Volner (as she was then known), barely thirty years old and the only woman on the team that prosecuted the highest-ranking White House officials. Called "the mini-skirted lawyer" by the press, she fought to receive the respect accorded her male counterparts—and prevailed.

In The Watergate Girl, Jill Wine-Banks opens a window on this troubled time in American history. It is impossible to read about the crimes of Richard Nixon and the people around him without drawing parallels to today's headlines. The book is also the story of a young woman who sought to make her professional mark while trapped in a failing marriage, buffeted by sexist preconceptions, and harboring secrets of her own. Her house was burgled, her phones were tapped, and even her office garbage was rifled through.

At once a cautionary tale and an inspiration for those who believe in the power of justice and the rule of law, The Watergate Girl is a revelation about our country, our politics, and who we are as a society.
Praise For The Watergate Girl: My Fight for Truth and Justice Against a Criminal President…
"Riding the crest of the #MeToo movement, Wine-Banks describes the mostly workaday sexism she encountered on the job. . . . The book's fast-moving narrative and crisp prose should hook readers."
—Boston Globe

"Wine-Banks not only brings to life the urgency of the Watergate years in vivid detail and color (including the clothes) . . . she reminds the reader of the obstacles that women of her era had to overcome to make progress for themselves and for the next generation."
—Liesl Schillinger, Air Mail

"Read it and weep: Once upon a time a brave young assistant special prosecutor and her band of brothers brought down a corrupt president, saved democracy, and upheld the rule of law. Jill Wine-Banks has written a wondrous memoir that makes you yearn for the days when the good guys—and a "Watergate girl"—finally won."
—Chris Whipple, NYT bestselling author of The Gatekeepers: How the White House Chiefs of Staff Define Every Presidency

"An intimate, powerful personal story. Jill Wine-Banks is not afraid to share and tell all her experiences and opinions. And I promise you she does."
—Bob Woodward

"A lively and engrossing account and a timely reminder of how an able and dedicated lawyer and her colleagues held a president and his minions accountable—and why it was vital to do so. It is also an important story of how a young woman confronted a 'man's world,' and dealt with her own vulnerabilities and personal crises at the same time."
—Elizabeth Holtzman, former member of the House Judiciary Committee

"Such a wonderful book! Jill Wine-Banks makes the Watergate scandal seem as current as today. She has written a fascinating, intimate account of her role as a young assistant special prosecutor—and also her #MeToo experiences in a series of groundbreaking jobs."
—Susan Page, Washington bureau chief, USA Today, and author of The Matriarch: Barbara Bush and the Making of an American Dynasty

"Come with Jill Wine-Banks back to a time when women were 'girls,' accomplished professionals were mistaken for prostitutes, and a determined figure that one headline identified as 'The Leggiest Watergate Lawyer' rose above it all do something heroic: bring down a criminal president. A riveting and wonderfully crafted memoir for our time."
—Rick Perlstein, author of Nixonland and The Invisible Bridge: The Fall of Nixon and the Rise of Reagan

"What Jill Wine-Banks did in the early 1970s is the stuff of legend: She got the goods on a corrupt president and used the power of the law to call him and his henchmen to account. The Watergate Girl tells an inspiring story for our troubled times—bravely, wittily, and wisely, with piercing insight and bracing literary verve."
—John Heilemann, host of Showtime's The Circus, editor in chief of The Recount, and coauthor of Game Change

"A timely reminder of a notorious scandal that resulted in a president's impeachment. . . . An absorbing debut memoir . . . [and] a penetrating, firsthand view of history."
—Kirkus Reviews

"Sprightly and engrossing . . . Wine-Banks reveals tantalizing behind-the-scenes details that bring that pivotal time in the nation's history back to life and relevancy. . . . A captivating and candid look back on a storied career."
—Booklist
Henry Holt and Co., 9781250244321, 272pp.
Publication Date: February 25, 2020
About the Author
Jill Wine-Banks is an MSNBC legal analyst, appearing regularly on the network's primetime and daytime shows. She began her career as an organized crime prosecutor at the U.S. Department of Justice, which led to her selection as one of three assistant Watergate special prosecutors in the obstruction of justice trial against President Nixon's top aides. She has also served as general counsel of the U.S. Army, solicitor general and deputy attorney general of the state of Illinois, and executive vice president and chief operating officer of the American Bar Association. In each case, she was the first woman to hold the position. A graduate of the University of Illinois and the Columbia Law School, she lives in Chicago.
Coverage from NPR
or
Not Currently Available for Direct Purchase