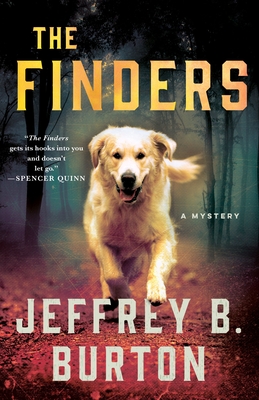 The Finders
A Mystery (Mace Reid K-9 Mystery #1)
Hardcover

* Individual store prices may vary.
Other Editions of This Title:
Digital Audiobook (6/29/2020)
Paperback (6/29/2021)
Description
Jeffrey B. Burton's The Finders marks the beginning of a fast-paced new mystery series featuring a heroic golden retriever cadaver dog named Vira and her handler, Mason Reid.

Mason "Mace" Reid lives on the outskirts of Chicago and specializes in human remains detection. He trains dogs to hunt for the dead. Reid's coming off a taxing year—mourning the death of a beloved springer spaniel as well as the dissolution of his marriage. He adopts a rescue dog with a mysterious past—a golden retriever named Vira. And when Reid begins training Vira as a cadaver dog, he comes to realize just how special the newest addition to his family truly is…

Suddenly, Reid and his prize pupil find themselves hurled into a taxing murder case, which will push them to their very limits. Paired with determined Chicago Police Officer Kippy Gimm, Mace must put all his trust in Vira's abilities to thwart a serial killer who has now set his sights on Mace himself.
Praise For The Finders: A Mystery (Mace Reid K-9 Mystery #1)…
"A wonder of a thriller, crammed to bursting with everything genre fans are pining for: fascinating characters, sparky dialogue, wry humor, sweaty-palm tension—all in a literate narrative that is a joy to follow...Vira and Mace, working as a pair, take on serial-killer everyman, who's been a spooky presence from the start and a vicious and fascinating one as the story builds to its climax. The confrontation surges for a good 50 pages and contains a few surprises for jaded genre fans who think they've seen it all.—Booklist (starred review)

"Action-packed...an intense, graphic serial killer novel with a likable, aw-shucks hero and a remarkable dog."--Library Journal (starred review)

"[A] suspenseful series launch. Burton offers the right balance of humor and seriousness, along with a lead whose love and understanding of dogs will endear him to many, not just dog people. Hopefully, Mace and Vira will be back soon."--Publishers Weekly

"All the elements are present for a fast-paced mystery, and THE FINDERS shows promise for many future adventures."--Bookreporter

"It's a good tale, both warm and tense, with a twisty ending."--The Star Tribune

"A cast of likeable characters...I enjoyed every minute of this serious thriller interspersed with humor. It's got dogs, the fascinating world of scent detection and a mystery with lots of twists and turns. What more could a dog lover want? Can't wait for book two in the Mace Reid K-9 Mystery series."--Dogster

"Burton keeps The Finders on a short leash as he melds solid suspense with a strong look at how service dogs work and enhance investigations.... Readers will look forward to more adventures with Mace, Vira, and the rest of the pack."--Florida Sun-Sentinel

"Please put this generous, dog-loving book at the top of your TBR fall list. Reid and Kippy are nice people who seem to have a future together, their dialogue is funny, and each dog has a personality as carefully drawn as the human characters. Here is a thriller that will warm your heart." --Twin Cities Pioneer Press

"I was cheering for Vira the golden retriever from start to finish and you will be, too. The Finders gets its hooks into you and doesn't let go." —Spencer Quinn, author of the New York Times bestselling Chet and Bernie series

"If you're a dog lover, you'll love The Finders. If you love a thriller with a particularly nasty villain, you'll love The Finders. And if you love both dogs and thrillers, well, have I got a book for you." —F. Paul Wilson, New York Times bestselling author of the Repairman Jack series

"The Finders is an irresistible, expertly-woven thriller about a canine savant, her loving master, and the insidious killer after them both. Compelling and suspenseful. We should all be so fortunate as to have a best friend like Vira. I loved it!" —Christopher Golden, New York Times bestselling author of Ararat and Snowblind

"When Chicago dog trainer Mace Reid rescues a fearless golden retriever named Elvira—Vira for short—he doesn't know he's just saved the best cadaver dog ever. But the clever K-9 proves her mettle when she and Reid join forces with police officer Kippy Gimm to take down a serial killer whose next victim may be Reid himself. The first in a new series, The Finders boasts a compelling roller-coaster ride of a plot, but ultimately the star of the show is Vira, a fierce beauty of a canine that dog lovers will find impossible to resist." —Paula Munier, USA TODAY bestselling author of A Borrowing of Bones

"Cadaver dogs, serial killers, and a brilliantly depicted Chicago setting—I was hooked on The Finders before finishing the first paragraph. Burton's novel is steeped in authenticity, entertainment and education at the forefront of this twisty thriller. But be forewarned that your heart will be forever stolen by Vira and Sue, the canine characters who propel the story forward with their unique talents. Unforgettable!" —K.J. Howe, international bestselling author of Skyjack

"Sharp, determined and intuitive, Vira the golden retriever is the Sherlock Holmes of cadaver dogs." —Neil S. Plakcy, author of the Golden Retriever mystery series

"Unique voice and compelling characters, both human and canine, make The Finders a terrific thriller. And meeting Elvira, a cadaver dog with a special gift, is one experience dog-lovers and readers won't want to miss."—Margaret Mizushima, author of the award-winning Burning Ridge: A Timber Creek K-9 Mystery
Minotaur Books, 9781250244536, 288pp.
Publication Date: June 30, 2020
About the Author
JEFFREY B. BURTON is the author of many novels including The Finders, The Chessman, and The Eulogist. He is an active member of Mystery Writers of America, International Thriller Writers and the Horror Writers Association and lives in St. Paul, Minnesota with his family.