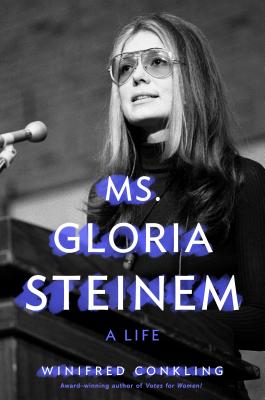 Ms. Gloria Steinem
A Life
Hardcover

* Individual store prices may vary.
Other Editions of This Title:
Compact Disc (6/30/2020)
MP3 CD (6/30/2020)
Paperback (3/1/2022)
Description
Throughout the years, Gloria Steinem is perhaps the single-most iconic figure associated with women's rights, her name practically synonymous with the word "feminism."

Documenting everything from her boundary-pushing journalistic career to the foundation of Ms. magazine to being awarded the 2013 Presidential Medal of Freedom, Winifred Conkling's Ms. Gloria Steinem: A Life is a meticulously researched YA biography that is sure to satisfy even the most voracious of aspiring glass-ceiling smashers.

Gloria Steinem was no stranger to injustice even from a young age.

Her mother, Ruth, having suffered a nervous breakdown at only 34, spent much of Gloria's childhood in and out of mental health facilities. And when Gloria was only 10 years old, her father divorced her mother and left for California, unable to bear the stress of caring for Ruth any longer.

Gloria never blamed her mother for being unable to hold down a job to support them both after that, but rather blamed society's intrinsic hostility toward women, and working women in particular. This was the spark that lit a fire in her that would burn for decades, and continues to burn brightly today.
Praise For Ms. Gloria Steinem: A Life…
"An enlightening, high-quality narrative history of a woman and her work as a leader of American feminism." —School Library Journal, on Ms. Gloria Steinem, starred review

"This wonderfully detailed biography provides insights into the events that shaped Gloria Steinem's life and turned her into a groundbreaking advocate for women's rights." —Booklist on Ms. Gloria Steinem

"Conkling provides a clear, sensitive portrayal of one of the foremost feminists of the modern age." —Publishers Weekly on Ms. Gloria Steinem

"insightful . . . readers will come away with a deeper appreciation for how much has changed for women during Steinem's lifetime and how much of that change was forged by Steinem herself. Extensive back matter includes timelines of Steinem's life and of feminism in America, a "Who's Who" list, source notes, and a bibliography." --Horn Book on Ms. Gloria Steinem

Praise for Votes for Women!:

"Almost a century after women's right to vote was secured, Conkling delivers a tour de force—fairly neutral, at times infuriating, occasionally graphic, and reminiscent of disturbing news today." —Kirkus Reviews, starred review

"This is a fascinating account of the bumpy road to women's suffrage in the U.S. ... Well-chosen black-and-white archival reproductions and photographs ably support the text, which makes excellent use of primary sources, including excerpts from letters and writings to bring key personalities to life." —The Horn Book, starred review

"This comprehensive history chronicles the almost-80-year battle for women's suffrage. Conkling (Radioactive!) effectively sketches the complex personalities of the women who fought for women's right to vote, beginning with Elizabeth Cady Stanton and Susan B. Anthony and including subsequent leaders Carrie Chapman Catt and the more radical Alice Paul. ... A commanding and relevant account of sweeping, hard-won social reform and action." —Publishers Weekly, starred review
Feiwel & Friends, 9781250244574, 320pp.
Publication Date: June 30, 2020
About the Author
Winifred Conkling is a freelance writer specializing in history and health and consumer topics. Her articles have appeared in a number of national magazines including American Health, McCall's, Consumer Reports, and Reader's Digest. Winifred lives in northern Virginia with her husband, three children, a dog, two rats, a horse, and quite a few squirrels and chipmunks in the backyard. She is the author of more than 30 nonfiction books, including Passenger on the Pearl: The True Story of Emily Edmonson's Flight from Slavery; Radioactive!: How Irène Curie & Lise Meitner Revolutionized Science and Changed the World; and Votes for Women!: American Suffragists and the Battle for the Ballot. winifredconkling.com