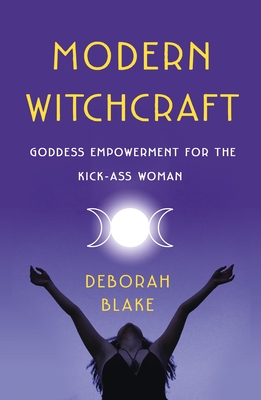 Modern Witchcraft
Goddess Empowerment for the Kick-Ass Woman
Paperback

* Individual store prices may vary.
Other Editions of This Title:
Digital Audiobook (7/6/2020)
Description
Deborah Blake's Modern Witchcraft is a guidebook to witchcraft as a female-empowering religion, including detailed instructions on how to practice self-care in today's society through goddess worship and magic.

In a time when most formal religions are on the wane, Wicca is said to be the fastest growing religion in North America. What is it that draws people to Witchcraft, and how does a spiritual path with its roots in ancient beliefs and traditions transform itself into a practice that resonates so deeply with today's modern woman?

There are a number of explanations for the phenomenon, such as Witchcraft's connection to the natural world, or acceptance of members regardless of lifestyle choices. For women, however, the greatest appeal may be the worship of a goddess (or goddesses). No stern patriarchal God here. Instead, Wicca and most other forms of modern Witchcraft embrace deity in both the feminine and the masculine. Suddenly, women can look at the divine and see themselves reflected back. In addition, many women are frustrated, frightened, triggered, and down-right furious with the current social and political environment, but feel powerless to create positive change. Witchcraft can give them a sense of personal empowerment.

There are many different Witchcraft paths and a multitude of approaches to its practice. This book will guide the reader on the journey to connecting with the feminine divine both without and within, and open the door to this magical religion that will enlighten, uplift, and energize their lives.
Praise For Modern Witchcraft: Goddess Empowerment for the Kick-Ass Woman…
"Deborah Blake has provided women (and men, too) with an inspired roadmap to guide us on the journey into the world of contemporary witchcraft and magick. Rich with insights, information, and inspiration, Modern Witchcraft is a must-read for anyone who's just starting on this path. It also offers encouragement to those of us who've walked the witch's way for years, to help us survive and thrive during the challenging times we're living in today."—Skye Alexander, author of The Modern Guide to Witchcraft and The Modern Witchcraft Spell Book

"Witchcraft can often seem serious and intimidating to newcomers. But Modern Witchcraft is a breath of fresh (witchy!) air! Deborah Blake has a way of demystifying potentially complicated subject matter while making it all seem fun and fresh. It's an inspiring read with a lot of golden nuggets of wisdom--an ideal choice for both beginner and seasoned witches alike!"--Jenn Stevens, author of The Mindful Witch
St. Martin's Essentials, 9781250244598, 256pp.
Publication Date: July 7, 2020
About the Author
DEBORAH BLAKE is a Wiccan high priestess and leader of the eclectic group Blue Moon Circle. She manages the Artisans' Guild, and works as a tarot reader and energy healer. Deborah is the author and cocreator of many books and decks, including Everyday Witch Tarot, Everyday Witchcraft, A Year and a Day of Everyday Witchcraft, and The Little Book of Cat Magic. She lives in upstate New York in a 130-year-old farmhouse with assorted cats who supervise all her activities, whether magical or mundane.