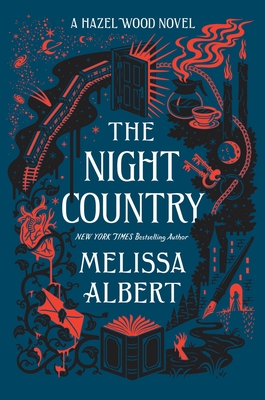 The Night Country
A Hazel Wood Novel (The Hazel Wood #2)
Hardcover

* Individual store prices may vary.
Other Editions of This Title:
Digital Audiobook (1/6/2020)
Paperback (1/12/2021)
Library Binding, Large Print (1/29/2020)
CD-Audio (1/7/2020)
Description
The New York Times bestselling sequel to Melissa Alberts beloved The Hazel Wood!

In The Night Country, Alice Proserpine dives back into a menacing, mesmerizing world of dark fairy tales and hidden doors of The Hazel Wood. Follow her and Ellery Finch as they learn The Hazel Wood was just the beginning, and that worlds die not with a whimper, but a bang.

With Finchs help, Alice escaped the Hinterland and her reclusive grandmothers dark legacy. Now she and the rest of the dregs of the fairy tale world have washed up in New York City, where Alice is trying to make a new, unmagical life. But something is stalking the Hinterlands survivorsand she suspects their deaths may have a darker purpose. Meanwhile, in the winking out world of the Hinterland, Finch seeks his own adventure, andif he can find ita way back home...

Dont miss Tales from the Hinterland, coming January 12, 2021!
Praise For The Night Country: A Hazel Wood Novel (The Hazel Wood #2)…
New York Times bestseller
Amazon Best Book of the Year So Far (Teens & Young Adult, Science Fiction & Fantasy)

A charming, mysterious fable that unpacks what it means to be a story and whether we are all simply the stories we hear and tell. Cassandra Clare, author of the Mortal Instruments series

What Albert renders on the page is audacious: with resounding success, she keeps a firm grip on her characters and their stories, and her prose weaves a magic of its own, animating the ever-expanding fantastical premise through lyrical language, striking metaphor, and a mastery of tone that forces readers to feel the magic along with the underlying emotional stakes. Booklist, starred review

This fairy tale noir adventure blends romance and mystery with plenty of action...a must-read for fans of portal fantasies, mysteries, and readers who prefer their magic with bloody sharp edges. School Library Journal, starred review

Alberts legion of fans will relish her return to the bloody, terrifying, seductive world of her debut and the inventive brilliance of her storytelling. The Guardian

A lush and enchanting tale. Albert effortlessly draws on a wide range of literary references and builds a world where magic really does emerge from pages and where books are not just figurative but literal doors. Dreamy and disturbing in equal measure, its the perfect antidote to a grey winters day. The Irish Times

This follow-up to the astonishing The Hazel Wood displays the same lush prose, dizzying imagination, and macabre sensibilities. A necessary read for Hinterland fansand who isn't? Kirkus Reviews

Melissa Albert deftly weaves her magic once again between our world and the fairy tale realm of the Hinterland. The Night Country is a new modern classic filled with wondrous delights and daring forays into the dark. Not to be missed! Kim Liggett, author of The Grace Year

The Night Country is so deliciously creepythe kind of puzzle box nightmare you have to see through to the end. One of the most unputdownable books Ive read in a long time. Emily X. R. Pan, author of The Astonishing Color of After

Darker, bloodier and even stranger than The Hazel Wood, The Night Country invites the wolf from the forest inside your home. A sinister jewel of a novel, like splitting a pomegranate and finding the inside filled with blood and rubies, every sentence of this book thrilled and chilled me to the bone. Melinda Salisbury, author of The Sin Eaters Daughter

Starting with an unexpected kiss that breaks convention and ending with a new beginning, Albert transforms the traditional fairy tale, deconstructing the very notion of a happy story. Dark, yet inviting, The Night Country reimagines the way in which we tell stories through the realistic gaze of a teenager uncomfortable in her own skin. Rife with long-forgotten ghosts, unforgettable tales of fancy, and even a touch of romance, Albert shines in her sophomore novel, pulling the reader once more into the haunting depths of the Hinterland, where Stories rule, whether they know it or not. Paperback Paris

Praise for The Hazel Wood

New York Times bestseller
Seven starred reviews
#1 Indie Next Pick
Junior Library Guild Selection
ALAs Best Fiction for Young Adults List
Publishers Weekly Flying Start

The Hazel Wood starts out strange and gets stranger, in the best way possible. Albert seamlessly combines contemporary realism with fantasy, blurring the edges in a way that highlights that place where stories and real life convene, where magic contains truth, and the world as it appears is false, where just about anything can happen, particularly in the pages of a good book. It's a captivating debut. The New York Times Book Review, 2018 Notable Childrens Book

An original and imaginative fairy tale: thrilling, fascinating, and poignant in equal measure. Entertainment Weekly, Best YA Book of the Year

Insidiously beautiful, this is the opposite of escapist fantasy; it is a story about the imaginations power to loose atrocity into the (mostly) law-abiding confines of the real. The Guardian, Best Childrens Book of the Year

A darkly brilliant story of literary obsession, fairy-tale malignancy, and the measures a mother will take to spare her child. The Wall Street Journal, Best Childrens Book of the Year

This extremely creepy, wondrously original and beautifully written book conjures up a dark, bloody netherworld of fairytales and enchants and enthralls from the first sentence to the final page. The Buffalo News

A contemporary fantasy that dwells in an atmospheric, intertwining world of terrifying circumstances; a breathtaking dive into the magic and importance of story in ones identity." Shelf Awareness, starred review

Alices sharp-edged narration and Altheas terrifying fairy tales, interspersed throughout, build a tantalizing tale of secret histories and magic that carries costs and consequences. There is no happily-ever-after resolution except this: Alices hard-won right to be in charge of her own story. Publishers Weekly, starred review

Highly literary, occasionally surreal, and grounded by Alices clipped, matter-of-fact voice, The Hazel Wood is a dark story that readers will have trouble leaving behind. Booklist, starred review

Simultaneously wondrous and horrific, dreamlike and bloody, lyrical and creepy, exquisitely haunting and casually, brutally cruel. Not everybody lives, and certainly not happily ever afterbut within all the grisly darkness, Alice's fierce integrity and hard-won self-knowledge shine unquenched. Kirkus Reviews, starred review

An empowering read that will be especially popular with fans of fairy-tale retellings. School Library Journal, starred review
Flatiron Books, 9781250246073, 352pp.
Publication Date: January 7, 2020
About the Author
Melissa Albert is the author of the Hazel Wood series and a former bookseller and YA lit blogger. Her work has been translated into more than twenty languages. She's from Illinois and lives in Brooklyn with her family.