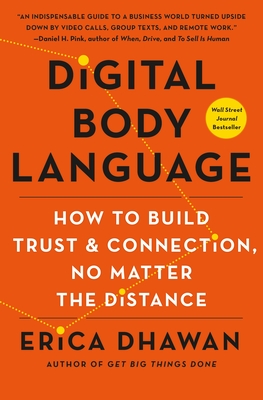 Digital Body Language
How to Build Trust and Connection, No Matter the Distance
Hardcover

* Individual store prices may vary.
Description
From Erica Dhawan, co-author of Get Big Things Done, the definitive guide to communicating and connecting wherever you are.

Email replies that show up a week later. Video chats full of "oops sorry no you go" and "can you hear me?!" Ambiguous text-messages. Weird punctuation you can't make heads or tails of. Is it any wonder communication takes us so much time and effort to figure out? How did we lose our innate capacity to understand each other?

Humans rely on body language to connect and build trust, but with most of our communication happening from behind a screen, traditional body language signals are no longer visible -- or are they? In Digital Body Language, Erica Dhawan, a go-to thought leader on collaboration and a passionate communication junkie, combines cutting edge research with engaging storytelling to decode the new signals and cues that have replaced traditional body language across genders, generations, and culture. In real life, we lean in, uncross our arms, smile, nod and make eye contact to show we listen and care. Online, reading carefully is the new listening. Writing clearly is the new empathy. And a phone or video call is worth a thousand emails.

Digital Body Language will turn your daily misunderstandings into a set of collectively understood laws that foster connection, no matter the distance. Dhawan investigates a wide array of exchanges—from large conferences and video meetings to daily emails, texts, IMs, and conference calls—and offers insights and solutions to build trust and clarity to anyone in our ever changing world.
Praise For Digital Body Language: How to Build Trust and Connection, No Matter the Distance…
"Digital Body Language is an indispensable guide to a business world turned upside down by video calls, group texts, and remote work. With Dhawan's expert guidance, you'll learn how to read and send the subtle cues that signal trust, competence, and authenticity. You'll discover practical tips for using everything from exclamation points to emojis. Most of all, you'll understand that that effective communication and collaboration begin with valuing others." —Daniel H. Pink, author of When, Drive, and To Sell Is Human

"A profound look at how to foster inclusion and better leadership in our digital world. Digital Body Language makes a strong case for the importance of equality in all forums." —Billie Jean King, Founder, Billie Jean King Leadership Initiative

"Non-verbal cues are vital to understanding each other. Now that so much communication happens online--and with the massive shift to distance learning and remote workplaces--we need Erica Dhawan's book more than ever. In Digital Body Language, Erica shares tips and strategies for communicating effectively on chats, emails, and video calls, so everyone can successfully share and connect in the digital age." —Sheryl Sandberg, COO of Facebook and founder of Lean In and Option B

"This book is a breakthrough that will be read for years to come. People are already judging you by how you show up in the digital world, but now Erica Dhawan helps you figure out how to earn the benefit of the doubt." —Seth Godin, Author, The Practice

"Little have we yet recognized how the new virtual world of our communications can potentially undermine our good intentions, and this book has intelligently and elegantly described its challenges and offered the solutions. If you're e-mailing, zooming, IM-ing etc. in your important relationships and for getting things done, professionally and personally, this is a must-read. Bravo, Erica." —David Allen, international bestselling author of Getting Things Done

"We are living at a time when becoming skilled in Digital Body Language is non negotiable. For everyone. It's the digital application of emotional intelligence. I can't think of anyone who would not benefit from reading this book." —Peter Bregman, CEO of Bregman Partners and Author of Leading with Emotional Courage

"In a world where innovation increasingly happens on-line, we must unlock the full potential of digital conversations and avoid its plentiful traps. Digital Body Language shows you how." —Alex Osterwalder, entrepreneur, business model innovator, and author

"This book is a gigantic leap towards communicating well in the digital age. It is a mandatory guide for anyone who wants to decode all the cryptic messages we are sending and receiving and be a more effective communicator and collaborator online." —Rob Nail, Co-Founder of Singularity University
St. Martin's Press, 9781250246523, 288pp.
Publication Date: May 11, 2021
About the Author
Erica Dhawan is a globally recognized leadership expert and keynote speaker helping organizations and leaders innovate faster and further, together. Erica has spoken, worldwide, to organizations and enterprises that range from the World Economic Forum to U.S. and global Fortune 500 companies, associations, sports teams, and government institutions. Named as one of the top management professionals around the world by Global Gurus, she is the founder and CEO of Cotential - a company that has helped leaders and teams leverage twenty-first-century collaboration skills globally. Her writing has appeared in dozens of publications, including Fast Company and Harvard Business Review. She has an MPA from Harvard Kennedy School, MBA from MIT Sloan, and BS from The Wharton School. Learn more at ericadhawan.com and follow her @ericadhawan. Join the community at ericadhawan.com/digitalbodylanguage.