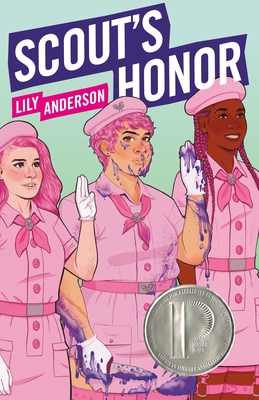 Scout's Honor
Hardcover

* Individual store prices may vary.
Other Editions of This Title:
Digital Audiobook (4/4/2022)
Description
FOUR STARRED REVIEWS

Prudence Perry is a third-generation Ladybird Scout who must battle literal (and figurative) monsters and the weight of her legacy in Scout's Honor by Lily Anderson, a YA paranormal perfect for fans of Stranger Things and Buffy the Vampire Slayer.

Sixteen-year-old Prudence Perry is a legacy Ladybird Scout, born to a family of hunters sworn to protect humans from mulligrubs—interdimensional parasites who feast on human emotions like sadness and anger. Masquerading as a prim and proper ladies' social organization, the Ladybirds brew poisons masked as teas and use knitting needles as daggers, at least until they graduate to axes and swords.

Three years ago, Prue's best friend was killed during a hunt, so she kissed the Scouts goodbye, preferring the company of her punkish friends lovingly dubbed the Criminal Element much to her mother and Tía Lo's disappointment. However, unable to move on from her guilt and trauma, Prue devises a risky plan to infiltrate the Ladybirds in order to swipe the Tea of Forgetting, a restricted tincture laced with a powerful amnesia spell.

But old monster-slaying habits die hard and Prue finds herself falling back into the fold, growing close with the junior scouts that she trains to fight the creatures she can't face. When her town is hit with a mysterious wave of demons, Prue knows it's time to confront the most powerful monster of all: her past.
Praise For Scout's Honor…
A Buzzfeed 40 Highly Anticipated Young Adult Novels Releasing In 2022 Selection
A Book Riot Most Anticipated Book of 2022 Selection
A Tor.com New Young Adult SFF for March & April 2022 Selection

"Anderson deftly balances snarky humor and heart-thumping action with affecting discussions about friendship, inclusivity, and mental health. The surprise-studded plot seamlessly integrates both Anderson's clever, unique mythology and excerpts from the Ladybird Handbook, and the realistically rendered, intersectionally diverse cast is kind, charismatic, and full of moxie." —Publishers Weekly, Starred Review

"Anderson. . .has written a ridiculously fun and campy horror romp, which also incorporates thoughtful commentary about mental and emotional health, inclusion, and facing your fears." —Booklist, Starred Review

"Buffy fans. . .will be. . reveling in the whirl of teen angst and ichor-spattered fun." —Kirkus Reviews, Starred Review

"With a sly sense of humor and nostalgia . . . author Lily Anderson offers a clever subversion of "chosen one" narratives as the novel explores tantalizing "what ifs" like "What if Buffy had just gone to a psychiatrist?" and "What if Girl Scouts were masters of cookies—and karate?" It's an absurd premise, but Anderson makes it work through unself-conscious world building and a skillful blend of fantastical and real-world threats. . . It's hilarious and heart-wrenching in equal measure. " —BookPage, Starred Review

"This campy novel is original and funny with adventurous and likeable characters who play off each other with ease despite their personality differences. The connection that the main character makes with the new recruits is heartwarming and real. The creatures are descriptive and readers will enjoy the teen angst and Prudence's keen decision-making." —School Library Journal

"Sharp, fun characters on both sides of Prue's life bring wit and humor, while the baddies are conceptually cool . . . The true focus here, however, is Prue, who's struggling with . . . the complex mix of pride, protectiveness, and guilt that she brings to her Ladybird role. . . Many readers will likely relate to the weight of family obligations and how they may conflict with the development of an independent adolescent identity." —The Bulletin of the Center for Children's Books

Henry Holt and Co. (BYR), 9781250246738, 416pp.
Publication Date: April 5, 2022
About the Author
Lily Anderson is the author of several novels for young adults including The Only Thing Worse Than Me Is You, Not Now Not Ever, and Undead Girl Gang. A former school librarian, she is deeply devoted to Shakespeare, fairy tales, and podcasts. Somewhere in Northern California, she is having strong opinions on musical theater.