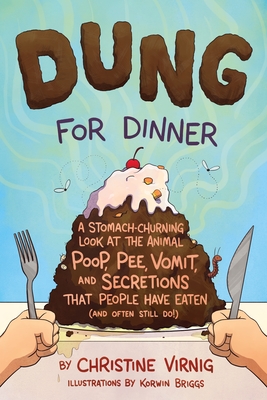 Dung for Dinner
A Stomach-Churning Look at the Animal Poop, Pee, Vomit, and Secretions that People Have Eaten (and Often Still Do!)
Hardcover

* Individual store prices may vary.
Description
Discover the stomach-churning truth about the animal poop, pee, vomit, and secretions that humans have eaten throughout history—and sometimes still do—in Christine Virnig's laugh-out-loud middle-grade nonfiction debut. Dung for Dinner is illustrated by Korwin Briggs.

From Roman charioteers scarfing wild boar dung to astronauts guzzling their own pee to today's kids spreading insect vomit on their toast, this humorous compendium is chock-full of history, science, and fascinatingly gross facts. Bug secretions coating your candy corn? Rodent poop in your popcorn? Physicians tasting their patients' pee? It's deliciously disgusting!

*SCBWI Golden Kite Award Finalist for Older Nonfiction
Praise For Dung for Dinner: A Stomach-Churning Look at the Animal Poop, Pee, Vomit, and Secretions that People Have Eaten (and Often Still Do!)…
"Jokes, the odd common-sense advisory, and stomach-churning historical incidents. [Virnig] also spreads plenty of science around… Adds nuance to the old saw that we are what we eat…in an all-too-informative way." --Kirkus Reviews on Dung for Dinner

"Physician and author Virnig encourages readers to think again as she describes myriad ways that people have consumed animal poop, pee, vomit, and other bodily fluids. . . Get ready to gulp!" --Booklist on Dung for Dinner
Henry Holt and Co. (BYR), 9781250246790, 176pp.
Publication Date: July 21, 2020
About the Author
Christine Virnig made her kidlit debut with Dung for Dinner. Christine is a pediatric physician specializing in allergies where—in addition to dodging the occasional snot rocket or projectile vomit—she gets to talk about topics that most adults find downright repulsive, like phlegm, snot, and dust mite poo. She lives in Madison, Wisconsin with her husband, two children, and two hairball producers.

Korwin Briggs is a writer and illustrator who makes comics, infographics, and books about academic stuff like history and science. He's the author of a webcomic called Veritable Hokum, as well as Gods and Heroes: Mythology Around the World; The Invention Hunters Discover How Machines Work; and The Invention Hunters Discover How Electricity Works. Since graduating, he's been working as a professional freelance artist in a couple of different cities (currently New York).