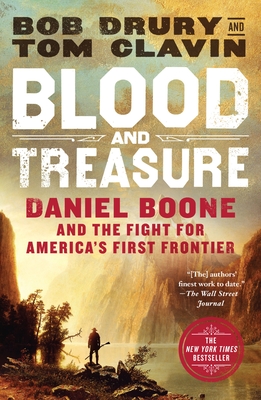 Blood and Treasure
Daniel Boone and the Fight for America's First Frontier
Paperback

* Individual store prices may vary.
Other Editions of This Title:
Digital Audiobook (4/19/2021)
Hardcover (4/20/2021)
Library Binding, Large Print (5/11/2021)
CD-Audio (4/20/2021)
Description
The Instant New York Times Besteller

National Bestseller

"[The] authors' finest work to date." —Wall Street Journal

The explosive true saga of the legendary figure Daniel Boone and the bloody struggle for America's frontier by two bestselling authors at the height of their writing power—Bob Drury and Tom Clavin.

It is the mid-eighteenth century, and in the thirteen colonies founded by Great Britain, anxious colonists desperate to conquer and settle North America's "First Frontier" beyond the Appalachian Mountains commence a series of bloody battles. These violent conflicts are waged against the Native American tribes whose lands they covet, the French, and the mother country itself in an American Revolution destined to reverberate around the world.

This is the setting of Blood and Treasure, and the guide to this epic narrative is America's first and arguably greatest pathfinder, Daniel Boone—not the coonskin cap-wearing caricature of popular culture but the flesh-and-blood frontiersman and Revolutionary War hero whose explorations into the forested frontier beyond the great mountains would become the stuff of legend. Now, thanks to painstaking research by two award-winning authors, the story of the brutal birth of the United States is told through the eyes of both the ordinary and larger-than-life men and women who witnessed it.

This fast-paced and fiery narrative, fueled by contemporary diaries and journals, newspaper reports, and eyewitness accounts, is a stirring chronicle of the conflict over America's "First Frontier" that places the reader at the center of this remarkable epoch and its gripping tales of courage and sacrifice.
Praise For Blood and Treasure: Daniel Boone and the Fight for America's First Frontier…
Praise for Blood and Treasure:

"Masterfully researched saga." —The Virginia Gazette

"Bob Drury and Tom Clavin together have given us a half-dozen elegantly written narratives of exhilarating episodes in American history. [Blood and Treasure] may be the authors' finest work to date. Redolent of time and place, a raw and rugged tale." —Wall Street Journal

"For anyone who loves the adventurous side of American history, "Blood and Treasure" is a gem. It's full of action, thorough and wide. Seek out this treasure and you won't be disappointed." —Terri Schlichenmeyer for the Wyoming Tribune Eagle

"Bob Drury and Tom Clavin, challenge conventional wisdom about an American origin story and, in the process, weave a tale fit for the big screen." —Washington Free Beacon

"Clavin and Drury return with an enlightening biography of Daniel Boone set against the backdrop of 18th-century America's conflicts with England and Native tribes. [They] successfully separate fact from fiction while keeping the pages turning. History buffs will be entertained." —Publishers Weekly

"Popular historians Drury and Clavin deliver a ripsnortin' tale of the early frontier and its first and most powerful legend. [Blood and Treasure] offers a vivid account of Boone's frontier years, one that may not be for the faint of heart." —Kirkus

"Blood and Treasure tells the Boone story through the prism of the larger struggle for the frontier. It is a substantial and lively book by an accomplished history-writing duo." —National Review

Praise for the work of Drury and Clavin:

"A ripping yarn." —Laura Miller, Salon

"Vivid…Lively…A tale of lies, trickery, and brutal slaughter." —Christopher Corbett, The Wall Street Journal

"A page-turner…the narrative has a remarkable immediacy." —Kate Tuttle, The Boston Globe

"Exquisitely told…remarkably detailed." —USA Today

"Filled with an overabundance of details ..." —Dallas Morning News

"Drury and Clavin have now given us the fullest and most readable account ... against which all subsequent efforts must be measured." —Joseph J. Ellis, Pulitzer Prize winning author of Founding Brothers

"The word 'epic' is overused these days. Not here. This is big, blazing history writ large." —S.C. Gwynne, author of Empire of the Summer Moon
St. Martin's Griffin, 9781250247155, 416pp.
Publication Date: March 15, 2022
About the Author
BOB DRURY, the recipient of several national journalism awards, is a three-time National Magazine Award finalist as well as a Pulitzer Prize nominee. Drury honed his investigative skills writing for all four New York City newspapers as well as a variety of national publications. His journalism career has arced from sports to crime to adventure travel to foreign correspondence. He is also the author, co-author, or editor of ten non-fiction books, including Valley Forge and Lucky 666.

TOM CLAVIN is a #1 New York Times bestselling author and has worked as a newspaper editor, magazine writer, TV and radio commentator, and a reporter for The New York Times. He has received awards from the Society of Professional Journalists, Marine Corps Heritage Foundation, and National Newspaper Association. His books include the bestselling Frontier Lawmen trilogy—Wild Bill, Dodge City, and Tombstone—and Blood and Treasure with Bob Drury. He lives in Sag Harbor, NY.