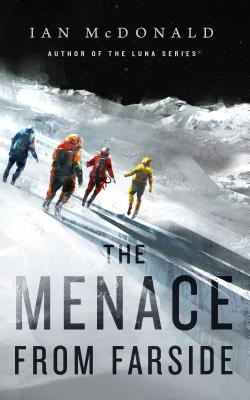 The Menace from Farside (Paperback)
Tor.com, 9781250247797, 160pp.
Publication Date: November 12, 2019
* Individual store prices may vary.
Description
In The Menace from Farside, Ian McDonald returns to his elegantly wound solar system of the twenty-second century, full of political intrigue and complicated families.
Remember: Lady Luna knows a thousand ways to kill you, but family is what you know. Family is what works.
Cariad Corcoran has a new sister who is everything she is not: tall, beautiful, confident. They're unlikely allies and even unlikelier sisters, but they're determined to find the moon's first footprint, even if the lunar frontier is doing its best to kill them before they get there.
Praise for Ian McDonald's Luna series
"McDonald's never written a bad novel, but Luna: New Moon is a great one."—Cory Doctorow
"With an action narrative driving this political commentary, Luna is actually a fantastically fun read as well as an important one. "—Los Angeles Review of Books
About the Author
Ian McDonald was born in 1960 in Manchester, England, to an Irish mother and a Scottish father. He moved with his family to Northern Ireland in 1965. He has won the Locus Award, the British Science Fiction Association Award, and the John W. Campbell Memorial Award. His first novel, Desolation Road, was published in 1988. Other works include King of Morning, Queen of Day (winner of the Philip K. Dick Award), River of Gods, The Dervish House, the graphic novel Kling Klang Klatch, and many more. He now lives in Belfast.
Praise For The Menace from Farside…
Praise for Ian McDonald's Luna series
"McDonald's never written a bad novel, but Luna: New Moon is a great one."—Cory Doctorow
"With an action narrative driving this political commentary, Luna is actually a fantastically fun read as well as an important one. "—Los Angeles Review of Books
"McDonald creates a complex and fascinating civilization featuring believable technology, and the characters are fully developed, with individually gripping stories."—Publishers Weekly, starred review