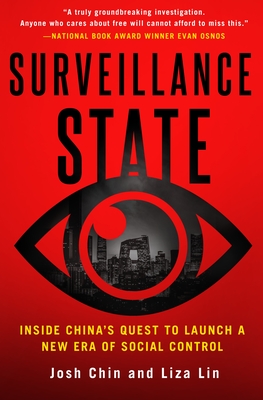 Surveillance State
Inside China's Quest to Launch a New Era of Social Control
Hardcover

* Individual store prices may vary.
Description
Where is the line between digital utopia and digital police state?

Surveillance State tells the gripping, startling, and detailed story of how China's Communist Party is building a new kind of political control: shaping the will of the people through the sophisticated—and often brutal—harnessing of data.

It is a story born in Silicon Valley and America's "War on Terror," and now playing out in alarming ways on China's remote Central Asian frontier. As ethnic minorities in a border region strain against Party control, China's leaders have built a dystopian police state that keeps millions under the constant gaze of security forces armed with AI. But across the country in the city of Hangzhou, the government is weaving a digital utopia, where technology helps optimize everything from traffic patterns to food safety to emergency response.

Award-winning journalists Josh Chin and Liza Lin take readers on a journey through the new world China is building within its borders, and beyond. Telling harrowing stories of the people and families affected by the Party's ambitions, Surveillance State reveals a future that is already underway—a new society engineered around the power of digital surveillance.
Praise For Surveillance State: Inside China's Quest to Launch a New Era of Social Control…
"A truly groundbreaking investigation . . . The global scope and deep detail of [Chin and Lin's] account retires the notion of an 'all-seeing' surveillance as some future scenario; it is happening already. They will open your eyes to the astonishing intersection of data, politics, and the human body. Anyone who cares about the future of technology, of China, or of free will cannot afford to miss this."
—Evan Osnos, The New Yorker

"Josh Chin and Liza Lin show how some of Silicon Valley's most celebrated advances, along with some of its most exalted companies, have enabled a vast experiment in Chinese social engineering that is terrifying and seductive in equal measure. Surveillance technologies, both inside China and around the world, are creating an alternative to the liberal order far more swiftly than most people believe. This book gives us a vital glimpse into what might replace it."
—Anne Applebaum, author of Twilight of Democracy

"Surveillance State could not be more timely, both as a gripping, suspense-filled tale of what is actually happening to Uyghurs in China and as a description of digital dictatorship that makes abstractions like predictive analytics, facial and voice recognition technology, and integrated information systems terrifyingly concrete. People and governments in open societies need to see what is at stake in the decisions we make about how to balance liberty and security in the digital age; this book brings those choices home."
—Anne-Marie Slaughter, CEO of New America

"Surveillance State tackles a critical global issue—how rapidly growing surveillance of all kinds is implicated in struggles for democracy and against authoritarianism…the authors offer a careful and thoughtful, ambitious and journalistic analysis of how excessive and illiberal surveillance is expanding, and must be confronted everywhere. Engaging everyday stories of real people bring this urgent issue freshly to light."
—David Lyon, author of Pandemic Surveillance

"There hardly is any Uyghur person in the Region who has not been subjected to the oppressive and systematic tactics of this high-tech war that the CCP has waged against its own citizens. Josh Chin and Liza Lin's book reminds us how easily a state actor can quietly and stealthily take control of its people. As Uyghurs, we know this well. But to the rest of the world, Surveillance State should serve as a wake-up call."
—Jewher Ilham, author of Because I Have To

"This book is written for the future. It reveals beyond dispute the murky and distorted world we are about to face. Dictatorship and Big Data are closely intertwined. They surveil, control, and remold every individual—all this constitutes a vast, inescapable prison that leaves nowhere to hide, a sort of demonic laboratory…Left unchecked, it will push the rest of the world sliding into an abyss."
—Murong Xuecun, author of Deadly Quiet City

"Surveillance State is a cautionary book. It is fairhanded in detailing the rapacious speed at which China has constructed a model of digital authoritarianism other countries are no doubt eager to learn from. Its value is in showing how such surveillance systems are only as good (or bad) as the people who build them."
—NPR

"[A] rigorous and alarming study of how the Chinese Communist Party uses surveillance technology to monitor residents and quell dissent.…This wide-ranging and deeply informed study offers crucial insights into the rising threat of digital surveillance."
—Publishers Weekly

"A study of the Chinese government's sweeping surveillance program.…The underside of digital technology on full, frightening display."
—Kirkus Reviews

"Essential reading for those interested in modern China."
—Library Journal

"This is both a granular and a big-picture look at how today's Chinese Communist Party has flipped the Cold War debate over civil liberties and state control on its head."
—New York Times

"[E]ssential reading not only because of what it tells us about China — and Chin and Lin have gathered spine-chilling material at great personal risk — but also because of what it tells us about the rest of the world."
—Bloomberg

"Building on years of reporting across the country, Chin and Lin explore the CCP's attempts to harness Big Data and near ubiquitous surveillance networks to scrutinize, track, and even pre-empt the demands of Chinese citizens."
—The New Statesman

"Josh Chin and Liza Lin's hard-hitting new book, 'Surveillance State: Inside China's Quest to Launch a New Era of Social Control,' superbly narrates what living under China's omnipresent surveillance apparatus means on a human level."
—The Courier-Journal
St. Martin's Press, 9781250249296, 320pp.
Publication Date: September 6, 2022
About the Author
JOSH CHIN is Deputy Bureau Chief in China for the Wall Street Journal. He previously covered politics and tech in China as a reporter of the newspaper for more than a decade. He led an investigative team that won the Gerald Loeb Award for international reporting in 2018 for a series exposing the Chinese government's pioneering embrace of digital surveillance. He was named a National Fellow at New America in 2020 and is a recipient of the Dan Bolles Medal, awarded to investigative journalists who have exhibited courage in standing up against intimidation. Surveillance State is his first book. Born in Utah, he currently splits time between Seoul and Taiwan.

LIZA LIN works as the journalist covering data use and privacy for the Wall Street Journal from Singapore. Liza was part of the team that won the Loeb in 2018. Prior to the Wall Street Journal, Liza spent nine years at Bloomberg News and Bloomberg Television. Surveillance State is her first book.