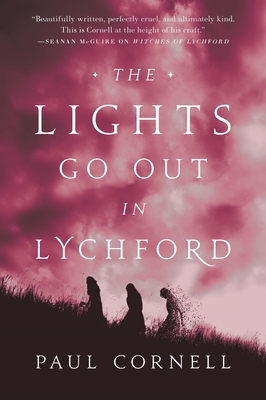 The Lights Go Out in Lychford (Witches of Lychford #4)
Paperback

* Individual store prices may vary.
Description
Be careful what you wish for...

Paul Cornell's The Lights Go Out in Lychford continues the award-nominated Witches of Lychford series, described by Seanan McGuire as "Beautifully written, perfectly cruel and ultimately kind."

The borders of Lychford are crumbling. Other realities threaten to seep into the otherwise quiet village, and the resident wise woman is struggling to remain wise. The local magic shop owner and the local priest are having troubles of their own.

And a mysterious stranger is on hand to offer a solution to everyone's problems. No cost, no strings (she says).

But as everyone knows, free wishes from strangers rarely come without a price . . .
Praise For The Lights Go Out in Lychford (Witches of Lychford #4)…
"Captivating... Written with Cornell's characteristic verve, Lychford buzzes with its own magic, and its characters brim with life. Series fans will be shocked and moved by the developments in this efficient story, and look forward to the next." —Publishers Weekly

"[The Lights Go Out in Lychford] balances gracefully on the border of cozy small town mystery and cosmic horror... It's a small book that packs a solid narrative punch." —Booklist

Praise for the Lychford series

"Cornell introduces some genuine existential chills into this ingratiating setting." —The Chicago Tribune
Praise for WITCHES OF LYCHFORD

"At once epic and terribly intimate. This is the story of a village, not a city, and all the more powerful for that; not all big fantasy needs an urban setting. Beautifully written, perfectly cruel, and ultimately kind. This is Cornell at the height of his craft." —Seanan McGuire, author of the Incryptid and October Daye series

"Paul Cornell has written a marvelous story, rich in charm, about local politics and witchcraft writ small and personal, but large in consequence." —Bill Willingham, author of Fables and Down the Mysterly River

"Masterfully creepy and sinister, all the more so for taking place in the beautifully drawn English countryside." —Jenny Colgan, author of Doctor Who: Into the Nowhere

"Cornell weaves together a fast-paced story and engrossing character studies; he paints a setting of a gloomy English countryside, disarming his readers with magic and danger that lurks unseen. Beneath the suspense lies wry humor that buoys the tale along."—Publishers Weekly
Tordotcom, 9781250249470, 160pp.
Publication Date: November 19, 2019
About the Author
Paul Cornell has written episodes of Elementary, Doctor Who, Primeval, Robin Hood and many other TV series, including his own children's show, Wavelength. He's worked for every major comics company, including his creator-owned series Saucer State for IDW and This Damned Band for Dark Horse, and runs for Marvel and DC on Batman and Robin, Wolverine and Young Avengers. He's the writer of the Lychford rural fantasy novellas from Tor.com Publishing. He's won the BSFA Award for his short fiction, an Eagle Award for his comics, a Hugo Award for his podcast and shares in a Writer's Guild Award for his Doctor Who. He's the co-host of Hammer House of Podcast.