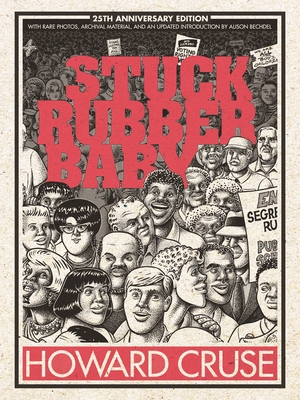 Stuck Rubber Baby 25th Anniversary Edition
Hardcover

* Individual store prices may vary.
Description
Painstakingly researched and exquisitely illustrated, Stuck Rubber Baby is a groundbreaking graphic novel that draws on Howard Cruse's experience coming of age and coming out in 1960s Birmingham, Alabama.

This 25th anniversary edition brings this rich and moving tale of identity and resistance is back in print—complete with an updated introduction from Alison Bechdel, rare photographs, and unpublished archival material that give a thorough, behind-the-scenes look at this graphic novel masterpiece.

As a young gay man leading a closeted life in the 1960s American South, Toland Polk tries his best to keep a low profile. He's aware of the racial injustice all around him—the segregationist politicians, the corrupt cops, the violent Klan members—but he feels powerless to make a difference. That all changes when he crosses paths with an impassioned coed named Ginger Raines.

Ginger introduces him to a lively and diverse group of civil rights activists, folk singers, and night club performers—men and women who live authentically despite the conformist values of their hometown. Emboldened by this new community, Toland joins the local protests and even finds the courage to venture into a gay bar.

No longer content to stay on the sidelines, Toland joins his friends as they fight against bigotry. But in Clayfield, Alabama, that can be dangerous—even deadly.
Praise For Stuck Rubber Baby 25th Anniversary Edition…
"The everyday activism of principled people is an ongoing force for good in this country. And Howard Cruse's visceral, visual account of America's recent past is a testament to it. Stuck Rubber Baby contributes with grace and force to the vision of a just world." —Alison Bechdel, author or Fun Home

"Cruse's distinctive visual idiom builds an absorbing world featuring a rich intergenerational ensemble of characters.... Stuck Rubber Baby chronicles both the crushing pervasiveness of discrimination and brutality in the Jim Crow, pre-Stonewall South, and also myriad forms of mourning and resistance." —New York Times

"[Stuck Rubber Baby] is a rich, complex work examining the intersections of race and sexuality." —Los Angeles Review of Books

"Timelessly involving ... Stuck Rubber Baby emphasizes the turbulence of the times, and how people perpetually strive to remake themselves from within the safety of a group..." —AV Club

Maus, move over; as a great graphic novel, you've met for match. —Booklist

"Stuck Rubber Baby lives on in this splendid 25th-anniversary edition. With a foreword by his partner, Ed Sedarbaum, as well as a new introduction by Alison Bechdel (Fun Home), this is a volume for the ages." —Shelf Awareness

"All the characters in this novel are so rich, deep, and captivating, even the ones who are immensely dislikeable... This is rightly a landmark of a book and it is so very timely, given that the racial issues from back then are almost the same ones as today." —Sequential Tart

First Second, 9781250249487, 240pp.
Publication Date: July 21, 2020
About the Author
Howard Cruse (1944-2019) launched his career as an underground cartoonist during the 1970s in underground comix, and in 1980 he served as the founding editor of the groundbreaking Gay Comix series. His comic strip Wendel was serialized in The Advocate through much of the 1980s.

Stuck Rubber Baby, his most widely known work, was the winner of Eisner and Harvey Awards in the U.S. and (in translation) a Comics Critics Award in Spain, a Luchs Award in Germany, and a Prix de la critique at the International Comics Festival in Angouleme, France. The graphic novel was also honored with a Transformative Work Award in 2017 at CXC (Cartoon Crossroads Columbus). He also provided humorous illustrations for numerous mainstream magazines.