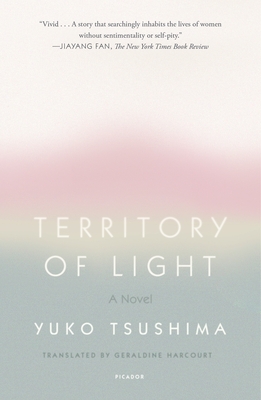 Territory of Light
A Novel
Paperback

* Individual store prices may vary.
Other Editions of This Title:
Digital Audiobook (2/11/2019)
Hardcover (2/12/2019)
Description
From one of the most significant contemporary Japanese writers, a haunting, dazzling novel of loss and rebirth

"Yuko Tsushima is one of the most important Japanese writers of her generation." —Foumiko Kometani, The New York Times

I was puzzled by how I had changed. But I could no longer go back . . .

It is spring. A young woman, left by her husband, starts a new life in a Tokyo apartment. Territory of Light follows her over the course of a year, as she struggles to bring up her two-year-old daughter alone. Her new home is filled with light streaming through the windows, so bright she has to squint, but she finds herself plummeting deeper into darkness, becoming unstable, untethered. As the months come and go and the seasons turn, she must confront what she has lost and what she will become.

At once tender and lacerating, luminous and unsettling, Yuko Tsushima's Territory of Light is a novel of abandonment, desire, and transformation. It was originally published in twelve parts in the Japanese literary monthly Gunzo, between 1978 and 1979, each chapter marking the months in real time. It won the inaugural Noma Literary Prize.
Praise For Territory of Light: A Novel…
Winner of the Lindsley and Masao Miyoshi Translation Prize
Shortlisted for the Best Translated Book Awards
Finalist for the Kirkus Prize
Literary Hub, Our 50 Favorite Books of the Year

"The fact that the novel, which has been elegantly translated into English by Geraldine Harcourt, seems to be in direct dialogue with contemporary novels of motherhood . . . suggests both its deep prescience and the enduring relevance of its insights. . . Tsushima writes in prose so bare and vivid that even banal details acquire a visceral vibrancy . . . [A] story that searchingly inhabits the lives of women without sentimentality or self-pity." —Jiayang Fen, The New York Times Book Review

"The brilliance of Territory is that Tsushima's skilled attention to her narrator's inner struggles ultimately asks the reader to feel empathy not just for one woman but also for a whole strata of women living with little societal support . . . By rendering the everyday details of the mother's life, whether disastrous or beautiful, Tsushima allows her protagonist a complexity that those around her do not. In the present age, in which mothers are still often seen as monsters or angels, this portrait of an imperfect mother who strives to provide a good life for her child feels painfully relevant." —Rowan Hisayo Buchanan, The Atlantic

"A striking formal achievement: the book is held together by the force of its images. But the sentences also draw their delicate vigor from the tension between the novel's fixation on death and its narrator's wish to get on with her day." —Abhrajyoti Chakraborty, The New Yorker

"Divine . . . Delicately explicates the sleep-deprived twilight zone of a newly single mother following a nasty divorce." —O Magazine

"Territory of Light has the subtle, harrowing shades of Marie Darrieussecq's My Phantom Husband and Elena Ferrante's The Days of Abandonment, though both were written decades later . . . It is not a neat story of awakening or transformation but of the fearful joy of the unobscured horizon, of how the freshly unstructured life gapes with promise and paralysis alike . . . In Tsushima's unburdened territory, every corner is filled with light and there is nowhere to hide, for there need not be—not for those who seek illumination." —Emily LaBarge, Bookforum

"Short and spare yet also luminous and profound . . . [Tsushima] is a writer worth discovering. Deceptively simple and remarkably timely, her story of a marginalized woman trying to cope with the trials of life is certain to entrance a whole new readership and pave the way for further translations of her strangely mesmerizing work." —Malcolm Forbes, Minneapolis Star-Tribune

"[Tsushima] wrote novels strikingly ahead of their time—especially in Japan—that nailed the struggles and consolations of single women in a patriarchal culture . . . Tsushima's treatment isn't just bracingly honest but bold in leaving room for unexpected outcomes, including happiness." —Boris Kachka, Vulture

"[Territory of Light] could have been written today . . . [The narrator's] sleep-deprived agonies strike us with the power of primal thoughts rarely voiced. They pierce the heart of the Western slogan in vogue even then: that women can have it all . . . Tsushima learned more than once that the world will do its worst, no matter how you feel about your own culpability." —Sheila McClear, New York

"Harsh but often ravishingly beautiful . . . Slender, restrained." —Lidija Haas, Harper's

"Quiet, contemplative . . . Less a novel than a collection of petrified lightning glass, each piece a self-contained time capsule of emotions, interactions, and breath." —Joyce Chen, Orion

"Spare, yet complex and melancholy . . . Has a timelessness to it." —Clea Simon, Boston Globe

"Lovely, melancholy . . . Tsushima's prose is achingly elegant, well worth lingering over . . . Each chapter is as elegant and self-contained as a pearl or a perfectly articulated drop of water." —Kirkus (starred review)

"A young woman confronts life as a single mother in this graceful, eye-opening novel from Tsushima (1937–2016), one of the most influential feminists in Japanese literature . . . Equal parts brutal and tender, Tsushima's portrait of the strains and joys of motherhood is captivating." —Publishers Weekly (starred review)

"Fragmented, and rich in dreams and memories, the book is suffused with images of light and water . . . Geraldine Harcourt's translation subtly conveys the narrator's precarious grip on reality . . . Spiky, atmospheric and intimate, filled with moments of strangeness that linger in the mind like an after-image on the retina, Territory of Light is not a comforting read, but it will touch women across frontiers." —Lee Langley, The Spectator (London)

"[Territory of Light's] twelve linked tales of the city are fine-grained to the point of mundanity—finding an apartment, discovering a leak, visiting a park—but in Tsushima's hands they achieve a deceptive, luminous clarity . . . In this short, powerful novel lurk the joy and guilt of single parents everywhere." —Peter Beech, The Guardian

"Reflects, like a crystal, scattered moments in the life of an unnamed mother . . . Bracing, often breathtaking." —John Self, The Irish Times
Picador, 9781250251053, 192pp.
Publication Date: March 31, 2020
About the Author
Yuko Tsushima was born in Tokyo in 1947, the daughter of the novelist Osamu Dazai, who took his own life when she was one year old. Her prolific literary career began with her first collection of short stories, Shaniku-sai (Carnival), which she published at the age of twenty-four. She won many awards, including the Izumi Kyoka Prize for Literature (1977), the Kawabata Prize (1983), and the Tanizaki Prize (1998). She died in 2016.

Geraldine Harcourt was awarded the 1990 Wheatland Translation Prize and the 2019 Lindsley and Masao Miyoshi Translation Prize. She had a close working relationship with Yuko Tsushima, and translated many of her works into English. Harcourt lived in New Zealand, where she died in 2019.