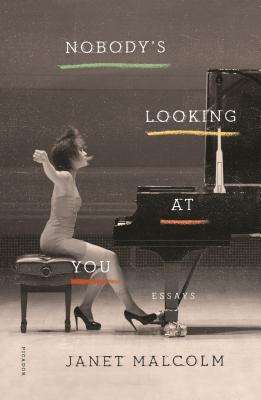 Nobody's Looking at You (Paperback)
Essays
Picador, 9781250251084, 304pp.
Publication Date: February 18, 2020
Other Editions of This Title:
Hardcover (2/19/2019)
* Individual store prices may vary.
Description
"Malcolm is always worth reading; it can be instructive to see how much satisfying craft she brings to even the most trivial article." --Phillip Lopate, TLS

A New York Times Book Review Editors' Choice. One of BBC Culture, Lit Hub, O, the Oprah Magazine, and The New York Times's Books to Read this February
Janet Malcolm's previous collection, Forty-One False Starts: Essays on Artists and Writers, was "unmistakably the work of a master" (The New York Times Book Review). Like Forty-One False Starts, Nobody's Looking at You brings together previously uncompiled pieces, mainly from The New Yorker and The New York Review of Books.
The title piece of this wonderfully eclectic collection is a profile of the fashion designer Eileen Fisher, whose mother often said to her, "Nobody's looking at you." But in every piece in this volume, Malcolm looks closely and with impunity at a broad range of subjects, from Donald Trump's TV nemesis Rachel Maddow, to the stiletto-heel-wearing pianist Yuju Wang, to "the big-league game" of Supreme Court confirmation hearings. In an essay called "Socks," the Pevears are seen as the "sort of asteroid [that] has hit the safe world of Russian Literature in English translation," and in "Dreams and Anna Karenina," the focus is Tolstoy, "one of literature's greatest masters of manipulative techniques." Nobody's Looking at You concludes with "Pandora's Click," a brief, cautionary piece about e-mail etiquette that was written in the early two thousands, and that reverberates—albeit painfully—to this day.
About the Author
Janet Malcolm is the author of many books, including In the Freud Archives, The Journalist and the Murderer, Two Lives: Alice and Gertrude, which won the 2008 PEN/Jacqueline Bograd Weld Award for Biography, and Forty-One False Starts, which was a New York Times Book Review Notable Book and a finalist for the 2013 National Book Critics Circle Award for Criticism. She is a frequent contributor to The New Yorker and The New York Review of Books.
Praise For Nobody's Looking at You: Essays…
"Seeing things differently is the essence of what sets Malcolm apart. Few writers pay attention with the precision, acuity and patience she has exhibited during her career . . . Taking no particular issue with the work of her colleagues, I wish nonetheless to say that Malcolm, line to line, is a more revealing writer, one whose presence in her pieces isn't meant to advertise the self so much as complicate the subject. And also, line to line, she is a better writer . . . We are fortunate to have Malcolm's kind of authority, one founded as much on her failures as on her successes at seeing." --Wyatt Mason, The New York Times Book Review
"There are few writers who command the respect of their fellows more than Janet Malcolm . . . Malcolm is always worth reading; it can be instructive to see how much satisfying craft she brings to even the most trivial article . . . a collection that veers between tenderness and asperity." --Phillip Lopate, The TLS
"Malcolm is a master of nonfiction . . . In their range and verve, [the essays] confirm Malcolm's ability as a literary journalist to connect her work to the cultural moment." --Joumana Khatib, The New York Times
"The latest collection of essays from the provocative grande dame of US journalism is spiky and prescient, predictable only in its near-constant ability to surprise: no matter how transparently Malcolm renders her nimble thought processes, each piece winds up somewhere unexpected." --Hephzibah Anderson, The Guardian
"Nobody's Looking At You is brimful of all the eloquence, erudition and insight a thoughtful reader could want." --Etelka Lechozky, NPR.org
"Malcolm is rarely less than a fierce presence on the page, a relentless interrogator (or is it prosecutor?) of the people and subjects she writes about so well . . . Reading Janet Malcolm is always a pleasure and a challenge. She'll make you think twice about people and things you thought you were sure about . . . Few writers are as good at making us linger, while at the same time cautioning us about the inherent limitations and deceptions of storytelling." --Paul Baumann, Commonweal
"The same qualities that make [Janet Malcolm] such a fearsome interlocutor also lend her essays an uncommon clarity . . . her calm, brilliant essays are the perfect tonic for our troubled times." --Ann Levin, Associated Press
"Malcolm is the undisputed queen of description." --Lucy Scholes, TLS
"Marvelous . . . [Malcolm's] curiosity is boundless, her insights clear and original, but what really elevates her is that while she is present on the page, she resists intrusion or self-reference, keeping her keen gaze ever forward-looking." --The National Book Review (Five Hot Books)
"Reading Janet Malcolm is always a pleasure and a challenge. She'll make you think twice about people and things you thought you were sure about . . . Few writers are as good at making us linger, while at the same time cautioning us about the inherent limitations and deceptions of storytelling." --Paul Baumann, Commonweal
"Every word of Janet Malcolm's latest nonfiction collection, Nobody's Looking at You, is a pleasure to read, even if you have no built-in interest in her topics." --Chris Hewitt, The Minneapolis StarTribune
"[Malcolm's] profiles of noted personalities are peerless when it comes to unraveling what makes people tick. She'll deliver the factual goods with brisk efficiency, while happily leaving mysteries in place." --Michael Upchurch, The Seattle Times
"Stylish, erudite essays by a doyenne of literary nonfiction." --O, the Oprah Magazine
"Malcolm is a witty maestro of nonfiction, a wizard at using simple sentences to convey sharp and complex observations, and a doyenne at surprising us with stories that stretch beyond boundaries of the containers that hold them." –Kerri Arsenault, Lit Hub
"Outstanding . . . varied and witty . . . With no weak selections and several strikingly prescient ones, this collection shows its author as a master of narrative nonfiction." --Publishers Weekly (starred review)
"A master of the craft offers up sprightly and fervent essays . . . Intelligent, savvy, and stylish literary journalism." --Kirkus