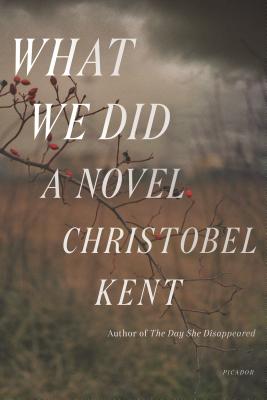 What We Did (Paperback)
A Novel
Picador, 9781250251275, 320pp.
Publication Date: February 11, 2020
Other Editions of This Title:
Digital Audiobook (2/4/2019)
Library Binding, Large Print (7/10/2019)
Hardcover (2/5/2019)
* Individual store prices may vary.
Description
Bestselling British author Christobel Kent's What We Did is a nightmarish, impossible-to-put-down tale of the secrets we keep from our families, of chilling childhood abuse, and of long-awaited retribution.

He stole her childhood . . . she'll take his future

Something happened, she didn't know what, something spun, the world turning, back, back, too fast. She would be sick. Bridget put out a hand to steady herself against the wall.

Bridget has a secret—one she keeps from everyone, even her husband. One that threatens to explode when her childhood music teacher, Carmichael, walks into her dress shop. With him is a young girl on the cusp of adulthood, fresh-faced and pretty. She reminds Bridget of herself at that age, naïve and vulnerable.

Bridget wants him away—away from her, away from that girl. But Carmichael won't leave her alone, won't stop stalking her. And Bridget's not a little girl anymore. When he pushes her too far, she snaps. But what she thought was a decisive act only unravels more insidious threats—more than she could have ever imagined—and from which no one is safe, not even her family.

Christobel Kent has written yet another thrilling page-turner with a twisted, riveting conclusion.
About the Author
Christobel Kent was born in London and grew up in London and Essex, including a stint on the Essex coast on a Thames barge with three siblings and four step-siblings, before reading English at Cambridge. She has worked in publishing and TEFL teaching, and has lived in Modena, in northern Italy, and in Florence. She has written several novels set in Italy, including The Drowning River and A Murder in Tuscany, and lives in Cambridge with her husband and five children.
Praise For What We Did: A Novel…
"This is a novel of the #MeToo era; a story about all the jagged fragments that so many women have kept hidden in shame, about the moments they remember from their pasts that make them wonder, 'Did I deserve this? Did I ask for it?' This book, through Bridget's story, unequivocally answers, 'No. You are not damaged, you are not unlovable.' A slow-paced novel that builds empathy." —Kirkus Reviews

"[An] engrossing psychological thriller . . . 'What We Did' can be thought of as an atmospheric tale of macabre multitasking. Kent serves up a twisting and complex plot, but the novel's chief appeal lies in the tense character of Bridget, who learns that a life lived under the radar can't protect her from the creepy-crawly things that live there, too." —Maureen Corrigan, The Washington Post

"Readers will root for the unwitting killer in this tense, well-crafted vigilante thriller." —Booklist

"Incisive character studies, seamless plotting, and a breathtaking final reveal make this a standout." —Publishers Weekly (starred review)

"Psychological thriller that has you in a vice-like grip from the start. Bridget's already living under the relentless stress of her childhood abuse—but when her abuser turns up out of the blue, there's the more traditional suspense of a rash act and its consequences—the latter never trivialising the former. Masterful." —The Times & The Sunday Times Crime Club (Star Pick for May)

"Kent's writing has always possessed literary elegance, and that is fully in evidence here." —Barry Forshaw, Guardian

"Gripping from the start and impossible to put down, this psychological thriller will enthrall and appall you in equal measure." —HEAT Magazine

"In a tense but unhurried thriller, Kent manages to champion victims without celebrating victimhood." —Morning Star

"A twist-packed psychological thriller that sizzles like an electric fire thrown into a cold bath." —Evening Telegraph