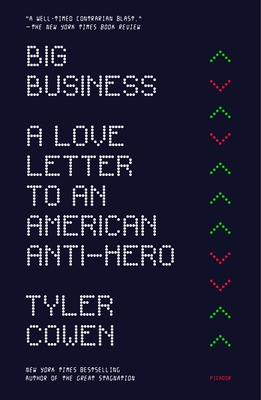 Big Business
A Love Letter to an American Anti-Hero
Paperback

* Individual store prices may vary.
Other Editions of This Title:
Digital Audiobook (4/8/2019)
Hardcover (4/9/2019)
CD-Audio (4/9/2019)
Description
An against-the-grain polemic on American capitalism from New York Times bestselling author Tyler Cowen.

We love to hate the 800-pound gorilla. Walmart and Amazon destroy communities and small businesses. Facebook turns us into addicts while putting our personal data at risk. From skeptical politicians like Bernie Sanders who, at a 2016 presidential campaign rally said, "If a bank is too big to fail, it is too big to exist," to millennials, only 42 percent of whom support capitalism, belief in big business is at an all-time low. But are big companies inherently evil? If business is so bad, why does it remain so integral to the basic functioning of America? Economist and bestselling author Tyler Cowen says our biggest problem is that we don't love business enough.

In Big Business, Cowen puts forth an impassioned defense of corporations and their essential role in a balanced, productive, and progressive society. He dismantles common misconceptions and untangles conflicting intuitions. According to a 2016 Gallup survey, only 12 percent of Americans trust big business "quite a lot," and only 6 percent trust it "a great deal." Yet Americans as a group are remarkably willing to trust businesses, whether in the form of buying a new phone on the day of its release or simply showing up to work in the expectation they will be paid. Cowen illuminates the crucial role businesses play in spurring innovation, rewarding talent and hard work, and creating the bounty on which we've all come to depend.
Praise For Big Business: A Love Letter to an American Anti-Hero…
"Mr. Cowen's book is timely, and his writing style is a refreshing contrast to the strident left-wing declamations that are so common today. He is calm and conversational, splashing cool water on the firebrands." —The Wall Street Journal

"Cowen did not become one of the world's most-read bloggers on economics without understanding the value of a well-timed contrarian blast." —The New York Times Book Review

"In true Cowenesque fashion, [Big Business] starts out with a markedly contrarian premise that by the last page seems so evident that you wonder why it first felt outlandish at all." —Reason Magazine

"Cowen is a smart, original thinker with a knack for reframing criticisms in the context of a larger, utilitarian perspective...that implicitly endorses the current economic system; he comes off more like a lawyer than an ideologue." —Publishers Weekly

"Cowen offers a highly accessible polemic touting the wonders of corporate America." —Kirkus Reviews

"Big Business is iconoclastic, charming, wise, and fun. A gentle soul, Tyler Cowen has kind words for Ayn Rand, Facebook, the huge salaries of CEOs, and the financial system. He demonstrates that America's large companies are a national treasure. Essential reading, above all in the current era." —Cass R. Sunstein, Robert Walmsley University Professor, Harvard University, and author of Conformity: The Power of Social Influences

"In this world in which capitalism and big business are under attack from both the right and the left, Tyler Cowen's reasoned and compelling defense of free markets provides a much-needed antidote." —Burton G. Malkiel, author of A Random Walk Down Wall Street, 12th ed.

"Tyler Cowen mounts a compelling defense of big business, finance, and the tech industry. Both their critics and their defenders will benefit from reading this book." —Walter Frick, Harvard Business Review
Picador, 9781250251329, 272pp.
Publication Date: April 7, 2020
About the Author
Tyler Cowen (Ph.D.) holds the Holbert C. Harris chair in economics at George Mason University. He is the author of Discover Your Inner Economist (2007), Create Your Own Economy (2009), the New York Times bestseller The Great Stagnation (2011), An Economist Get Lunch (2012), Average is Over (2013), and a number of academic books. He writes the most read economics blog worldwide, marginalrevolution.com. He has written regularly for The New York Times and contributes to a wide number of newspapers and periodicals.