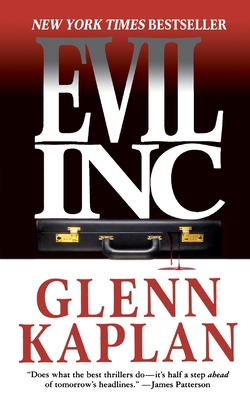 Evil, Inc. (Paperback)
Forge Books, 9781250253804, 352pp.
Publication Date: September 30, 2008
Other Editions of This Title:
Mass Market (9/30/2008)
Hardcover (7/10/2007)
MP3 CD (7/10/2007)
Compact Disc (7/10/2007)
Compact Disc (7/10/2007)
Pre-Recorded Audio Player (11/1/2009)
Audio Cassette (7/1/2007)
* Individual store prices may vary.
Description
Ken Olson thought he had it all—a loving wife, a beautiful baby, and a career on the fast track. But soon after his big promotion, his whole world is shattered by a monstrous crime. A crime committed by the CEO of his own company. A crime his company will cover up at any cost.
Stripped of everything but his passion to bring the CEO to justice, Olson uncovers the dark and dangerous world behind the corporate jets and executive mansions—the private armies of mercenary killers who do the corporation's dirtiest work under the guise of "plausible deniability," the offshore banking havens with their clandestine black-hole accounts, and the relentless greed of the lucky few at the top.
Olson's struggle pits him against a host of deadly rivals—the most brutal killer in the international private military underworld, the network anchorwoman with a beautiful face and not a hint of conscience, the aristocrat who pulls the strings of power and never dirties his hands, the hot young actress who makes sex a tool of deception, and, of course, his own chief executive, a bloodthirsty psychopath who has hijacked the corner office.
Set against the backdrop of today's business world, where mega-mergers slash thousands of jobs and yield million-dollar executive payouts, Evil, Inc. is a thrilling, ticking time bomb of a story—a tale of one man's fight against the vicious, backstabbing politics of the corporation, where ruthless power mongers rule and human life counts for nothing against the bottom line.
About the Author
Glenn Kaplan is the author of The Big Time, a non-fiction book based on interviews with over 300 top executives that examined the dynamics of success in the world of big business. He spent over 20 years in advertising, creating campaigns for Fortune 500 companies. He is married and lives in New York.
Praise For Evil, Inc.…
"Glenn Kaplan's Evil, Inc. does what the best thrillers do--it's half a step ahead of tomorrow's headlines." —James Patterson
"A shockwave thriller, Evil, Inc. is a roaring paranoid delight about the real killers in the boardroom." —Janet Evanovich
"Evil, Inc. is a terrific, irresistible read. Don't start it if you have something to do the next day." —Steven Brill, author of After and founder of Court TV and The American Lawyer
"A gripping tale of battle for corporate control fought not with tender offers or proxies, but with murder and sabotage. Once I started reading it, I couldn't put it down." —Martin Lipton, founding partner of Wachtel, Lipton, Rosen & Katz