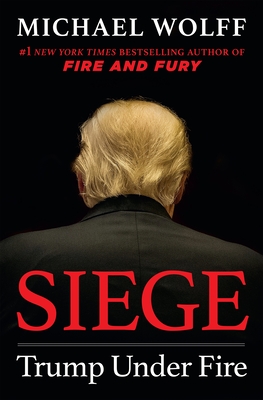 Siege
Trump Under Fire
Hardcover

* Individual store prices may vary.
Other Editions of This Title:
Digital Audiobook (6/3/2019)
CD-Audio (6/4/2019)
Description
Michael Wolff, author of the bombshell bestseller Fire and Fury, once again takes us inside the Trump presidency to reveal a White House under siege.

Just one year into Donald Trump's term as president, Michael Wolff told the electrifying story of a White House consumed by controversy, chaos, and intense rivalries. Fire and Fury, an instant sensation, defined the first phase of the Trump administration; now, in Siege, Wolff has written an equally essential and explosive book about a presidency that is under fire from almost every side.

At the outset of Trump's second year as president, his situation is profoundly different. No longer tempered by experienced advisers, he is more impulsive and volatile than ever. But the wheels of justice are inexorably turning: Robert Mueller's "witch hunt" haunts Trump every day, and other federal prosecutors are taking a deep dive into his business affairs. Many in the political establishment—even some members of his own administration—have turned on him and are dedicated to bringing him down. The Democrats see victory at the polls, and perhaps impeachment, in front of them. Trump, meanwhile, is certain he is invincible, making him all the more exposed and vulnerable. Week by week, as Trump becomes increasingly erratic, the question that lies at the heart of his tenure becomes ever more urgent: Will this most abnormal of presidencies at last reach the breaking point and implode?

Both a riveting narrative and a brilliant front-lines report, Siege provides an alarming and indelible portrait of a president like no other. Surrounded by enemies and blind to his peril, Trump is a raging, self-destructive inferno—and the most divisive leader in American history.
Praise For Siege: Trump Under Fire…
"[Siege is] a mordant, readable tell-all designed to show how Trump, simply by being Trump, has made himself the perfect wrecking ball, blasting holes through an array of institutions." —The New York Times

"Bannon's frequently shrewd observations make it clear why Wolff finds him irresistible. The author is mostly interested in Trump's psychology. He is adept at documenting the president's lunacy, and Bannon is frequently an able fellow shrink." —The Washington Post

"Michael Wolff is back and not with a whimper. The latest installment of his Trump chronicles picks up where Fire and Fury ended. Once again, it leaves the president bruised and readers shaking their heads.... Wolff's tale is credible enough to be taken seriously and salacious enough to entertain…. As Michael Wolff returns to torment Donald Trump, the sword of impeachment dangles more ominously than ever." —The Guardian

"Michael Wolff has become the pre-eminent chronicler of the Trump era. Cunning, eloquent and ruthless in his reporting, Wolff has captured the drama and chicanery of the Trump years better than any of his peers…. Siege, released this week, is brimming with more scabrous revelations and shocking asides on the presidency." —The Sunday Times (London)

"Once again, the dirt is abundant. Donald Trump insults everyone in his orbit, repeatedly, viciously, and—always privately—they return the favor…. Siege is overflowing with such titillating material, which is sure to make it another tour de force for the Trump resistance." —Vanity Fair

"Utterly gripping…. Nobody comes out of this book well, of course, and Trump's comedy cast of misfits, crooks and deluded grifters all struggle to cope with their boss." —British GQ
Henry Holt and Co., 9781250253828, 352pp.
Publication Date: June 4, 2019
About the Author
Michael Wolff is the author of several books about the Trump White House, Fire and Fury, Siege, and Landslide. His other books include a biography of Rupert Murdoch, The Man Who Owns the News, and his memoir of the early internet years, Burn Rate. He has been a regular columnist for New York magazine, Vanity Fair, British GQ, the Hollywood Reporter, and the Guardian. The winner of two National Magazine Awards, he lives in New York City with his family.